Downing Street press briefing room pictures revealed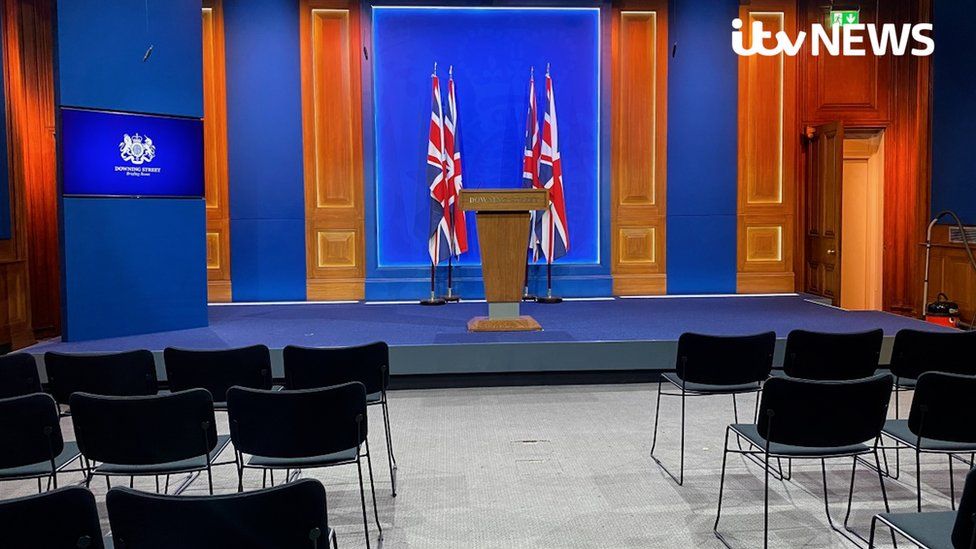 The first pictures of the new Downing Street press room have been revealed.
The price tag of more than £2.6m has led to criticism from opposition parties, with Labour calling it the PM's "latest vanity project".
But Foreign Secretary Dominic Raab defended the spend, telling BBC Breakfast: "Making sure we communicate with the public is very important."
ITV News published the pictures of the US-style briefing room on Monday, which sits within No 9 Downing Street.
Boris Johnson's new press secretary, Allegra Stratton, is to lead daily televised briefings from the room, similar to those held in the White House.
The room, draped in blue and with two Union Jacks flying behind the podium, has rows of chairs ready and waiting for journalists.
But while the briefings had been due to start as early as last autumn, No 10 said they were being delayed while ministers held regular press conferences during the coronavirus lockdown.
The total cost of the refit was revealed by a Freedom of Information request from the Press Association at £2,607,767.67, largely excluding VAT.
Costs included £1,848,695.12 for the "main works", £198,023.75 on "long lead items", and £33,394.63 on broadband equipment.
Labour frontbencher Rachel Reeves said: "Given how much money Boris Johnson has thrown at his latest vanity project, we were expecting something a bit more impressive.
"The fact the government seems to have simply brushed this off with no further transparency or assurances on how they're spending British taxpayer money is deeply concerning."
Mr Raab said communicating with the public was "very important", adding: "We saw that in the press conferences that the prime minister and other senior ministers, myself included, had (during the coronavirus pandemic).
"Making sure we communicate directly with the public is something I think they welcome and making sure we can do it in an effective, coherent way is very important."