Religious group warns against LGBT+ conversion therapy ban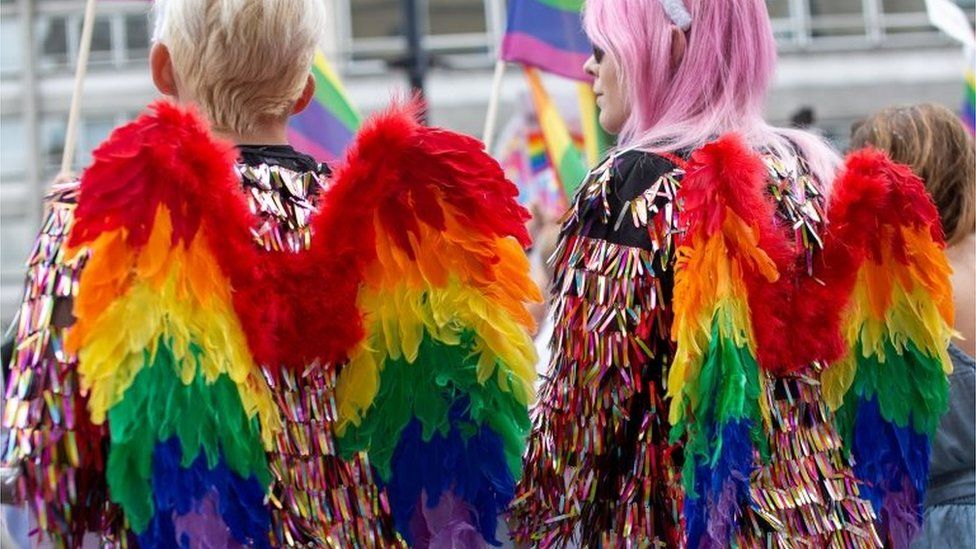 A widespread ban of gay conversion therapy could end up criminalising church leaders, the UK's largest evangelical body has warned.
The Evangelical Alliance, which represents 3,500 churches, says such a ban could restrict religious freedom.
Equalities Minister Liz Truss has said she will introduce a bill to ban the practice "shortly" and met Tory MPs on Tuesday to discuss the subject.
However, some LGBT+ groups have accused the government of moving too slowly.
Conversion therapy refers to treatment aimed at changing a person's sexual orientation or gender identity.
In a letter to the prime minister, the Evangelical Alliance said an "expansive definition" of conversion therapy could restrict religious freedoms and "place church leaders at risk of prosecution".
Peter Lynas, UK director of the alliance, acknowledged the Church's role in "perpetuating stigma, discrimination and harm towards people because of their sexuality".
He said the Evangelical Alliance opposed "abusive practices" and said extreme forms of conversion therapy, such as electric shock treatment, were "clearly wrong".
But he said such practises should already be illegal under existing laws and that a further ban risks preventing gay Christians who want to remain celibate from seeking support.
"This will threaten the everyday practices of churches, church leaders, and Christians across the UK," he wrote in the letter.
"It would place ministry leaders at risk of arrest for encouraging young people to maintain chastity until marriage. And it would criminalise a member of a church who prays with another member when they ask for prayer to resist temptation as they are attracted to someone of the same sex but do not wish to act on it."
On Monday, LGBT supporters from eight political parties urged the government to introduce the ban.
It warned that "without a legislative ban, the government cannot end conversion therapy".
And last week, three advisers quit the government's LGBT+ advisory panel amid concern it is being too slow in bringing in legislation.
However, the government has received support from another group of campaigners praising the government's "careful, evidence-based approach".
The letter was coordinated by the LGB Alliance, which describes itself as promoting the rights of lesbians, bisexuals and gay men.
It expressed concern that "the current push to ban conversion therapy... is being used as political cover to promote an affirmation-only approach to gender identity".
In her response to a recent debate on the issue, Equalities Minister Kemi Badenoch said the government did not "intend to stop those who wish to seek spiritual counselling as they explore their sexual orientation".
She added that conversion therapy had "no place in a civilised society", but added that "robust" laws were already in place to deal with the most troubling examples, involving violence and sexual assault.