Covid: Plan unveiled to 'spruce up' coastal areas and high streets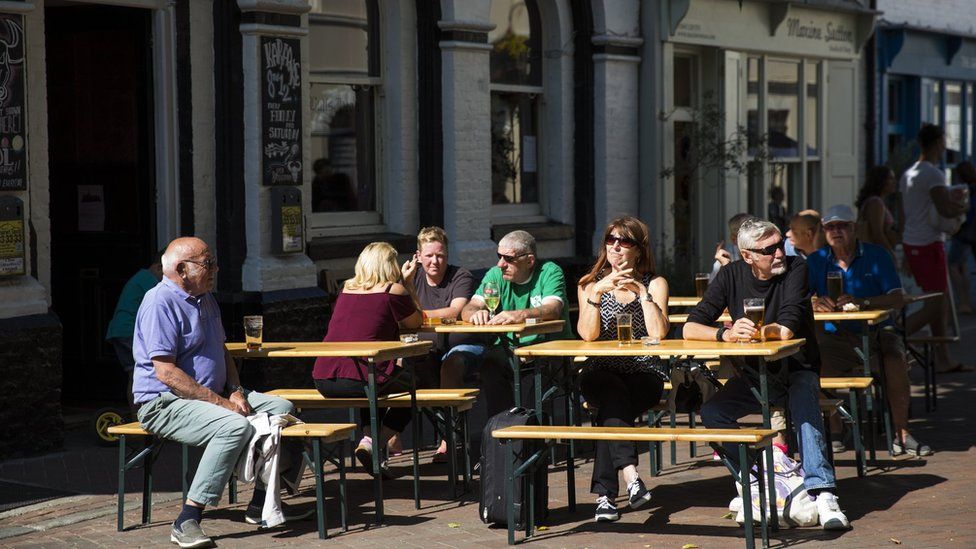 All coastal towns in England will be eligible for government funding to help them reopen as restrictions are eased, under new plans set out by ministers.
Communities Secretary Robert Jenrick said the £56m fund would also "spruce up" high streets and help councils welcome visitors back safely.
Pubs can put up marquees in their gardens for longer and there will be a crackdown on "cowboy parking firms".
Labour said it was a "drop in the ocean" in terms of what areas needed.
Announcing the latest tranche of funding, Mr Jenrick acknowledged it had been "an incredibly difficult period for retail and hospitality".
He said the government would do everything it could to help businesses reopen safely.
There has been concern about how coastal areas in particular will cope with an expected influx of visitors.
Mr Jenrick said that this time, £6m of the £56m Welcome Back fund would be specifically allocated to support coastal areas.
The remaining £50m will be distributed by central government to councils for things such as improving green spaces and providing more outdoor seating areas, markets and food pop-ups.
He also announced the government would be "cutting red tape" to allow pubs to erect marquees in their gardens for "the whole of the spring and summer", rather than the 28 days currently permitted, so people can meet up with their family and friends "whatever the weather".
And in a bid to attract more shoppers to the high street, ministers have announced a crackdown on cowboy parking firms.
There will be a new appeals process to try to curb unfair tickets and caps will be introduced on private parking fines.
The struggles of the hospitality sector amid multiple lockdowns have been well documented. And the independent retailers' trade body Bira says the past 12 months have been the worst of its members' lives - with crucial in-person Easter and pre-Christmas trade lost.
Once non-essential shops can open again, from 12 April in England, any help to attract people back will no doubt be welcome. Businesses will want to make the most of pent-up demand in a safe way.
The same goes for hospitality. While social distancing will still be in place at least to start with, maximising outdoor space will be crucial for venues which have it - especially during the first phase of their reopening when only outdoor service will be permitted.
Packages like these for high streets and towns won't fix the long-term challenges facing town centres: shoppers going online, leaving big high street stores increasingly empty. Some customers have grown so used to internet shopping during a year of lockdowns that the habit will stick.
The hope will be, however, to make this a summer to remember after a winter to forget.
Government officials say this will "give drivers more confidence in heading into town knowing they won't be unfairly penalised by rogue operators".
Mr Jenrick said: "As we move to the next stage on the road map out of lockdown, we are all looking forward to being reunited with friends and family outdoors and making a safe and happy return to our favourite shops, cafes, pubs and restaurants.
"Our Welcome Back Fund gives every city, town and high street support to prepare for a great summer. This funding will help councils and businesses to welcome shoppers, diners and tourists back safely.
"As soon as the road map allows, we need to get behind our local businesses and enjoy all that this country has to offer and that we've been missing so much."
But Labour has accused the Conservatives of presiding over "decades of decline".
The shadow communities secretary, Steve Reed, said: "This is just a drop in the ocean compared to how much the Conservatives took away over a decade when they pushed our high streets and seaside towns into deep decline - and it's not clear which areas will benefit.
"The Conservatives have done nothing to level the playing field between high street shops and online retailers. Now they want to hollow high streets out by selling off temporarily closed shops to wealthy developers so they can never reopen as shops again. "