MPs want government to help festivals with insurance support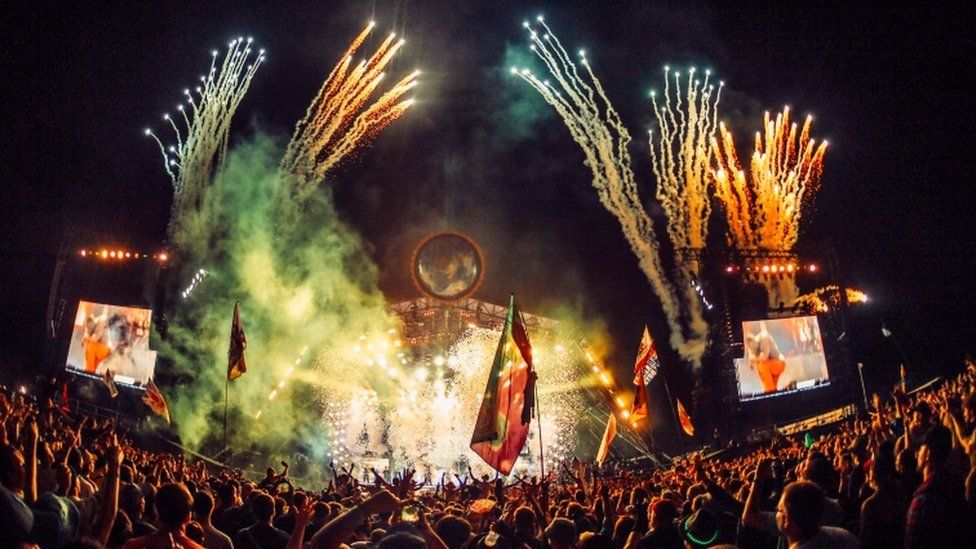 MPs are calling for a government-backed insurance scheme to ensure festival organisers can plan events without fear of cancellation costs.
The proposal would see the government underwrite the insurance, to provide certainty for event organisers.
Download and Glastonbury will not take place this year; while, Latitude, Reading and Leeds festivals have said they will go ahead.
The government said it had provided help through the Culture Recovery Fund.
A Treasury spokesperson said the fund had "already helped over 3,000 organisations including festivals" at a total cost of £1.9bn.
They added: "We are continuing to engage with the events industry and running a series of pilots to ensure events can restart as soon as possible."
Conservative Steve Brine told Radio 4's Today in Parliament programme that in 2019, festivals contributed £1.8bn to the UK economy, and over five million people attended.
He added that Germany is putting in place government-backed insurance for festivals, and said to miss out on these events to other countries "would be a crying shame".
Germany has already made public funds available to protect festivals, and is working on a further €2.5bn (£2.3bn) fund for making venues Covid-secure and to cover event cancellation costs.
Some festivals have taken the plunge to go ahead, Mr Brine said, but organisers can't be certain and the kind of scheme proposed would be "the key that unlocks them".
Liberal Democrat Jamie Stone said the government already provides insurance in case of terrorist attacks.
He said the government make a profit on that insurance scheme, which in 2019 reached £270m.
Mr Stone said the country had been through "absolute hell" with the pandemic, and he said he thought politicians owed it to to the public "to get culture going".
"I think it would be an easy move, and it'd be a very popular move."
Labour's Kevin Brennan said it was not a new venture for the government, and it would be "underwriting the government's own policy".
A debate on government-backed insurance for festivals will be held in Parliament's Westminster Hall on Tuesday 23 March.