Covid: Tory MPs question renewal of emergency powers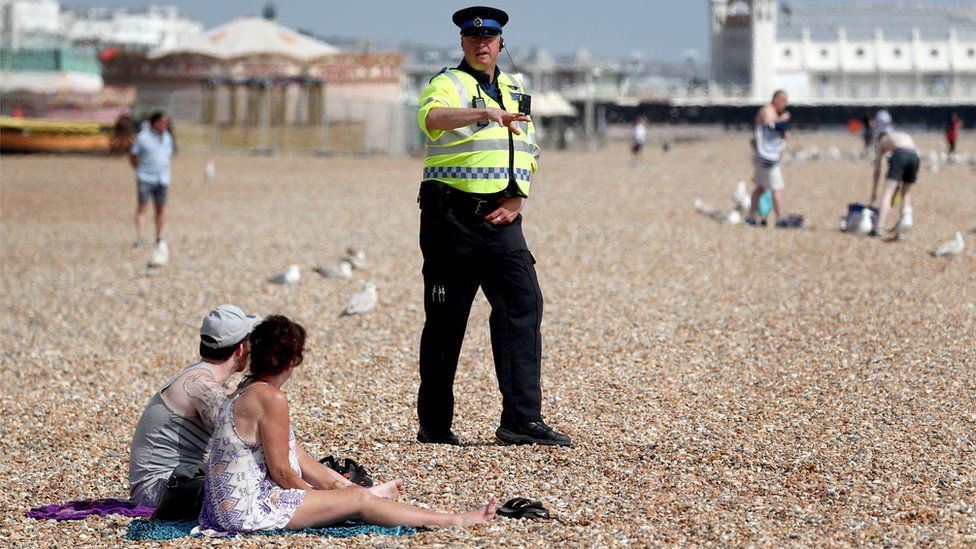 Conservative MPs have criticised the government's plan to renew emergency coronavirus powers for six months.
A Commons vote will take place on Thursday and the government has said only necessary and proportionate measures will remain to tackle Covid.
The vote is expected to pass, with Labour's Lisa Nandy saying her party "won't be standing in the way".
But Tory MP Mark Harper said the plan "raises justifiable concerns" about further restrictions in the autumn.
The backbencher - who leads the lockdown-sceptic Coronavirus Research Group of MPs - tweeted: "The burden is on government to clearly justify to Parliament each measure they wish to retain and explain why they are proportionate, reasonable and grounded in evidence."
The Coronavirus Act was brought in back in March 2020 at the start of pandemic.
The law gave the government wide-ranging powers unlike others seen before - from shutting down pubs through to detaining individuals deemed at risk as part of efforts to contain the spread of the virus.
It has to be approved every six months, but has been given a two-year lifespan, with the option for the provisions to be extended, or expired early.
When it was brought in, Health Secretary Matt Hancock said the powers in the bill would only be used "when strictly necessary" and would remain in force only for as long as required to respond to the crisis.
While this latest "yes or no" vote on the law is expected to pass, some Conservatives have raised concerns about the need for a further six months of emergency powers, and some rebels could vote against it.
Mr Harper said extending the Coronavirus Act was not "compatible" with the prime minister's pledge of a "one-way road to freedom" as promised in his roadmap out of lockdown - which would see all legal limits on social contact lifted by 21 June, if strict conditions are met.
The MP tweeted: "If we are really to believe that the government's roadmap will be 'reclaiming our freedoms' by 21 June, why would Parliament be asked to extend the Coronavirus Act all the way until October?
"That is the question MPs must consider and ministers must answer this week."
Another member of the Coronavirus Research Group, Conservative MP Steve Baker, also raised questions about specific aspects of the law, saying the ability to detain someone was "disproportionate, extreme and wholly unnecessary".
And he said if it remained illegal to stay overnight in another household over Easter, Mr Johnson "must make clear that these laws will be properly and consistently policed and enforced".
Mr Baker said if the PM did not make a statement restating the "severe rules" for the Bank Holiday, then the restrictions should be lifted, adding: "They are immensely damaging to people's welfare, health and livelihoods.
"The time has come for this dark chapter in our history to come to an end and for us to reclaim our freedoms once and for all."
Asked for his response to critics within his party, Defence Secretary Ben Wallace told the BBC's Andrew Marr Show that compliance with the rules was important.
He said: "My constituents have sacrificed a huge amount... they have followed the rules, they have done everything to preserve the NHS, to protect life, they have sacrificed economically.
"We do not want to throw that away."
Labour is not expected to vote down the legislation.
Ms Nandy told Andrew Marr there were "certainly powers on the statute book that haven't been used in the last 12 months" and it was important to "have that debate in the Commons about whether it is necessary they remain".
She added: "But nevertheless, what the vote is this week is about the roadmap, about easing lockdown, it is about statutory sick pay, it is about banning evictions, it is about all measures we have pushed for.
"We certainly won't be standing in the way of the government getting this legislation passed."