Boris Johnson: UK considering tougher measures on France arrivals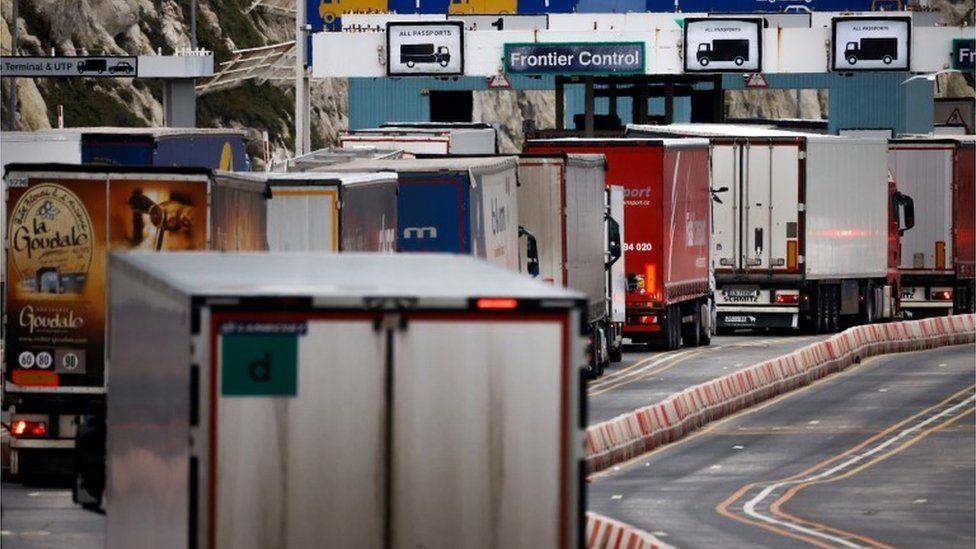 Tougher measures on hauliers travelling from France to the UK are to be considered to stop Covid variants being imported, Boris Johnson has said.
At an MPs' hearing, the prime minister was asked why France had not been added to the UK's travel "red list".
Mr Johnson said there was a balance needed between protecting public health and keeping trade flowing.
His comments come amid concerns about the spread of South African, UK and Brazilian variants in France.
The "red list", which requires arriving people to pay to quarantine in a hotel, is part of travel regulations aimed at stopping Covid variants entering the country.
Questioning the PM at the Liaison Committee, Labour's Yvette Cooper said every week 20,000 people - such as lorry drivers - were coming to the UK from France - and two-thirds of them were exempt from restrictions.
She said France had up to 3,000 cases of the South African and Brazilian variants and questioned why it was not on the "red list" of countries from which travel is effectively banned.
She acknowledged the need for trade would mean quarantine was not appropriate for hauliers but questioned why they were not being tested for coronavirus.
Mr Johnson said putting France on the "red list" was "something that we will have to look at".
When pushed on whether hauliers should be tested, Mr Johnson said the decision required weighing up the efficacy of current vaccines on the variants of concern and the disruption that would cause to goods being brought across to the UK.
He pointed out that 75% of the UK's medicines and 50% of its food comes through short straits (Dover-Calais, ferry and tunnel).
"We will take a decision, no matter how tough, to interrupt those flows, if we think it is necessary to protect public health. It may be that we have to do that very soon," he told the committee.
On Tuesday, health minister Lord Bethell said the UK's nearest neighbours could join other nations on the country's "red list".
There was a "possibility" that every European country could face a ban, he added, but that would be done "with huge regret".
In December, France closed its border to arrivals from the UK including hauliers.
The two-day closure led to queues of thousands of lorries trying to cross the channel, which was eased after France agreed to allow hauliers to cross once they had a negative Covid test result.
Under lockdown rules, holiday travel is not currently allowed - either in the UK or abroad.
New coronavirus laws, due to be introduced in England on Monday, would mean a £5,000 fine for travelling outside the UK without a reasonable excuse.