Covid-19: Pubs could require vaccine passports - Boris Johnson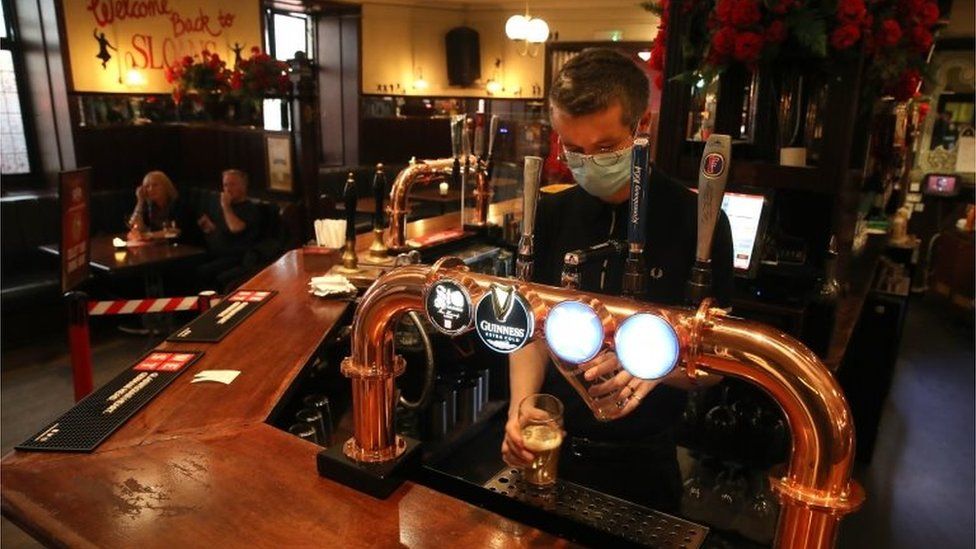 Pub goers could be asked to provide a vaccine certificate, Boris Johnson has told MPs, saying it "may be up to individual publicans".
A review is looking into whether people should have to prove they have been vaccinated, as lockdown measures ease.
A government source told the BBC that the option of allowing people to show a negative test was also being looked at.
But Tory MP Steve Baker said it was a "ghastly trap" and unfairly penalised those advised not to have a vaccine.
They will also be asked to approve the government's plan to renew emergency coronavirus powers for another six months. The Coronavirus Act was introduced in March 2020 at the start of the pandemic.
The government review of vaccine certification could report in May to coincide with the wider reopening of hospitality in England, according to a senior government source.
The review is looking at how people's vaccination and testing status could be stored securely and displayed on a mobile phone, and the circumstances under which such a system could apply.
The idea of asking pub goers to show a vaccine certificate was raised at Wednesday's House of Commons Liaison Committee hearing, when Conservative William Wragg asked Mr Johnson if vaccine certificates were "compatible with a free society such as ours".
Mr Johnson said the concept "should not be totally alien to us" as doctors already have to have hepatitis B jabs.
Mr Wragg then asked, what about "ordinary citizens going to the pub?" and the prime minister replied: "That's the kind of thing that may be up to individual publicans."
Pushed further, Mr Johnson said: "I find myself in this long national conversation thinking very deeply about it" adding that the public "want me as prime minister to take all the action I can to protect them".
Mr Johnson also said it seemed "wholly responsible" for care companies to require their workers to be vaccinated and "the principle is there" in terms of professions requiring certain vaccines when "entrusted with care of a patient".
Speaking on BBC Radio 4's Today programme, Jonathan Neame, chief executive of the Shepherd Neame pub chain, said his company would not insist on vaccine certificates.
He said: "The whole essence of a pub is that they are diverse and inclusive environments, where everybody, and families in particular, are extremely welcome."
He added: "It's absolutely fine to exclude people where there is a situation of bad behaviour or drunkenness, and that's already enshrined in law, but if you're going to exclude people for what they are, or what they have not done, that's a wholly different issue which does touch on discrimination, civil liberties, and in this case data protection issues."
Peter Marks, from nightclub owner the Deltic Group, said a vaccine certificate "could work" for the sector and would probably be accepted by customers already used to carrying IDs to get into venues. However, he said he was concerned introducing such a measure could delay the reopening of businesses.
Ministers, and the devolved administrations, have set out plans for how the rules they imposed will be rolled back.
But there are still question marks over what will take the place of the laws we have lived with for so long.
Mr Johnson was happy to sketch out how that question could in part be answered, in a way that not all of his party will like.
He made clear that he was willing to countenance the idea of "jabs for jobs" and held open the possibility that bars might ask for "papers for pints".
When tests are widely available, proof of a negative test, is also being considered as a tool to help venues open up
The government is reluctant to make any of this compulsory for everyone.
But it seems that proving our Covid status, through the vaccination, or a test, is likely to be part of our lives in the medium term.
At the Liaison Committee hearing, senior Tory backbencher Mr Baker strongly rejected the suggestion of requiring pub goers to show proof they had been vaccinated, saying: "First they said we'll need them to watch the football, and today that it may be papers for the pub."
He warned that such a situation would prevent pregnant women - who have been advised not to take the vaccine - from "taking part in society".
He also expressed concern that business would be able to turn away customers "from communities which have shown an unfortunate hesitancy to take up the offer of a vaccine".
"We must not fall into this ghastly trap," he said.
Downing Street later pointed out that pregnant women are not specifically being advised to avoid having a Covid vaccination, but to discuss it with their GP.
Kate Nicholls, the chief executive of UK Hospitality, said the sector should not be "subject to mandatory vaccination certification".
"It is simply unworkable, would cause conflict between staff and customers and almost certainty result in breaches of equality rules," she added.