Covid: Vaccine passports could help reopen society - Dowden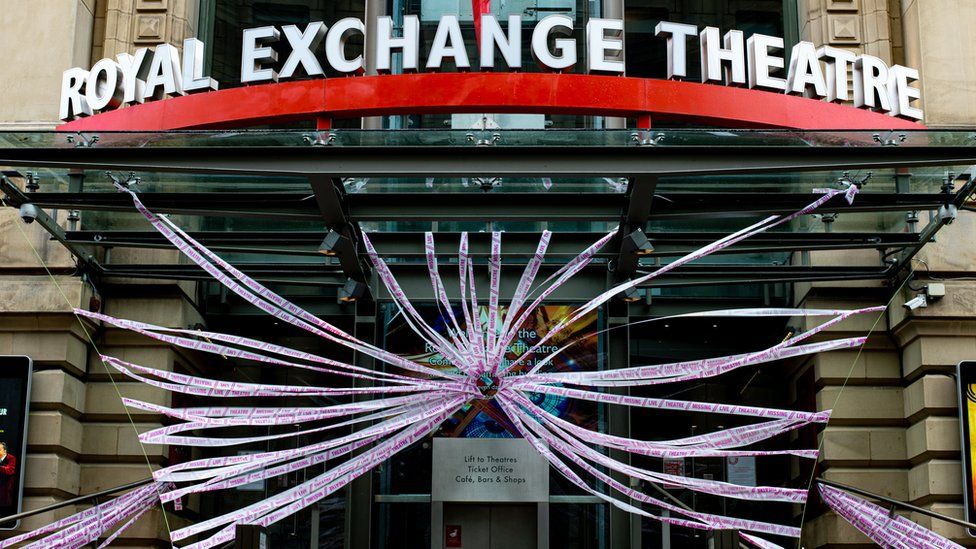 Vaccine passports could be a "tool in the short term" to reopen theatres and sports stadiums, Culture Secretary Oliver Dowden has said.
The government needs to "look at all options" to "make areas of our national life viable", he said, but no decisions have yet been made.
Wales' First Minister Mark Drakeford said there were "prizes to be won" with vaccine passports.
Under the government's four-step plan to ease England's lockdown, all legal limits on social contact could be lifted by 21 June, if strict conditions are met.
While most social gathering rules are due to be fully lifted outside on 17 May, social distancing rules and limits on capacity will remain indoors for at least a further five weeks for venues like cinemas, museums and theatres, and for sporting events.
The prime minister has suggested pub goers could be asked to provide a vaccine certificate as part of a wider review that could report in May. But he said vaccine passports would not be considered until everyone has been offered a jab, which is due to be by the end of July.
Speaking on The Andrew Marr Show, Mr Dowden said no decisions had yet been made about Covid certification.
He said it was important to examine this in order to reach "a much greater easing in the middle of June" as planned, but it is "not the only factor".
Mr Dowden said he completely understood "concerns people have raised on civil liberties grounds" and that was why the review currently being undertaken by the cabinet office minister, Michael Gove, was so important.
He said pilots would begin from the middle of April to look at things like ventilation, one-way systems and tests on how the virus spreads at indoor and outdoor events.
The success of the vaccine rollout and the better weather in the summer months would also be crucial factors, he added.
Wales' First Minister Mr Drakeford said he was prepared to consider coronavirus certificates on a "four-nation basis" but the system had to be "fair and reliable".
He told The Andrew Marr show that he had spoken with Michael Gove and the first ministers of Scotland and Northern Ireland on the matter this week.
"I think there are definitely prizes to be won through domestic vaccine certification, but there are very big practical and ethical challenges to face as well," he said.
"What about those who can't be vaccinated because their health conditions don't allow that to happen? If it's a self-certification system, then what reliance can we put on the fact the that somebody produces a certificate?"
Speaking on the same programme, Mark Woolhouse, professor of infectious disease epidemiology at the University of Edinburgh, said vaccine passports needed to be considered as part of a wider package of protective measures.
"It's certainly something we have to consider seriously" in order to "make our activities safe", he added.
Vaccine passports could be used for reopening nightclubs and enabling mass gatherings, said Prof Woolhouse.
He added: "Part of the whole point of living with this virus is we have to switch emphasis, we have to now start thinking about how do we make those activities safe.
"For those activities that it is difficult to make completely safe - I am thinking things like nightclubs, large concerts, mass gatherings - that's where passports come in. Whether it is vaccine passports, test-negative passports or even immunity passports."
Labour has said while vaccine passports "may be necessary", it is more important to get a comprehensive quarantine programme in place for arrivals in to the UK.
Shadow Home Secretary Nick Thomas-Symonds said the priority was closing "the gaping hole in our defences at the border".