Minister defends David Cameron as 'a man of integrity'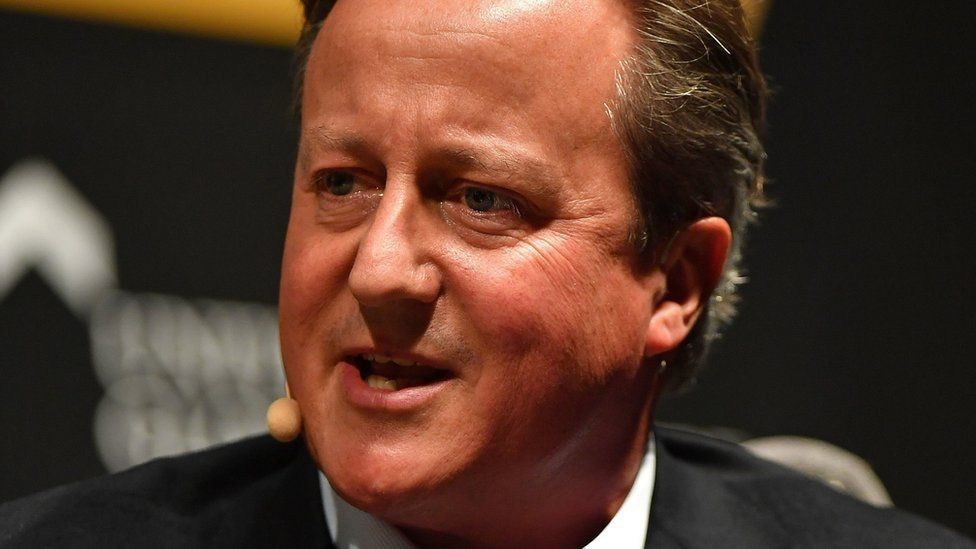 David Cameron has been defended as "a man of the utmost integrity" by a current cabinet minister, after a fresh row about the former prime minister's dealings with a banker.
The Sunday Times claimed Lex Greensill benefited from "privileged access" to government departments during Mr Cameron's time in office.
Oliver Dowden said he had "no doubt" the former PM "behaved properly".
Labour is calling for an "urgent inquiry".
Mr Cameron was cleared this week by a watchdog which looked at whether he should have declared himself on the register of consultant lobbyists over work he had done for Greensill Capital.
The company, which went bust recently, was a key financial backer of Liberty Steel.
Greensill's collapse raised questions about the future of Liberty Steel and thousands of jobs there.
There were reports Mr Cameron tried unsuccessfully to increase Greensill Capital's access to government-backed loans by contacting officials as well as the chancellor, Rishi Sunak.
Now the Sunday Times has reported that, during Mr Cameron's time at Number 10, Mr Greensill gained privileged access to Whitehall where he promoted a financial product that he would - in later years - go on to benefit from.
The Pharmacy Early Payment Scheme, announced in 2012, saw banks swiftly reimburse pharmacists for providing NHS prescriptions, for a fee, before recovering the money from the government.
Greensill Capital went on to provide funds for the scheme.
Mr Dowden, who worked as a special adviser and deputy chief of staff at Downing Street from 2010 to 2015, was questioned about the matter on The Andrew Marr Show.
The culture secretary said while he didn't know the "full ins and outs", he had "no doubt" Mr Cameron would have behaved properly throughout.
"As far as I can tell, no decision in government policy was changed as a result of any meetings that took place," he said. "They'd be properly declared."
Labour's shadow chancellor of the Duchy of Lancaster, Rachel Reeves, said: "These reports raise very serious questions about the conduct of former Conservative prime minister David Cameron and the access he gave Lex Greensill to ministers and Whitehall departments.
"The British people deserve answers to those questions. That's why the Conservatives should agree to an urgent inquiry so we can get to the bottom of this latest scandal."
A government spokesman said Mr Greensill had previously acted as a supply chain finance adviser and Crown Representative - adding the appointment had been unpaid and was approved in the normal manner.
Neither Mr Greensill nor Mr Cameron have commented.