Greensill: What is the David Cameron lobbying row about?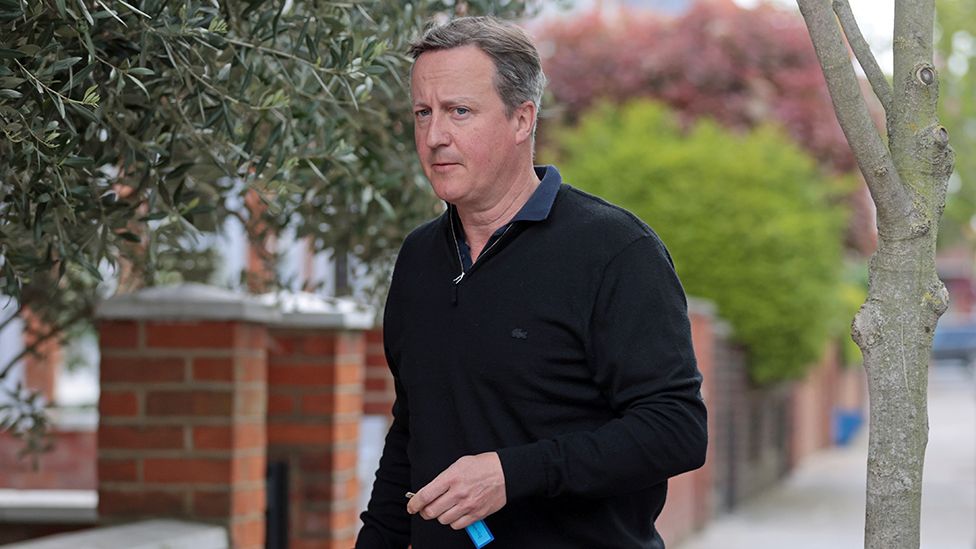 Former Prime Minister David Cameron made about £3.3m from shares in the collapsed finance company Greensill Capital, documents obtained by BBC Panorama suggest.
Last month an MPs' report accused Mr Cameron of "a significant lack of judgement" in lobbying the government on behalf of the company, although it said he did not break any rules.
What did David Cameron do?
In 2020, Mr Cameron tried to persuade ministers to allow Greensill - who employed him as an adviser - to join a scheme called the Corporate Covid Financing Facility (CCFF).
This would have allowed the company to issue loans, insured by the government, to help firms through the pandemic.
However, Mr Cameron - and the company's founder, Lex Greensill - were unsuccessful in their attempts.
Greensill Capital collapsed this year, with the loss of 440 jobs, and possible billion-pound losses for investors.
Mr Cameron has consistently declined to say how much he was being paid by Greensill, except that it was "far more" than his salary as PM.
However, BBC's Panorama has obtained a letter from Greensill Capital to the former PM which suggests that he made £3.29m after selling a tranche of Greensill shares in 2019.
As well as the shares, Mr Cameron is reported to have received a salary of $1m (£720,000) a year as a part-time adviser.
The programme also understands that the former prime minister was paid a bonus of $700,000 (£504,000) in 2019 on top of his salary.
In total, it looks like he made around $10m before tax for two-and-a-half years' part-time work.
Mr Cameron's spokesman said his remuneration was a private matter.
Why is this controversial?
Mr Cameron has been accused of trying to exploit private contacts with former government colleagues, for his own benefit.
Among these were nine WhatsApp messages to Chancellor Rishi Sunak and 12 text messages to Sir Tom Scholar, the Treasury's top civil servant.
The Bank of England has published correspondence showing that Mr Cameron had contacted senior officials several times, in an unsuccessful attempt to win their support.
What's been said about the affair?
A report last month by the House of Commons Treasury Select Committee said that while no lobbying rules were broken, Mr Cameron's actions showed there was a "good case for strengthening them", with the current ones offering "insufficient strength".
It also said that the Treasury was right to reject the former PM's proposals, but it "should have encouraged" him into "more formal lines of communication as soon as it had identified his personal financial incentives".
A Cabinet Office review commissioned by Boris Johnson also criticised Mr Cameron, and said he had understated his relationship with Greensill when lobbying the Treasury. However, it said that "his actions were not unlawful".
Several other reviews are investigating matters related to lobbying and Greensill.
How has Mr Cameron responded?
Responding to the Treasury Committee report, Mr Cameron admitted that he should have used more formal channels, but said he had worked for Greensill primarily because he thought the firm could help small businesses during an economic crisis.
However, Deputy Labour Leader Angela Rayner said the fact that Mr Cameron had been cleared of breaking rules proved "that the rules that are supposed to regulate lobbying are completely unfit for purpose".
What rules are in place for former ministers?
Current rules state that "on leaving office, ministers will be prohibited from lobbying government for two years".
Before accepting new jobs, former ministers are supposed to inform a body called the Advisory Committee on Business Appointments (Acoba).
Acoba advises civil servants and politicians on what they can and can't do after leaving public service.
However, although former ministers are required to contact Acoba, they are not obliged to act on its advice.
Why did Greensill go bust?
The company's collapse earlier this year was triggered after its insurer refused to renew cover for the loans Greensill was making.