Ex-politicians should be very careful - minister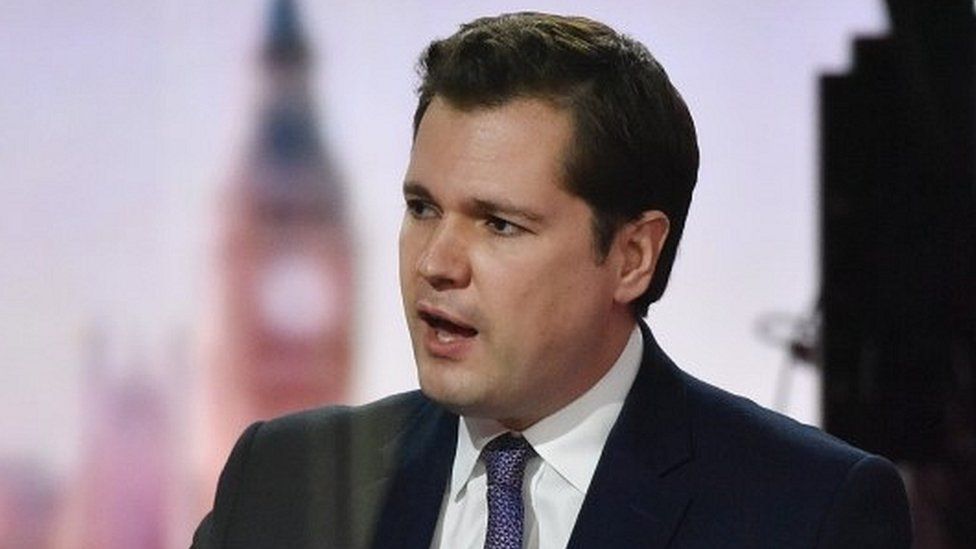 Politicians must be "very careful" in the way they conduct themselves after leaving government, the communities secretary has said.
Robert Jenrick told the BBC it was important not to "harm your office or public life more generally".
His remarks follow criticism of former Prime Minister David Cameron over his paid role with the financial company Greensill Capital.
Mr Cameron has not commented on the matter.
Labour has asked the Committee on Standards in Public Life to examine his reported part in lobbying the government on behalf of Greensill Capital after it employed him as an adviser.
It has also written to Cabinet Secretary Simon Case, requesting a "full, transparent and thorough investigation" into the company's "links with the Conservatives".
The Financial Times has reported that Mr Cameron unsuccessfully tried to increase Greenhill Capital's involvement in a scheme offering government-backed loans to Covid-hit companies.
He was reported to have contacted officials, as well as Chancellor Rishi Sunak.
Politicians have to wait for two years after leaving office before they can be employed as lobbyists, whose job it is to influence government decisions.
Mr Cameron, who was prime minister from 2010 to 2016, started work for Greensill Capital in 2018.
Asked on the BBC News Channel if the rules needed tightening, with the length of the lobbying ban for former office-holders extended, Mr Jenrick said: "It's difficult to prohibit someone who is a private citizen from making a living.
"A former prime minister is an exceptional example - there is a wide range of people who hold office, different degrees from ministers to local councillors.
"But I do think you have to be very careful how you conduct yourself once you leave office and not to use any privileged information and contacts you have in a way that does harm to your office or public life more generally."
Mr Jenrick, an MP since 2014, said he could not comment on Mr Cameron's specific situation as he did not "know the details".
But he added: "For those of us who are lucky enough to be in public office, when that comes to an end, you do have to exercise great care, what you do next."
And Mr Sunak told ITV it was "right" for the Treasury to "engage with stakeholders", including companies, "and we do that all the time when people come with policy suggestions".
But "ultimately" Greensill Capital's proposal had been "rejected", the chancellor added.
The company's founder, Lex Greensill, worked as an unpaid government adviser under the Conservative-Liberal Democrat coalition led by Mr Cameron.
The Sunday Times reported that, during his time in the role, he had promoted a government-backed loans scheme to speed up payments to pharmacists.
Greensill Capital later went on to provide funds for the scheme.
Labour wants the Committee on Standards in Public Life to look into the extent of the access to government offered to Mr Greensill under the coalition.
A Downing Street spokesman said: "Lex Greensill acted as a Supply Chain Finance Adviser from 2012 to 2015 and as a Crown Representative for three years from 2013.
"His appointment was approved in the normal manner and he was not paid for either role."
Last week, a watchdog cleared Mr Cameron of engaging in lobbying for which he was not registered, saying he was exempt from this requirement as an in-house employee of Greensill Capital.