Greensill lobbying row: Rishi Sunak texts to David Cameron released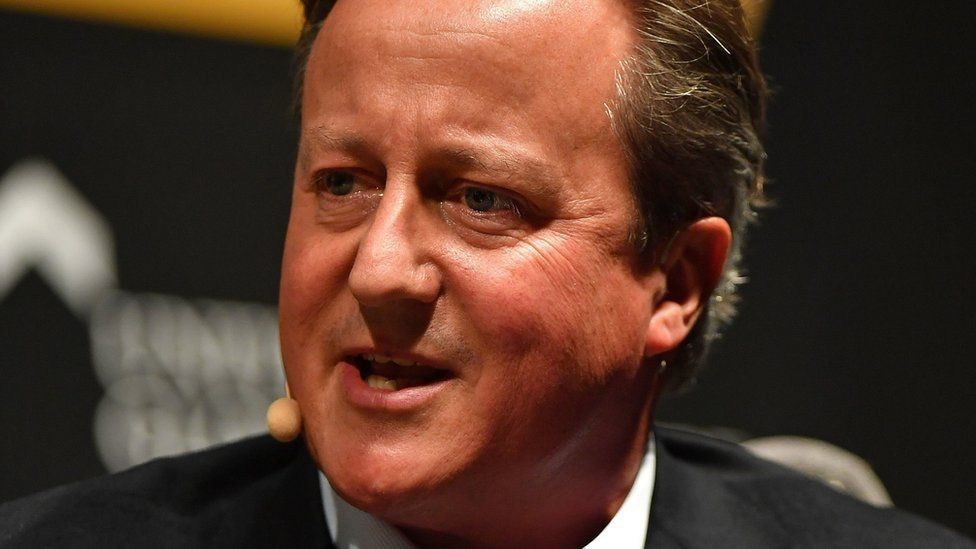 The Treasury has released two text messages sent by Rishi Sunak to David Cameron amid an ongoing lobbying row.
Mr Cameron sent messages to the chancellor's private phone last year to ask for help for finance firm Greensill Capital, where he worked as an adviser.
The firm was run by Lex Greensill - a former unpaid adviser to the ex-PM during his time in No 10.
The texts show Mr Sunak told Mr Cameron his request for access to government-backed loans was being examined.
Mr Cameron's messages to Mr Sunak have not been released.
In a document detailing the messages, officials said Mr Cameron had sent the messages as a Greensill employee with an expectation that they would remain confidential.
It also revealed that the former PM had contacted two other Treasury ministers - Jesse Norman and John Glen - about the company.
A source close to Mr Sunak said Mr Cameron had messaged the chancellor "multiple times" on his personal phone.
The source added Mr Sunak had chosen to publish the messages "in order to reassure beyond doubt that there was no wrongdoing and that he acted with integrity and propriety".
But Labour's shadow chancellor, Anneliese Dodds, said the messages "raise very serious questions about whether the chancellor may have broken the ministerial code", saying they suggested the firm "got accelerated treatment and access to officials" and Mr Sunak "pushed officials to consider Greensill's requests".
After leaving office, Mr Cameron got a job as an adviser from his own former adviser, Mr Greensill.
When advising Greensill Capital - which has now gone bust - the former prime minister texted Conservative ministers within the Treasury to appeal for access to emergency loans for Greensill Capital.
But the requests were rejected by Treasury officials.
Mr Cameron was investigated by a watchdog over whether he broke rules by not registering as a lobbyist for his work at Greensill - but he was cleared in March.
However, critics have continued to question his access to ministers and the role Mr Greensill played in Downing Street when Mr Cameron was prime minister.
Who has access to those in power, how is that access used - and how do those in power respond?
These are the questions that matter at the heart of this, or any other political row about lobbying; the attempt to exert influence on politicians.
Labour is demanding what it calls "a full, transparent and thorough investigation" into Greensill Capital's connections at Westminster.
David Cameron was working for Greensill Capital, a firm run by Lex Greensill, who had previously worked in Downing Street... when Mr Cameron was prime minister.
Former politicians have two marketable assets when they leave politics:
1.) They know how government works.
2.) And they know who works in government.
Mr Cameron had served the two-year lobbying ban imposed on former ministers when they leave office before he worked for Greensill.
And seeking to make your case to government - as an individual, charity, trade union, or business - is an integral part of politics in a democracy.
But would someone who didn't happen to be a former prime minister be able to text the Chancellor, and get a reply?
What is tricky in any story about lobbying is trying to prove whether the intervention of the lobbyist made any difference.
While the rules on lobbying are more transparent than they were, plenty think they need to be much more so.
In Mr Sunak's reply to a text from Mr Cameron on 3 April 2020, the chancellor said: "Hi David, thanks for your message. I am stuck back to back on calls but will try you later this evening and if gets too late, first thing tomorrow. Best, Rishi."
In the second reply on 23 April, Mr Sunak said: "Hi David, apologies for the delay. I think the proposals in the end did require a change to the Market Notice but I have pushed the team to explore an alternative with the Bank that might work.
"No guarantees, but the Bank are currently looking at it and Charles should be in touch. Best, Rishi."
What do the texts reference?
The 23 April message relates to Greensill Capital's desire to be part of a government-backed Covid loan scheme.
The "Bank" Mr Sunak refers to is understood to be the Bank of England, which was running the Corporate Covid Financing Facility - a scheme to help big firms through the crisis.
And it is understood that "Charles" refers to Charles Roxburgh, the second most senior civil servant at the Treasury.
The Treasury said the firm's requests were eventually rejected by officials.
Ms Dodds added: "The Chancellor's decision to open the door to Greensill Capital has put public money at risk.
"There must be a full, transparent and thorough investigation into the chain of events that saw Greensill awarded lucrative contracts, the freedom of Whitehall and the right to lend millions of pounds of government-backed Covid loans."
The SNP's Stewart Hosie accused the government of "stumbling from one scandal to the next", adding: "Tory ministers and former prime ministers casually texting each other over government access utterly reeks."
He called on Mr Sunak to "come before Parliament and set the record straight".
Mr Greensill, the Australian founder of Greensill Capital, has yet to comment on the row.
Mr Cameron has also declined requests for a comment.