Race report: Boris Johnson urged to withdraw 'whitewashing' inquiry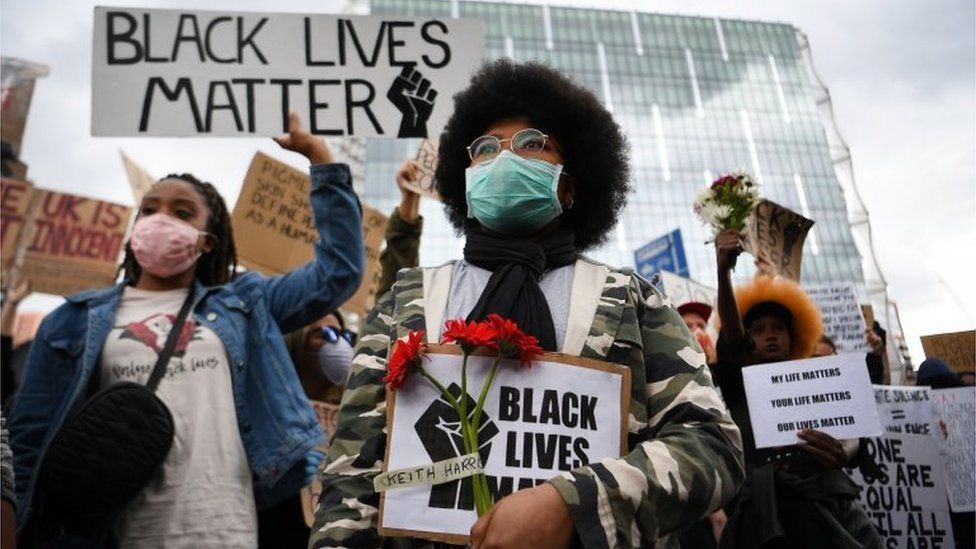 Boris Johnson should withdraw a report into racism and instead implement recommendations of past inquiries, campaigners have said.
Groups including Black Lives Matter UK say the government-commissioned report had "provoked national indignation".
And, they say in a letter to the PM, it "whitewashes the daily challenges faced by black and minoritised communities".
Mr Johnson has said he does not agree with everything in the report but he wants to implement its recommendations.
Downing Street set up the Commission on Race and Ethnic Disparities in June last year, following anti-racism protests triggered by the killing of George Floyd in the US.
The commission was tasked with looking into racial inequality in the UK.
Their report - published last month - concluded that the country "no longer" has a system rigged against people from ethnic minorities.
It also said family structure and social class had a bigger impact than race on how people's lives turned out.
The report acknowledged that overt racism exists, particularly online, but said the UK "should be regarded as a model for other white-majority countries" for its success in removing race-based disparities in society.
Dr Tony Sewell who chaired the commission told the BBC they found "anecdotal evidence" of racism but no proof of "institutional racism" in the country.
The report makes 24 recommendations which include:
Extended school days to be phased in, starting with disadvantaged areas, to help pupils catch up on missed learning during the pandemic
Children from disadvantaged backgrounds should have access to better quality careers advice in schools, funded by university outreach programmes
More research is needed to examine why pupils perform well in certain communities, so this can be replicated to help all children succeed
The acronym BAME (Black, Asian and Minority Ethnic) should no longer be used because differences between groups are as important as what they have in common
Organisations should stop funding unconscious bias training, with government and experts developing resources to help advance workplace equality
In the letter, organisations including campaigning group Charity So White, Liberty, the National Education Union and The Runnymede Trust called on Mr Johnson to "repudiate the commission's findings immediately and withdraw its report".
They said: "From the moment that membership of the ostensibly independent commission was announced, it was clear it would publish a tailored report conforming to a government narrative around racism and class - a narrative that whitewashes over the daily challenges faced by Black and minoritised communities in this country."
The letter also said the report was "lacking in intellectual rigour" and notes that some of those cited in the report have since claimed they were misrepresented.
It urged Mr Johnson to establish a task force to implement the recommendations made by previous investigations into race including inquiries into the murder of Stephen Lawrence and the Windrush scandal.
The Commission on Race and Ethnic Disparities has said its work has been misrepresented and it had "never said that racism does not exist in society or in institutions".
"We say the contrary: racism is real and we must do more to tackle it," the commission said in a statement last week.
"Robust debate we welcome. But to depict us as racism deniers, slavery apologists or worse is unacceptable."
What have previous reports recommended?
A review of the Windrush scandal, published in March 2020, said the Home Office should appoint a Migrants Commissioner, develop a programme of cultural change for the department, and establish a race advisory board.
Home Secretary Priti Patel has promised to implement the recommendations in full.
That review recommended allowing low-level offenders to "defer" prosecution and opt for a rehabilitation programme before entering a plea; gathering more data on the ethnicity and religion of offenders; and introducing targets for a more representative workforce within the justice system.
In 2020, the prime minister said that 16 of the recommendations had been met, but Mr Lammy disputed this, arguing that just six had actually been implemented.
The McGregor-Smith Review of race in the workplace, also published in 2017, said firms with more than 50 workers should publish a breakdown of their workforce by race and by how much they are paid.
The government said it agreed with many of the review's recommendations but said it hoped "reasonable employers" would implement the changes, rather than waiting for the government to introduce legislation.
Boris Johnson said the Commission on Race and Ethnic Disparities report was a "very interesting piece of work" but he was "not going to say the government is going to agree with absolutely everything in it".
He said there are "very serious issues that our society faces to do with racism that we need to address" and added that the government would be looking at the ideas the commission put forward.
The letter calling on the PM to withdraw the report, which gained more than 20,000 signatures in 48 hours, has also received support from writer Afua Hirsch and actor Riz Ahmed.