Covid: Vaccinating children should be considered, says Jeremy Hunt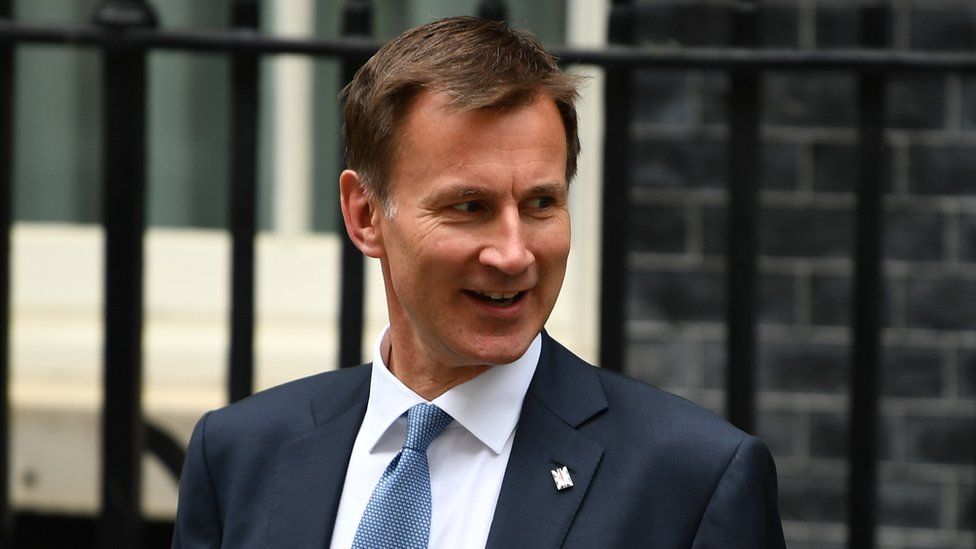 The government should "definitely look into" offering Covid vaccines to children over 12, former Health Secretary Jeremy Hunt has said.
The Tory MP told the BBC it should be considered because children can spread the disease to older people, even if they are at low risk themselves.
No decision has yet been made about vaccinating children in the UK.
The Pfizer vaccine is currently approved for use in over-16s in the UK, with the AstraZeneca and Moderna vaccines authorised for over-18s.
Health Secretary Matt Hancock has said the UK government has secured enough Pfizer for children to be vaccinated, if licences are granted.
Asked on BBC Radio 4's The Week in Westminster whether the government should consider jabs for the over-12s, Mr Hunt said: "Vaccinating children is something we definitely need to look into.
"And I'm sure we will, because they can transmit the virus across generations, even if they're not badly affected themselves.
"I think it's encouraging the US has approved the use of the Pfizer vaccine for the over-12s. I would expect something similar here too."
On Monday, Mr Hancock - responsible for vaccines policy in England - said ministers wanted to be "very careful and sensitive about whether and how we offer the vaccine to children".
But he added: "We have a couple of months before we need to make and operationalise a decision."
Welsh First Minister Mark Drakeford recently said it was likely the Welsh government would want to roll out jabs for children if licences were granted.
Ministers in different parts of the UK decide on vaccine strategy, on the advice of the Joint Committee on Vaccination and Immunisation (JCVI).
Those in England are under a legal duty to implement the JCVI's recommendations for new vaccines "so far as is reasonably practicable".
Canada has also authorised the Pfizer jab for 12-to-15-year-olds, with the province of Alberta already offering it to children over 12.
US President Joe Biden has laid out plans to begin coronavirus vaccine shots for 12-to-15-year-olds as soon as possible.
And in Switzerland, some places began offering vaccination appointments to 16-year-olds in early May.
Elsewhere in his interview, Mr Hunt said simpler financial support would have encouraged more people with the virus to self-isolate.
He said the failure to get greater numbers of people to isolate quickly had been "one of the biggest lessons of this pandemic".
In September the government introduced a £500 support payment for people on low incomes, who were unable to work because they were self-isolating.
However, BBC Reality Check has reported that about two-thirds of those who applied for the payment had been turned down.
Mr Hunt was also asked about the appearance of Boris Johnson's ex-adviser Dominic Cummings before the Commons Health and Social Care committee, which he chairs, next Wednesday.
Mr Cummings has agreed to give evidence to the committee as part of its inquiry into the government's handling of the pandemic.
Mr Hunt said the occasion would not be "a moment for the dirty washing of political laundry," adding: "What we want to do is get to the bottom of what we did well and what we did not do well."
He added it was unusual for a parliamentary inquiry to take evidence from "someone who was actually in the room when the big decisions were made".
"So we'll be asking what the pressures on decision-makers were, why certain decisions were taken, and I think that will be incredibly helpful."
You can hear the full Week in Westminster interview with Jeremy Hunt on BBC Radio 4 at 11.00 BST on Saturday 22 May, and also via BBC Sounds.