New border scheme will make UK safer, says Priti Patel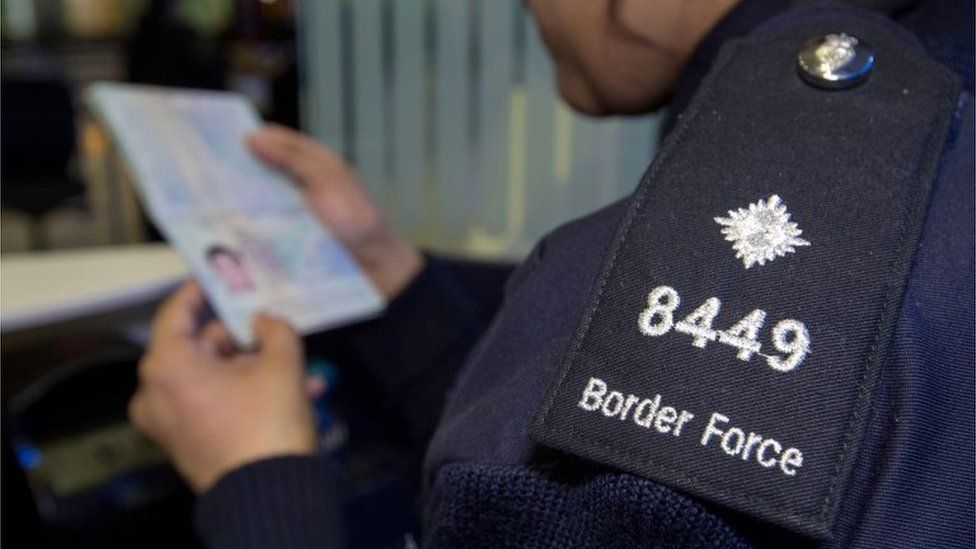 A new border scheme requiring visitors to apply for an electronic permit will make the UK safer, Home Secretary Priti Patel has said.
She also argued it will make it easier to count those coming to the UK.
Under the plan, all visitors without a visa or immigration status will have to apply for an Electronic Travel Authorisation (ETA) before coming to the UK.
But Labour accused the government of "incompetence" over immigration.
Passengers required to get a permit under the new system would include those travelling to the UK for a short stay or transiting - changing planes - in the country.
People wishing to work in the UK or stay in the country for a long period of time - for example over six months - would need to obtain a visa, rather than an ETA.
The Home Office says the new system would allow automated and early security checks to take place to stop foreign criminals arriving in the country, with applicants only allowed to travel once they have been cleared.
The department also says the new scheme will make it easier to count the numbers coming into the country and notes that past migration figures have underestimated the true figure.
For example, the government estimated three million Europeans lived in the UK, but more than five million ended up applying to the EU settlement scheme.
Around 30 million people are expected to apply for ETAs each year.
The new scheme is modelled on the US Electronic System for Travel Authorization which has been in place since 2009, while the EU is planning to introduce its own version - European Travel Information and Authorisation System - next year.
The announcement comes as reports say the numbers of migrants crossing the English Channel by boat are higher this year than last, despite an agreement signed with France in November to increase border security and prevent migrant crossings.
Ms Patel is expected to give further details of her Legal Migration and Border Control Strategy on Monday.
Speaking ahead of that announcement, Ms Patel said: "Now we have taken back control and ended free movement, security is at the very heart of our immigration strategy.
"Our new approach will make it easier to identify potential threats before they reach the border."
Labour's shadow home secretary Nick Thomas-Symonds accused the government of "utter incompetence" adding that it had "broken" the asylum system.
Speaking to Sky's Trevor Phillips on Sunday he said:"If you look at 2014, 87% of asylum claims were being dealt with within six months, that figure had fallen to 20% by 2019, and what did the government do? They got rid of performance targets."
Mr Thomas-Symonds said there "should be" performance targets for civil servants.