Foreign aid: Is public opinion shifting on cuts?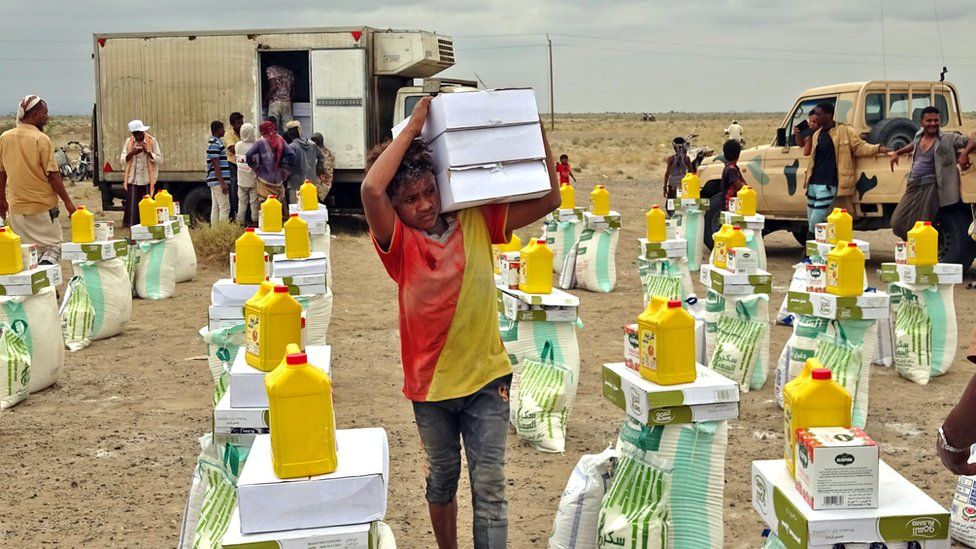 Throughout the controversy surrounding the government's decision to reduce foreign aid spending, ministers have been comforted by a simple notion: the cut was popular.
Despite concerns voiced by charities and opposition MPs, ministers felt instinctively many voters supported the £4bn squeeze on overseas development assistance.
They believed constituents thought it reasonable to rebalance national priorities during a global pandemic; that the money was needed to restore the public finances during an unprecedented economic downturn; that sometimes charity did need to begin at home.
There was polling evidence to back this up. A YouGov opinion poll last November - when the Chancellor Rishi Sunak announced the cut - suggested two thirds of people thought it right for the UK to reduce the amount it spent on aid.
Ministers also believed the aid cut would reassure first time Tory voters in so-called Red Wall seats in the north of England that the Conservatives had taken from Labour in recent elections.
In short, the prevailing consensus in government was that more voters considered the budget to be overly generous than a moral and diplomatic imperative.
But is that consensus still correct? There are one or two straws in the summer breeze which suggest that is a question worth asking.
Straw one: a new opinion poll has suggested support for UK aid spending has risen - yes, risen - sharply this year.
A research organisation called the Development Engagement Lab - based at University College London and the University of Birmingham - has been tracking public opinion on aid for many years. And each time it asks the same question: "Do you think that the government should increase or decrease the amount of money that it spends on overseas aid to the poor?"
The numbers for those who said aid spending should increase or stay the same had been largely stable, settling in the mid to low 40% range.
Over the last two years, from September 2019 to January 2021, the number fell from 46% to 43%.
But since January, that number has risen to 53%. And that striking increase has been bipartisan, spread across both left and right-leaning respondents.
Now a single cough does not a Covid case make. This is just one opinion poll. We should treat it with all the usual caution.
The framing of questions about foreign aid often helps shape the answers.
The DEL is funded by the Gates Foundation. But the fieldwork was conducted by YouGov, a reputable polling organisation.
There was a sample size of 1,703 people, interviewed on June 2-3, with the data weighted to be nationally representative. And crucially, this is a long-term polling exercise, designed to assess trends, not just snapshots.
So why the increase in support for UK aid? There are several theories.
One is that the impact of the aid cuts has become more tangible.
It is one thing to talk about reducing spending by 0.7 per cent of national income to 0.5 per cent. It is another to be told that hundreds of thousands of people will die because they will no longer get access to water and sanitation.
Paolo Morini, senior research fellow at DEL, noted "the shift has happened against the backdrop of the debate on cuts to aid expenditure".
Aid charities and United Nations' agencies have been vocal in their opposition. Their concerns have been reported by the media.
There has been a loud cross-party campaign against the cuts in Parliament.
MPs will hold another debate on Wednesday. So voters are more aware of an issue they have traditionally placed low on their list of priorities.
There is also Covid-19. The pandemic has undoubtedly increased national sentiment, with voters around the world wanting to get access to vaccines first.
But some analysts also believe the pandemic has raised awareness of global connectivity, the idea that what goes on in countries beyond our horizon is not so distant and unrelated as might previously have been thought.
They believe this is a view that will be amplified as domestic lockdown restrictions are relaxed and people believe more aid and vaccines should be distributed in developing countries.
Straw two: the British Foreign Policy Group - an independent, non-partisan think tank - has done its own survey of how foreign aid is viewed in Conservative - Liberal Democrat marginal seats.
They got Opinium Research to survey 1,500 people between April 1 and April 13, talking to 50 respondents in 30 seats in England.
Sophia Gaston, director of the BFPG, said the research showed public opinion on foreign aid was "not as binary as sometimes considered".
The poll suggested overseas aid was the least important foreign policy issue for respondents, behind climate change, defence & security and trade.
Many voters supported a temporary cut in aid during the pandemic.
But the polls also suggested many voters recognised a moral and strategic value in UK aid.
In particular, it said 45% of respondents believed Britain had a moral obligation to help the world's poorest people.
Some 24% disagreed, and 31% were neutral.
Now, again, the usual caveats should be applied to constituency polling.
But after the Chesham and Amersham by-election defeat earlier this month, some vulnerable Conservative MPs in marginal seats may wonder if their electoral prospects would be improved by a restoration of aid spending.
What both polls suggest is that public opinion on foreign aid is more complex than some at Westminster think, and the electoral benefits of cutting the budget are not as obvious as some Conservative strategists may hope.