UK clashes with EU over Gibraltar's post-Brexit status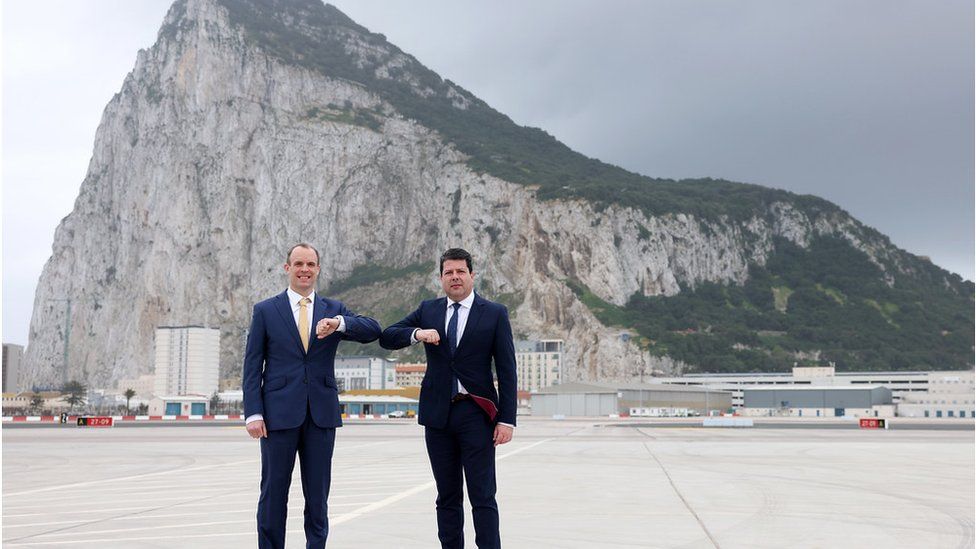 The foreign secretary has accused the EU of seeking "to undermine the UK's sovereignty over Gibraltar".
Dominic Raab said he was "disappointed" by EU proposals for a post-Brexit deal over the British overseas territory.
Mr Raab said a draft mandate from the European Commission "directly conflicts" with a framework deal agreed by the UK, Gibraltar and Spain last December.
EU leaders must sign off on the EU's mandate before negotiations can begin.
Gibraltar's sovereignty is disputed by Spain and Britain. The territory was not included in the trade agreement settled between the EU and the UK last year and a separate deal has to be agreed.
It is thought that British objections to the EU plans centre on the nature of proposed new border arrangements in Gibraltar.
Last December's political deal between the UK, Gibraltar and Spain gave a prominent role to the EU's border agency Frontex but the Commission's mandate appears to give greater responsibility to Spanish officials.
In a statement, the foreign secretary said: "We have consistently showed pragmatism and flexibility in the search for arrangements that work for all sides, and we are disappointed that this has not been reciprocated. We urge the EU to think again."
The European Commission said the proposed negotiating directives "put forward solutions to remove physical checks and controls on persons and goods" at the border between Spain and Gibraltar.
"It is without prejudice to the issues of sovereignty and jurisdiction, and focuses on cooperation in the region," the bloc added.
The mandate includes rules for establishing responsibility for asylum, visas, residence permits and police cooperation and information exchange.
The EU's post-Brexit negotiator, Maros Sefcovic, said its proposals seek to make a "positive impact" on those living either side of the border with Spain while protecting the single market.
"By putting forward this draft mandate, we are honouring the political commitment we made to Spain to start the negotiations of a separate agreement between the EU and the UK on Gibraltar.
"This is a detailed mandate, which aims to have a positive impact for those living and working on either side of the border between Spain and Gibraltar, while protecting the integrity of the Schengen Area and the single market."
In March the Foreign Secretary, and Chief Minister of Gibraltar, Fabian Picardo agreed a joint approach to the negotiations on a new Gibraltar treaty between the EU and the UK.