UK has no idea of EU fishing catch in its waters, says Labour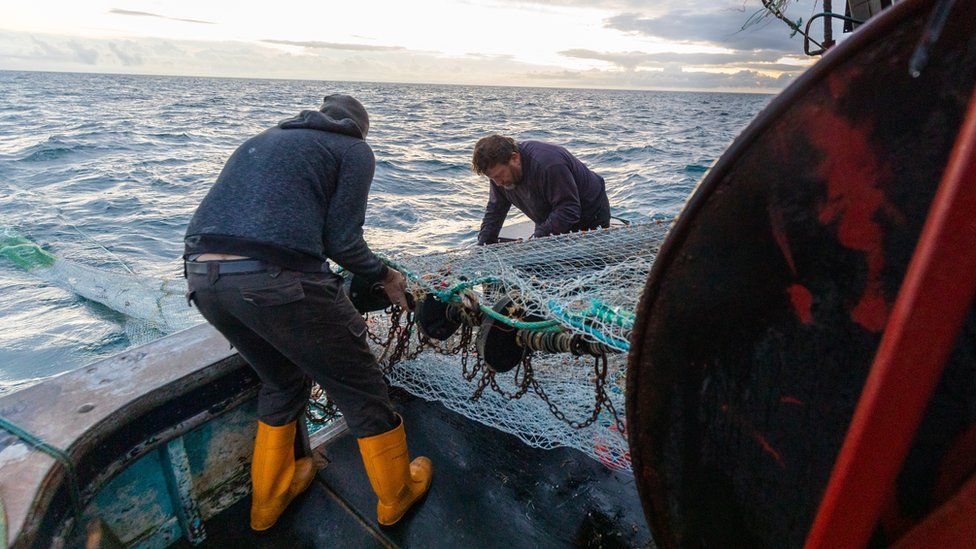 Labour has accused the government of having no idea how many fish are being caught in UK waters by EU boats.
The party has accused ministers of losing control of UK waters and "letting down" fishing fleets.
Data on certain species such as scallops and crab is not yet being regularly shared by the two sides since the Brexit transition ended in January.
The government said it expected information sharing for these stocks "to take place shortly".
Under the Brexit trade deal, 100 species, including cod and herring, have catch quotas applied to them for UK and EU waters. Data on these species is being shared to prevent stocks becoming depleted.
But the EU and UK also agreed to allow each other's boats to catch species not covered by quotas in quantities based on historic averages, until June 2026.
Statistics on these "non-quota" fish - which used to be collected and shared by the EU under the Common Fisheries Policy - are not being shared in full, despite an agreement to do so.
The two sides are hoping to hammer out an agreement to resume full data sharing at a new committee.
Labour said the government was having to "start from scratch" in gathering the data, while the fishing industry has expressed concern that EU boats were catching large amounts of non-quota species, particularly in the English Channel.
Labour's shadow environment secretary Luke Pollard said a UK-EU data-sharing arrangement should have been in place when the post-Brexit trade agreement came into force in January.
He told MPs: "The fishing industry knows that the government has failed to negotiate real-terms quota data with the European Union."
Mr Pollard added that the government had "lost control of our waters" and was "badly letting down" the British fishing industry.
Stocks not covered by quotas, including red mullet, squid and most commercial shellfish, are particularly important to smaller UK vessels fishing close to the shoreline.
Environment Secretary George Eustice told MPs: "The government has required all foreign vessels, including EU vessels, to have a licence to fish in our waters.
"That sets certain conditions. We have access to vessel-monitoring data so that we can track the precise location of all of those vessels."
He added: "We are also working on methodologies now, so they have to declare their catch when they leave our waters and enter our waters, and that will give us the data that [Mr Pollard] suggests we need."
Mr Eustice also said the government had secured total fishing "opportunities" for UK fleets of 628,000 tonnes for 2021 - up around 55,000 tonnes on last year.