Climate change, a coalmine and a town that needs jobs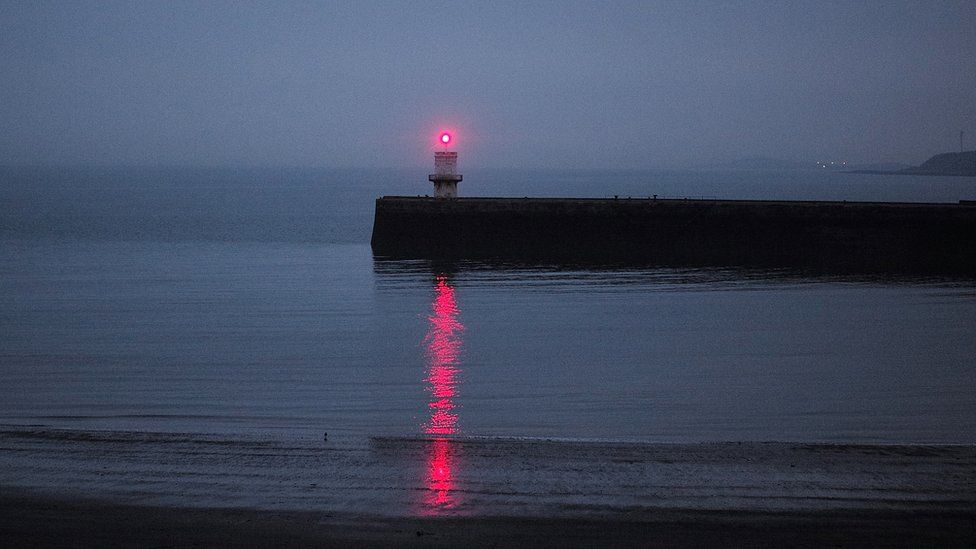 There is a padlock on the door. A bill on the doormat.
On the corner of King Street and Lowther Street, in the west Cumbrian town of Whitehaven, is the carcass of a High Street giant.
Etched into the cream coloured stone work above the first floor windows are the words: Montague Burton, the Tailor of Taste.
At knee height, at street level, a gold coloured inscription: "This stone laid by Arnold James Burton, 1938."
Stitched into the corporate history of Burton's, the menswear shop, was a tradition to lay these stones; this one a reference to Montague's youngest son.
Whitehaven is far from unique in wearing the bruises of the pandemic and the migration of shopping online.
But something else is happening here. People are leaving too.
I meet the directly elected Mayor of Copeland, Conservative Mike Starkie, by the main run of shops on King Street.
He is candid. He has to stop the exodus - by providing people, particularly young people, with reasons to stay. He is a man of energy; enthusing about his vision for Whitehaven's future.
But the name I keep seeing, as we wander along, is Peill and Co: an estate agents specialising in commercial property. To Let signs are everywhere.
Burtons is one of many, many casualties here.
"There are no prospects for kids here these days. I've got a lot of family members who went to university and never came home. And that is a real shame," one woman having lunch outside Café West tells me.
"It's horrible. You see the change. Look at all the horrible shops. Empty," her friend adds.
These are not the authors of casual, thoughtless criticism, but the candid assessments of proud west Cumbrians whose pride has been dented by reality.
"It's dead. Absolutely dead. I saw it when it was in its heyday. It was awesome. Now it's a ghost town."
Enter, then, the plan for a new coal mine here, offering hundreds of well-paid local jobs and posing even more questions for the government.
Yes, it is awkward because the UK is hosting the COP26 climate summit in Glasgow in November. But it would be awkward anyway.
The application for a new coal mine here, extracting coking, or metallurgical coal for the steel industry, is a case study in the politics of climate change; a collision between the long term commitment to net zero carbon emissions by 2050 and fiendishly difficult questions about how to get there.
Does the UK want a steel industry, seen as a strategic asset, but one that is still reliant on coking coal?
The government says yes, and the coal is imported. So wouldn't it be better to dig it out of the ground here?
Yes, argue the mining company. No argue critics, that would increase the supply of coking coal, push down the price, and reduce the incentives to find alternative ways of making steel.
In September, the Planning Inspectorate will look into the case for Woodhouse Colliery, as the proposed new mine is called.
The final decision, expected later this year or early next, will be taken by the Communities Secretary Robert Jenrick.
Levelling up meets getting carbon emissions down. The goal of net zero meets a binary decision involving a strategic industry, a community that feels left behind and finding a politically palatable but practical solution. And an answer can't be ducked.
"You'll find that 90% of the people in Copeland are supportive of this mine going ahead," Mike Starkie, a huge enthusiast for the project says, as we chat on a bench on the marina.
The old chimney of Wellington Colliery is on the hill to our left. What was William Pit is to our right.
"You are talking about £160m of private investment," he says, adding: "I am not going to pretend that it is not politically awkward. It absolutely is.
"But the country needs metallurgical coal. The green agenda looms large everywhere now and we're very supportive of the green agenda. Climate change is the biggest crisis the world faces but the green revolution needs a significant amount of steel.
"There are many thousands of tonnes of steel that goes into a wind turbine, even more thousands of steel going into a nuclear reactor, into solar, into wave energy, they all require steel."
Next, I chat to Professor Rebecca Willis from the Lancaster Environment Centre.
"The science on this is absolutely crystal clear - if we're going to limit dangerous climate change, we can't open any more coalmines," she says.
"It is very clear from a scientific perspective that this mine should not happen. Unfortunately, it's not so clear from a legal perspective. In the UK we have very strong climate targets, this target of net-zero by 2050, but the government hasn't set out how it's going to get there.
"And if you look at planning law, our economic policy, there is all kinds of ambiguities and inconsistencies."
But she and fellow opponents of the mine do concede one thing: the argument about employment.
"I completely understand that need for jobs. I think local politicians have been put in an impossible position. The mining company has come along and supposedly offered all these jobs and the politicians had a choice between dirty jobs and no jobs. That's really unfair."
But how on earth can the government say yes to a new coal mine in 2021?
"The UK still imports over 2m tonnes of coking coal per annum. For the existing steelworks to carry on using blast furnaces, then you need three quarters of a tonne of coking coal for each tonne of steel," Mark Kirkbride, the chief executive of West Cumbria Mining says.
"We can't just bury our head in the sands. Importing carbon intensive products from overseas doesn't make us more righteous."
But Jill Perry from the Allerdale and Copeland Green Party insists the steel industry must be incentivised to find an alternative to coking coal, not an excuse not to bother.
"If we want a steel industry in this country we need the steel industry to change as rapidly as it is changing in Europe and the Far East. We need it to move away from metallurgical coal as fast as it possibly can," she argues as we sip coffee opposite the bandstand.
This is a town with centuries of heritage in the coal industry, a consistent driver of wealth, pride and opportunity here ever since the grid pattern of streets were devised by Sir John Lowther in the 17th century.
"If we need coking coal, why not have the prosperity here in Whitehaven? I think we deserve it," Gerard Richardson, a wine merchant and local historian says.
"All we are asking for is a slice of the pie. Everyone wants a move to an environmentally safe world, but that is a transition process."
"Some people would have us switch off the lights and going on horse and cart tomorrow - the world doesn't work that way.
"It is going to take 30, 40, 50 years. And we'll get there. And along that way there will be money to be made, and why shouldn't some of that be made here in west Cumbria?"
For the government, in time, a decision awaits. One loaded with local consequence, national import and the capacity to mould its international reputation.