Police Federation says it has no confidence in Patel amid pay row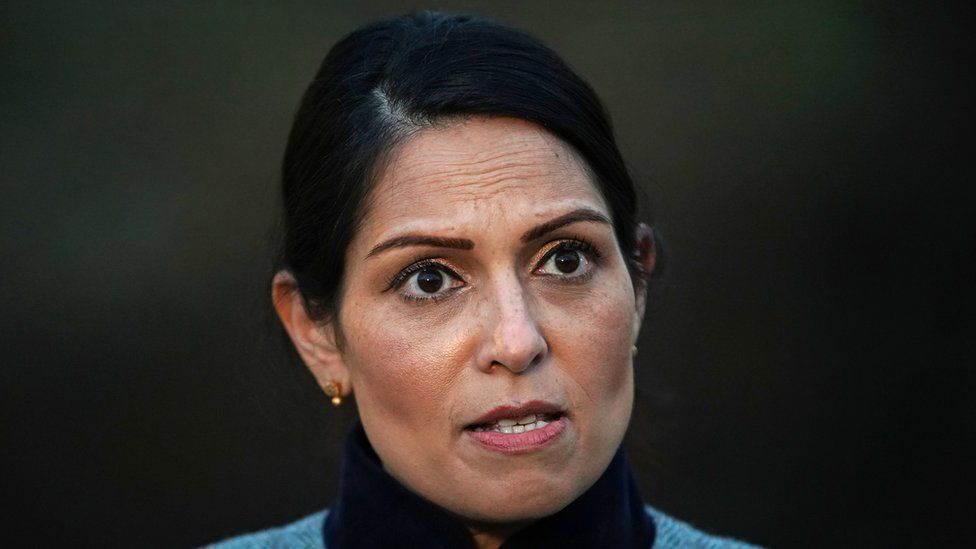 A body representing police officers in England and Wales says it has no confidence in Home Secretary Priti Patel, amid a row over their pay.
It comes after the government said pay for officers earning over £24,000 would be frozen this year, amid Covid pressures.
The Police Federation said it amounts to a real-terms cut and is an "insult".
Ms Patel has demonstrated her commitment to police "time and time again", the Home Office said.
She has given them "the resources and powers they need to fight crime and protect the public", a spokesperson added.
The Police Federation, which represents more than 130,000 rank-and-file police officers, has said it would be withdrawing its support from the body that reviews police pay.
John Apter, the federation's national chairman, said members are "so angry" with the government after working for 18 months on the front line of the pandemic, and seeing other public services receive pay increases while they get nothing.
He said the Police Remuneration Review Body, which makes recommendations on officers' pay, is "not truly independent" and "has its hands tied by the government who continually interfere".
Mr Apter said the federation has "tried its level best" to work with the government, but said: "They cannot be trusted or taken at face value in the way we would expect."
The National Police Chiefs' Council said the pay decision would make many officers feel "undervalued" and called on ministers to fund "meaningful and fair" pay increases for 2022.
Announcing the pay freeze in a written ministerial statement on Wednesday, Ms Patel said it was to ensure "fairness" between public and private sector wage growth.
She said that "the private sector was significantly impacted by the Covid-19 pandemic in the form of reduced hours, suppressed earnings growth and increased redundancies, whilst the public sector was largely shielded from these effects".
But Labour said the Police Federation's "extraordinary decision" to declare it had no confidence in Ms Patel was "a devastating blow for a hapless home secretary".
Shadow home secretary Nick Thomas-Symonds urged Ms Patel to "listen and change course" over the "disastrous and insulting decision to award our police with a zero percent pay award".
"If the home secretary would show even a fraction of the bravery we see from so many police officers, she would stand up for them around the Cabinet table and secure a fair pay deal."
The Home Office spokesperson said: "We are recruiting 20,000 extra officers, 8,771 already in place, increased taxpayer funding for policing by up to £600m and gave forces £200m to meet unforeseen costs of the pandemic.
"This is in addition to enhancing protection of the police, increasing sentencing for assaulting officers and investment in equipment.
"The economy has been significantly impacted by the pandemic, with pressures on public finances and we must protect jobs and ensure fairness."