Covid: Home-working officials won't get paid less, says minister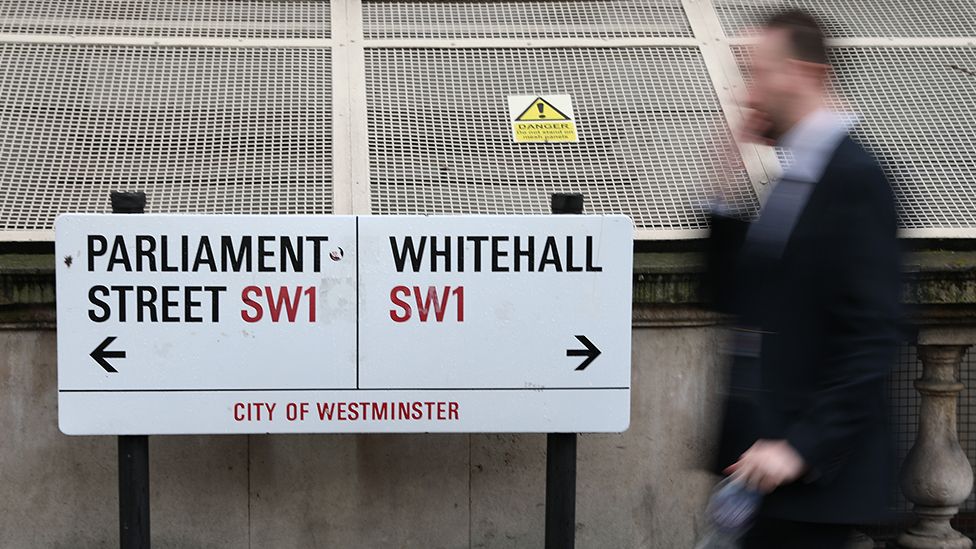 Business Secretary Kwasi Kwarteng has rejected the idea that civil servants should be paid less if they continue working from home.
It comes after an unnamed cabinet minister told the Daily Mail it was unfair for those returning to the office not to be paid more.
But Mr Kwarteng said this would set colleagues against each other.
And he added that flexible working - with people working from home some of the time - was "here to stay".
The government says it is aiming to "gradually and cautiously" increase the number of officials in its offices, as Covid restrictions are relaxed.
However, it is up to individual government departments to set their own timetables and policies for increasing staff in the workplace.
Like many private sector workers, thousands of civil servants have been working either entirely or mostly from home during the pandemic.
But the government is no longer advising employees in England to work from home where possible, instead leaving it up to employers to decide.
The Times has reported ministers are keen to increase the number of officials in the office, citing concerns over accountability and morale.
The Mail quoted an unnamed minister saying: "People who have been working from home aren't paying their commuting costs so they have had a de facto pay rise, so that is unfair on those who are going into work".
"If people aren't going into work, they don't deserve the terms and conditions they get if they are going into work," they told the newspaper.
But asked on Times Radio whether such a policy made sense, Mr Kwarteng replied: "No, I don't think it does.
"We shouldn't really be setting people who are working from home two or three days a week against other colleagues," he added.
Mr Kwarteng added that "nearly everybody" at his department was currently coming into the office "two to three days a week".
Asked whether home-workers would find it harder to get promoted, he said office-based staff "may have an advantage" when it comes to forming workplace relationships.
Speaking on BBC Radio 4's Today programme, he said he would be encouraging officials to return, but with a "degree of flexibility".
"I think flexible working is here to stay," he added, when asked whether the government wanted workers back in offices.
Asked about the suggestion that civil servants at home would be paid less, Downing Street said: "We have no plans for that approach."
The PM's spokesman added departments would aim to increase office working gradually, in line with "latest government guidance".
In September 2020, the government ordered Whitehall bosses to get 80% of staff to go into the office at least once a week, saying that they should set an example to the private sector.
But the government discarded its plans after two weeks, as coronavirus infections started soaring for a second time.
The exact scale of current office-working within the civil service is unclear, both at a departmental level and across the service as a whole.
Government departments, which are in charge of their own policies, are not publishing information on where their employees work.
Skills Minister Gillian Keegan recently said "probably 20-25%" of officials at the Department for Education are in the office on any given day.
The Guardian has reported the Department of Health and Social Care recently scrapped plans for all officials to return between once and twice a week from September.
The FDA union, which represents senior civil servants, said a mixture of office-based and remote working "provides greater work-life balance for employees and reduced office costs for employers".
Its general secretary Dave Penman said anonymous briefings to newspapers from ministers were "out of touch with their own government's priorities".
"What should matter to ministers is whether public services are being delivered effectively, not where individual civil servants are sitting on a particular day or concocting a phoney war on hybrid working to a grab a cheap headline," he added.
The PCS union, which represents lower-and-middle ranking officials, said it was holding discussions with the Cabinet Office on "how we can embrace the post-pandemic world with hybrid working".
A spokesman added that any attempt to "dock pay for civil servants for any reason" would be "met with a swift industrial response, potentially including strike action."