Covid: Most Conservative MPs ditch masks as Commons returns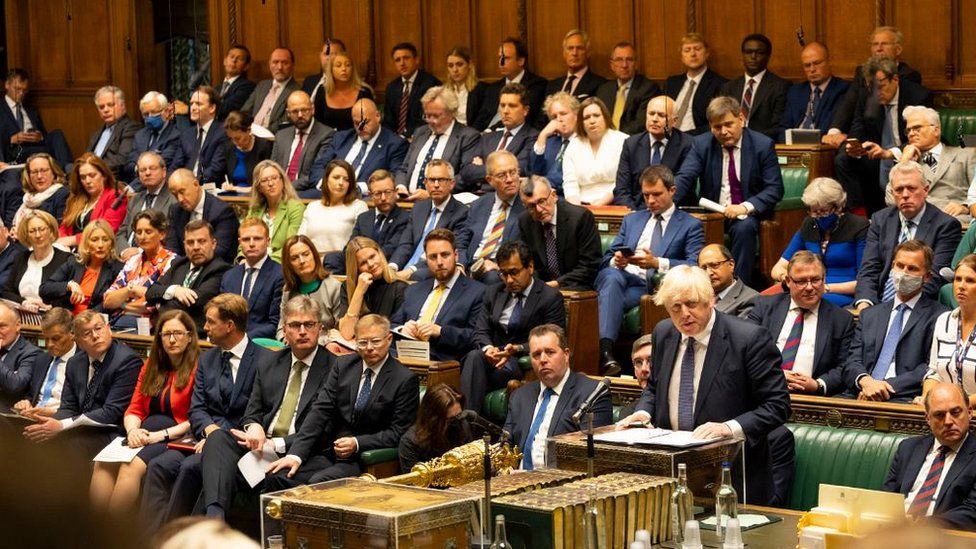 Most Tory MPs did not wear face masks during a packed Commons debate, despite government guidance to do so in crowded areas.
More opposition MPs than Conservatives covered their faces, as MPs sat shoulder-to-shoulder to discuss developments in Afghanistan.
It is the first time the Commons, which has been recalled to debate the crisis, has been full since March 2020.
No 10 said it was a "matter for the parliamentary authorities".
A Downing Street spokesman said the government was still advising people in England to wear face coverings in crowded places.
A union representing parliamentary staff accused non-mask wearing MPs of showing "contempt" towards their colleagues and Commons personnel.
Covid rules allowing MPs to speak in debates via video link have been allowed to lapse since Parliament went into recess on 22 July.
It means MPs wanting to take part in Wednesday's all-day emergency Commons debate had to do so in person.
In scenes not seen since the advent of the pandemic, the Commons chamber was packed as Prime Minister Boris Johnson updated MPs after the Taliban rapidly seized control of Afghanistan following the departure of US-led forces.
However, the Commons authorities are continuing to "strongly encourage" MPs to wear face coverings in the chamber.
During Wednesday's debate, noticeably more Labour and SNP MPs decided to wear masks than Conservative backbenchers.
Government ministers, including cabinet ministers, were also pictured maskless during the proceedings.
The Prospect union, which represents staff in Parliament, said MPs had shown "huge disrespect" to Commons Speaker Sir Lindsay Hoyle by not wearing masks.
General secretary Mike Clancy said: "It is abundantly clear that large numbers of MPs believe that rules simply don't apply to them, and are comfortable with recklessly undermining public health messaging."
"With the Commons set to resume full time in just a few weeks, it is time to rethink the light touch approach to mask wearing in the chamber.
"It has demonstrably failed, and more rigorous enforcement must be considered."
Dave Penman, head of the FDA union that represents clerks in Parliament, said the political parties should "go further" in enforcing mask-wearing.
"MPs refusing to wear masks in the chamber show scant regard for the well-being of their colleagues," he added.
The House of Lords has also been debating the Afghanistan crisis, after peers were recalled to hold an emergency debate of their own.
However, the upper chamber - where peers are still being allowed to speak over video link - was noticeably less busy than the Commons.
There was also less of a partisan divide, with more peers on the government side, including ministers, donning face coverings.
At the start of the debate, Lords Speaker Lord McFall said social distancing measures had gone but peers were still "strongly encouraged" to wear masks, except when speaking.
But the government says it "expects and recommends" people to do so in "crowded and enclosed spaces where you come into contact with people you don't normally meet".
"You should use your judgement in deciding where you should wear one," the guidance adds.
The SNP-run Scottish government has kept the legal requirement to wear masks in shops and on public transport, as well as pubs and restaurants when not seated.
The Labour-run Welsh government has kept mandatory mask-wearing on public transport all public indoor areas, but not in pubs and restaurants.