Afghanistan: Boris Johnson to face MPs over handling of crisis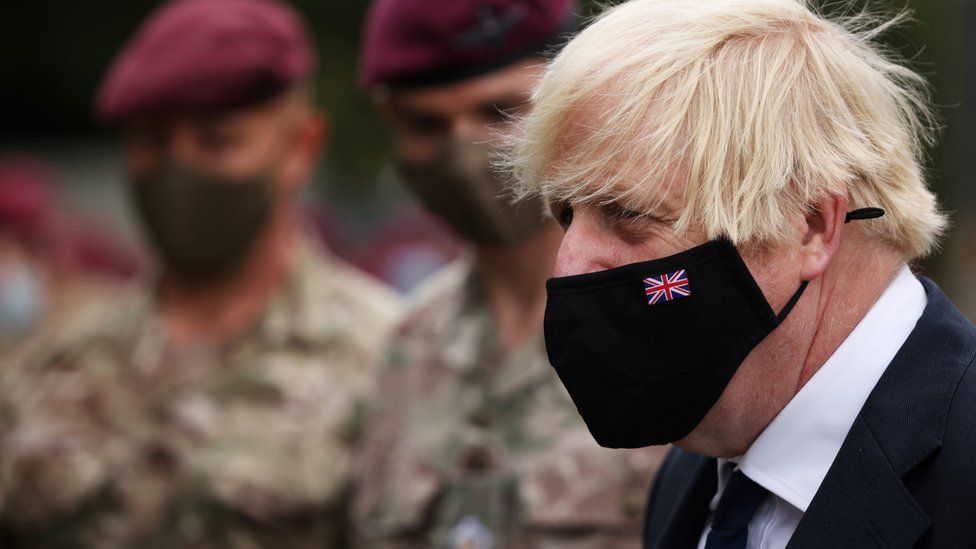 Boris Johnson will defend his handling of the Afghanistan crisis in the Commons as he reiterates his vow to use "every economic, political and diplomatic lever" to help Afghans.
Both he and Foreign Secretary Dominic Raab have faced criticism over the UK's response to the Taliban takeover.
The prime minister will make a statement in the House later on Monday.
Labour has been among those warning that the UK could face a heightened terror threat if extremism is allowed to flourish in Afghanistan.
The last British and US troops left Afghanistan at the end of August, bringing their 20-year military campaign in the country to an end.
There has been criticism of the way the West withdrew, with questions over how the Taliban was able to seize control of the country at such speed.
And there is also concern that many Afghans who were eligible to come to the UK - many of whom worked with the British armed forces or government - have been left behind.
In a statement to Parliament, which returns on Monday from its summer recess, Mr Johnson will pledge to "use every economic, political and diplomatic lever to protect our country from harm and help the Afghan people".
He has previously said Western governments could withhold substantial funds from the Taliban.
Mr Johnson will also commend the "courage and ingenuity" of those involved in the UK's evacuation of around 15,000 people from the Afghan capital, Kabul.
The prime minister is expected to provide an update on the government's new resettlement programme for Afghans, which will allow a total of 20,000 people to settle in the UK over the coming years.
Mr Johnson will also use his Commons speech to thank the 150,000 British service men and women for their work in Afghanistan over the past two decades.
His statement comes in the week marking the 20th anniversary of the 11 September 2001 terror attacks in New York, Washington and Pennsylvania which prompted the US and its allies to go to war in Afghanistan.
In a speech to the Royal United Services Institute, the former Labour prime minister, Tony Blair - who was in power at the time - admitted "nearly everything about 9/11 and its aftermath, particularly now, is mired in controversy".
But he said "radical Islam" continues to represent "a first order security threat" and leading nations, including Russia and China "must unite to develop an agreed strategy" to counter extremism.
He said he now accepts the West should not "attempt what we tried in Afghanistan" in another country and that "for sure, we could have 'remade' better" in Afghanistan.
The challenge now, he said, is to work out a way to deal with the threat.
Mr Blair added: "Maybe my generation of leaders were naïve in thinking countries could be 'remade'.
"Or maybe the 'remaking' needed to last longer.
"But we should never forget as we see the women of Afghanistan in the media, culture and civic society now flee in fear of their lives, that our values are still those which free people choose.
"Recovering confidence in our values and in their universal application is a necessary part of ensuring we stand up for them and are prepared to defend them."
Downing Street said Mr Johnson would announce an additional £5m to help military charities provide support for veterans with the aim of ensuring "no veteran's request for help will go unanswered".
On Sunday, Gen Sir Nick Carter, the chief of the defence staff, told the BBC the pace of the Taliban's takeover of Afghanistan "surprised us".
"I don't think what anybody predicted was how fragile that Afghan government was and how fragile it was in relation to the command of its armed forces."
Labour's shadow foreign secretary Lisa Nandy said there was a strong possibility that Britain may now be less safe because of the events in Afghanistan.
"The urgent task for the government... is to make sure Afghanistan doesn't collapse once again into a haven of terrorism," she said.