Who is Nadhim Zahawi? Iraqi refugee to chancellor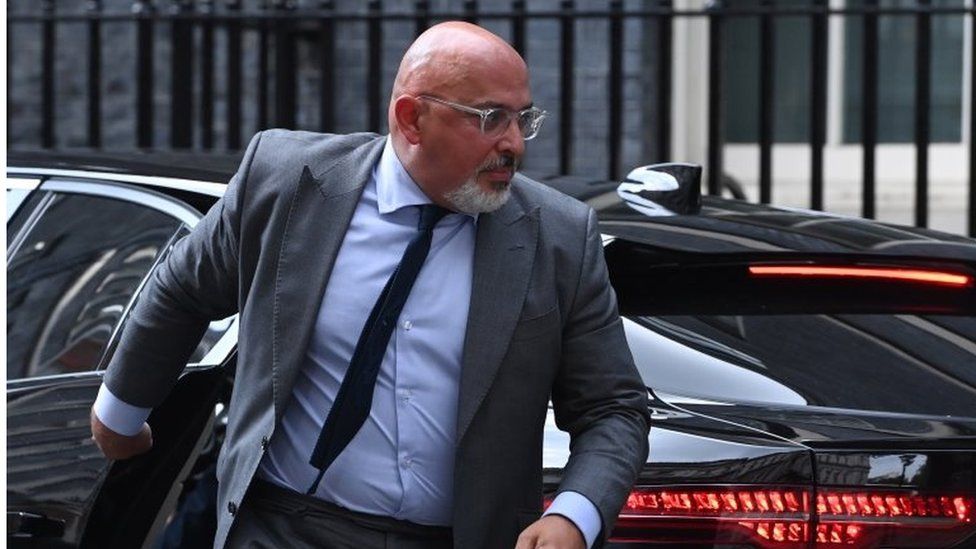 Former education secretary Nadhim Zahawi has been appointed the new Chancellor of the Exchequer.
For Mr Zahawi, 55, leading one of the great offices of state might have been unthinkable as a child.
"I must be one of the luckiest human beings on earth," the Stratford-upon-Avon MP said reflecting on his early years.
Born in Iraq in 1967 he could easily have been sent to fight in the 1980s Iran-Iraq War.
Instead, he and his parents were forced to flee Iraq and he grew up in Britain.
His family had been influential in the country - his grandfather was the governor of the Central Bank of Iraq and his signature appeared on the country's banknotes.
However, when Saddam Hussein came to power in the late 1970s, his family came under threat.
Mr Zahawi's father, a businessman, got a tip-off that the authorities were coming for him and quickly arranged to fly out.
His son has recalled the anxiety of watching the plane preparing to take off from Baghdad Airport.
After all the passengers had boarded, a military vehicle drove up to the plane. His mother was in tears as they saw a passenger being removed.
The passenger turned out not to be his father, but the man who had been sitting behind him on the aircraft.
Mr Zahawi described it as a "traumatic" childhood moment "stamped on his memory".
So instead of growing up in Iraq, Mr Zahawi grew up in Sussex. He was educated at private and comprehensive schools and became a keen equestrian.
But, as he was heading to university another disaster struck the family.
A business venture of his father's fell through, and he, in Mr Zahawi's words, "lost everything" except a brown Vauxhall car.
The young Nadhim Zahawi decided he would use the Vauxhall to become a minicab driver in order to help put food on the table.
But his mother insisted on her son going to university and pawned her jewellery so he wouldn't have to worry about the finances.
After studying chemical engineering at University College London, he followed in his father's entrepreneurial footsteps and set up a firm selling Teletubbies merchandise - a company which attracted investment from the then-Conservative politician Jeffrey Archer.
Speaking to the BBC's Profile programme, Lord Archer remembered the young Nadhim Zahawi as "a born organiser - if you said I need six taxis, three aeroplanes and a double decker bus, all in 30 minutes he went and did it."
Through Lord Archer's parties, Mr Zahawi met influential Conservative figures including the former Prime Minister Margaret Thatcher.
In 1994 he became a Conservative councillor in Wandsworth, south London and three years later unsuccessfully stood for Parliament in Erith and Thamesmead.
When Lord Archer launched his campaign to become London mayor, Mr Zahawi joined his team.
But the candidate was forced to pull out of the race, and Mr Zahawi had to look for alternative work.
Along with another ex-member of team Archer - Stephan Shakespeare - he launched YouGov, an online polling company.
In 2010 he was successful, winning the safe Conservative seat of Stratford-Upon-Avon.
Parliament was still reeling from the MPs expenses scandal, and Mr Zahawi quickly became embroiled in his own transgression when it emerged he had claimed expenses to supply his stables with electricity.
He said he was "mortified by this mistake" and paid back the money.
It didn't hinder his political progress too much and in January 2018 then-PM Theresa May made him an education minister, with responsibility for children and families.
However, he quickly found himself in trouble for attending a gala held by the men-only Presidents Club.
Mr Zahawi's attendance at the event earned him a reprimand from Downing Street.
Despite labelling the current prime minister a "controversial face from the past", Mr Zahawi remained a minister when Boris Johnson came to power in July 2019, moving from the education to the business department.
Then in November 2020, in the middle of the coronavirus pandemic, he was handed what he has called "the most important job I'll ever do" - the position of vaccines minister.
For almost 11 months he oversaw the rollout of the coronavirus vaccine programme, and was able to boast a fair amount of success, especially when the UK raced ahead of many other countries.
The rollout is regularly mentioned by Boris Johnson's government as one of their greatest achievements.
Reflecting on his own skills, he says he "loves an operational challenge".
Seen as a "safe pair of hands", he came to the education secretary role following the sacking of Gavin Williamson, who was unpopular with the public after the exams fiasco during the pandemic.
As the country's new man in charge of education he faced the unprecedented challenge of ensuring a whole generation of children caught up after having missed months of school as a result of the pandemic.
During his tenure he promoted vocational qualification T Levels aiming to make them as famous as A Levels.
He tried to push through the government's Schools Bill, although he later U-turned on several clauses following opposition, according to reports.
In recent weeks, he had been attempting to see off a potential strike action by teachers, which he called "unforgivable" months after children just returned to school following pandemic disruption.
A strong media performer, the loyal minister has been been relied upon regularly to defend the prime minister on broadcast media rounds.
A year ago Mr Zahawi was not in the cabinet, now he is moving into No 11 Downing Street in a striking ascent.