Sharon Graham: Unite leader to skip Labour conference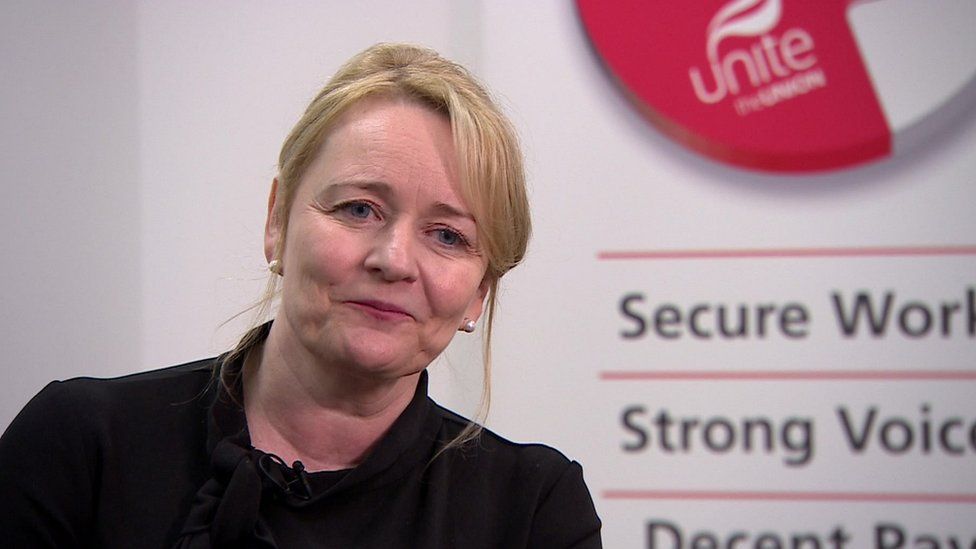 Sharon Graham was elected Unite leader on a promise to take the union "back to the workplace" and spend less time on Westminster politics.
She insisted that "wasn't just an electoral chant", and has argued that she was "all about action".
But one of her earliest decisions is about not doing something.
She is the first leader of Unite - Labour's biggest trade union funder - to decide not to attend the party's annual conference this weekend.
It is in stark contrast to her predecessor Len McCluskey, who was an influential and ever-present figure in Labour circles.
But she has told the BBC that her time can be better spent elsewhere.
Ms Graham said: "We shouldn't always do what we have always done just because we have always done it.
"I am days into my leadership - we currently have 16 industrial disputes going on, from Tesco drivers to Weetabix to locksmiths in Scunthorpe and Wolverhampton.
"What I need to do is be with those workers in dispute and personally take leadership."
She denied she was snubbing Labour leader Sir Keir Starmer, adding: "We are in a crisis - workers are going to have a really rough ride.
"I am showing I am with them, and the Labour Party needs to do the same, and show it is with workers and communities too".
"It's definitely not a snub - I have made a priority decision."
In fact, she met Sir Keir on Monday for an hour, describing the meeting as "cordial".
But Ms Graham said he hadn't raised his proposed changes to Labour's leadership rules with her.
The Labour leader is meeting representatives of key unions on Wednesday to discuss that controversial move.
She said the row over rule changes is like "white noise" to her members.
And she gave the Labour leader the following advice: "I made it really clear that I really want Labour to focus on the issues workers have - it has to be a continuous programme."
The union gave Labour £3m in the run up to the last election, but party funding wasn't on the meeting's agenda.
Ms Graham told me the union will continue to pay an affiliation fee to Labour, but she would want a lot more in return for optional donations.
"For those additional payments, it'd be wrong of us to say there is a blank cheque," she said.
"I have to be able to say, head held high, 'this money has gone into [opposing] fire and rehire' or 'this was put in to research and development'. It's about workers' issues.
"If Labour doesn't talk about that agenda, people are quite rightly going to question why we are giving those additional funds."
Ms Graham also confirmed her union delegates would vote to oust Labour's most senior official, general secretary David Evans if - as expected - Labour conference votes on whether to endorse him this weekend.
He is carrying out a programme of voluntary redundancies at Labour's head office.
She said: "David Evans engaged in all essence in a fire and rehire practice - any CEO who did that would not get our support."
But a Labour spokesperson rejected the criticism, saying the party was undertaking a "voluntary severance scheme", which was "nothing like fire and rehire".
Unite under Len McCluskey financed a range of legal challenges against Labour when the party tried to discipline or expel left-wing members.
If Ms Graham wanted to be involved in less intra-party wrangling, would that continue?
She said: "I am doing a review of every single area of the union, including legal. The most important thing about our legal services is whether they support the members.
"I will make decisions with the [union] executive. I don't know all the details [of the legal actions].
"But on a broader level, my focus is jobs, pay and conditions of workers - therefore the resources of the union are going to be on that."
More generally, she would be reorganising the country's second largest union - bringing together members in each sector of industry.
She intended to go through the books of big companies "forensically" if they attempted to cut pay and conditions, to find out if they were genuinely struggling or if they were using the Covid crisis to reduce her members' rights.
And she will draw up a "workers' manifesto" that she will push with whoever is in power.
Ms Graham said she resisted pressure on her to stand aside in the contest for her union's top job to give another left-winger a clear run.
She described some of that pressure as "toxic" and "vile".
She added: "I have a 12-year-old son and I didn't think it was a good moral for him to capitulate. It made me more determined."
And now that she has succeeded, she is clearly just as determined to do things differently.