Laura Kuenssberg: PM gets Oval Office meeting but no trade deal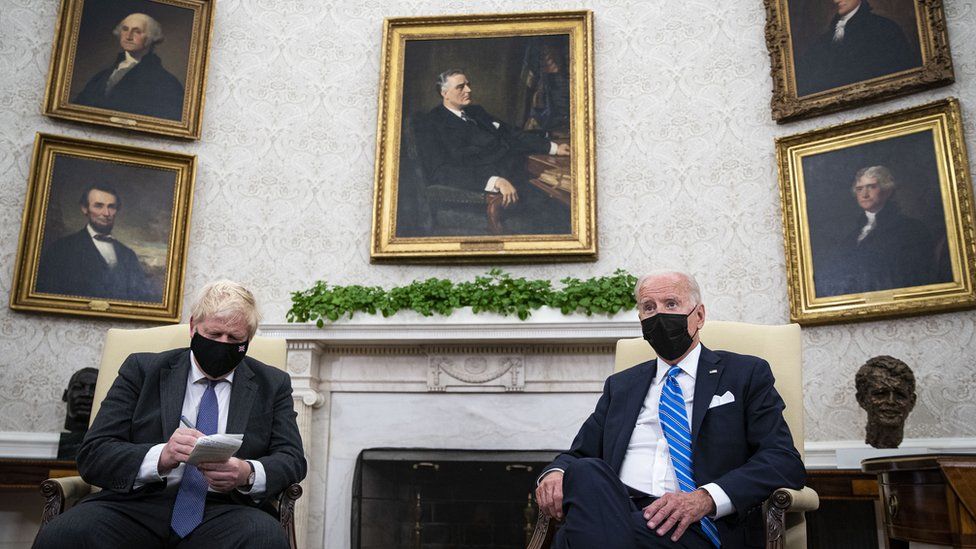 The White House meeting is, for any British prime minister, the big ticket.
And because of Covid, Boris Johnson has had to wait for his - the two years since he moved in to Downing Street means a new president here too. Imagine how different today could have been if Donald Trump was still in charge.
The two leaders are intensely different, but when the big moment came, both appeared to be content.
Mr Johnson and President Joe Biden met for 90 minutes after smiles for the cameras in the Oval Office.
Their talks ranged from security, to climate change, Russia and China, and the possibility of closer trade ties.
But on the trade deal issue, the president said they needed to "work through" it and "talk a little" - confirming Downing Street's assumption that the prospect of a major pact is a long way off.
Number 10 didn't deny the UK could join an existing agreement between the US, Mexico and Canada - which the BBC understands has been considered - but said the priority was still pursuing a deal with America alone.
It's really clear from both sides that there is no rapid path to a trade deal - the opportunity that used to be lauded by Brexiteers and by President Trump.
Mr Johnson hinted at that realism in his curtain raiser conversations on his way over here. And the president pretty much confirmed that here in their meeting in the Oval Office.
The UK seems no longer to want to believe, or pretend, that doing business in a major deal is top of their list.
Instead, while the government is still officially pursuing a standalone deal with the US there's a twin track with a more incremental approach - there have already been changes to whisky tariffs and British beef. But Number 10 is now hopeful that the Americans are seriously considering changing tack on British lamb.
A Downing Street source said the relationship between the two countries had made "great strides forward", hailing the ending of the US travel ban and especially President Biden's extra promises of cash to tackle climate change.
Mr Johnson will call for other countries to do the same back in New York, before returning home later today.
There aren't perfect outcomes to any relationship as crucial, or as complicated, as the pairing of the US and the UK.
There's plenty more that could yet unfold between the two sides before wheels-up late tomorrow. But Mr Johnson's team is pleased and relieved to chalk up their first Oval Office meeting more than unscathed.