Labour conference: Keir Starmer sets out what he stands for in essay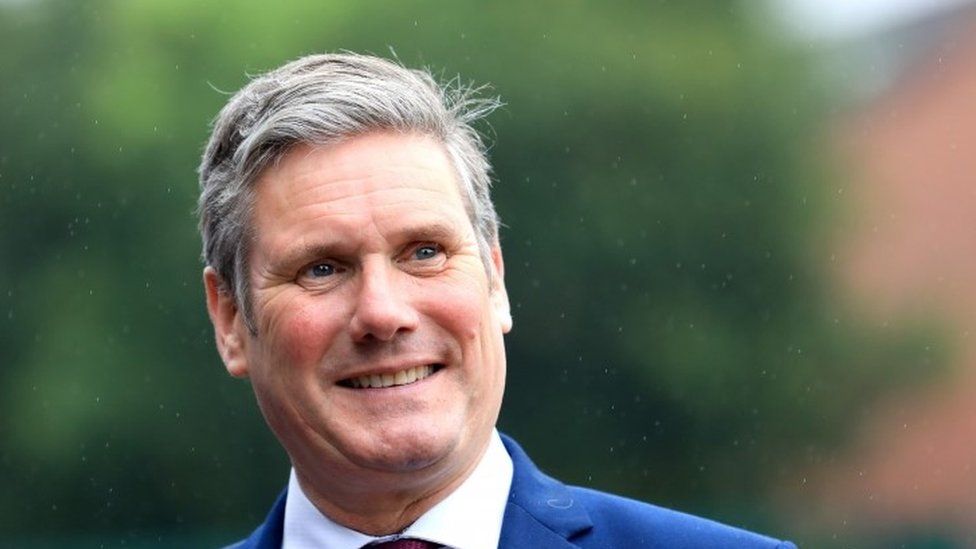 Sir Keir Starmer has published an 11,500 word essay on what he stands for and how he wants to change the UK, ahead of his party's conference.
The Labour leader says the country is at a crossroads after the pandemic and is "crying out for change".
If elected prime minister, he says he would create "a society built on everyone's contribution".
Sir Keir has faced criticism from some in Labour that he lacks vision and voters don't know what his values are.
He is due to deliver his first in-person conference speech to party members since becoming leader last year, in Brighton next week.
In his essay The Road Ahead, published by the Fabian Society think tank, he sketches out many of the themes that are likely to feature in his speech, saying he wants Labour to be "Britain's bricks and mortar".
"People want to emerge from lockdown into something better," writes the Labour leader.
"They want to see a contribution society: one where people who work hard and play by the rules can expect to get something back.
"Where you can expect fair pay for fair work, where we capture the spirit that saw us through the worst ravages of the pandemic and celebrate the idea of community and society; where we understand that we are stronger together."
Speaking about his own background, as the son of parents who "worked with their hands" who was able to go to university and reach the top of the legal profession, Sir Keir writes: "There are two fundamental things we need to fix in this country: insecurity and inequality of opportunity.
"Does a working-class child in Britain today have the same opportunities my generation did? It is hard to think they do."
Sir Keir's essay has multiple objectives.
He wants to silence critics who accuse him of lacking vision or direction, to create dividing lines with his political opponents - and to suggest that his values are in touch with those of the majority of voters.
He sets out 10 "simple key principles" for a future Labour government, which would "always put hard-working families and their priorities first".
The pamphlet is peppered with the phrase "security and opportunity".
This is, in part, to convince voters that a future Labour government would tackle the insecurity many people feel at work.
But it is also designed to play to his perceived strengths and his life story.
Labour's target voters are unlikely to devour the entire tract.
But the forthcoming conference will provide Sir Keir with both the opportunity - and the challenge - of distilling his message.
In the pamphlet, Sir Keir attacks Prime Minister Boris Johnson as "utterly unserious and completely unprepared for the great challenges of our time".
And he accuses both the Conservatives and the SNP of being in thrall to nationalism.
By contrast, he argues, Labour should be "proudly patriotic" but "reject the divisiveness of nationalism".
He repeats his call for the party to embrace the achievements of the Tony Blair and Gordon Brown governments - but says Labour has to change to stand a chance of returning to power.
"The Labour Party at its best does not wait around for the public to decide we are right. Instead, it adapts and updates. It does not look backwards - it marches forwards," he writes.
Conservative party co-chairman Oliver Dowden said: "If this is Starmer's 'big vision' then he should have gone to Specsavers.
"Labour are talking to themselves about themselves. They're all essays and no action."
Speaking to ITV's Robert Peston, former Labour shadow chancellor John McDonnell said the document "looks like the sermon on the mount written by a focus group".
"I can't see anything in this document that is going to inspire," he added.
Labour MP Liam Byrne - who failed to unseat Conservative Andy Street as West Midlands mayor in May's elections - has set out his own plan to return his party to power.
In an article for Prospect magazine, the former minister says Sir Keir needs to target Tory voters with "an evocative tale of how we build our future with pride in our past, fed by roots in industry and community".