Johnson and Biden: Contrasting characters do business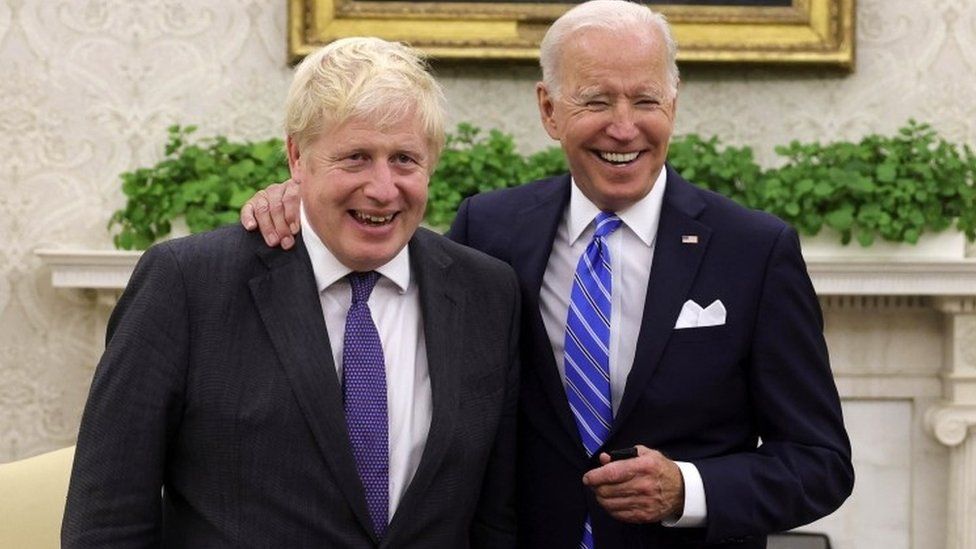 In the run up to this trip Boris Johnson and Joe Biden had already shared a big political and diplomatic moment - a new security pact with Australia to share nuclear submarine propulsion technology.
The prime minister confessed to a huddle of hacks on the train from Washington back to New York that they also shared surprise at the level of French outrage when that emerged.
In their Oval Office talks it is understood they spoke of their astonishment, and how the tension could be soothed, but neither saw them inviting France to join the pact as a solution.
When asked if he understood why Emmanuel Macron might be hurt, the prime minister seemed to compare leaving France out of the pact to some kind of awkward break up saying, it was "a very human thing to delay the frank conversation until the last possible moment. I don't know if anyone has been in that situation in their emotional life but it's very human to put it off".
That came on top of Mr Johnson resorting to Franglais to tell the French to "donnez moi un break" - give me a break - and relax about the whole thing. The manner of his appeal makes that seem not quite so likely.
Irrespective of the Gallic outrage, which some on the UK side suggested might perhaps be rather overblown to maximise the chances of compensation, for Downing Street the security deal and the president and the prime minister's talks on that subject are an important achievement.
Along with the United States promise of billions extra to help developing countries go green, there are markers of a relationship in good health.
Remember, on the way to the US Mr Johnson put the chances of achieving his goal of a cheque for $100bn to fight climate change by next month as just "six out of 10".
It takes the UK a long way to meeting that that total, and officials hope the American vow will unlock other finance from other nations.
And of course, Mr Johnson himself is not exactly a stranger to a gaffe or a glitch. But as I write, shortly before he and the press pack fly back there hasn't been any major slips or surprises - at least not that we know about yet.
The very obvious lack of progress on a big trade deal however is much less comfortable for Downing Street.
It does matter that the trade pact Mr Johnson himself used to talk up so enthusiastically is nowhere to be seen.
It's not a surprise that the Biden White House isn't keen but it became very plain this week that the chances are faint and far in the future.
Additionally there's frustration among some senior Conservatives that suggestions were made that it would be easy to start with. "I told colleagues ever since 2016 just how difficult a trade deal would be but of course they didn't want to listen," one of them said.
President Biden obviously still places huge importance on how the UK seeks to resolve problems with the EU over Northern Ireland.
But there's no doubt that No 10 regards these frantic few days as a success.
When Mr Biden won the White House there were nerves in some quarters that the relationship could be awkward, and the differences profound.
President Biden and Mr Johnson certainly are contrasting political characters. But this week has provided plenty of diplomatic evidence that they can do business when it counts.