Labour conference: Not right to say only women have a cervix, says Starmer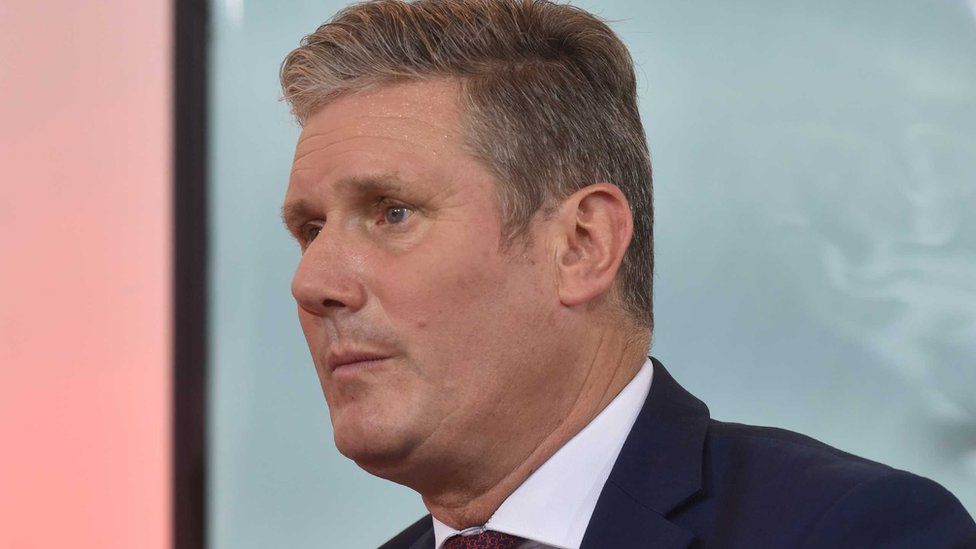 Sir Keir Starmer says it is "not right" to say only women have a cervix amid a row involving one of his MPs.
The incident was called transphobic by trans rights supporters - but Labour MP Ms Duffield rejects the claim.
Asked about the row, Sir Keir said claiming only women have cervixes was "something that shouldn't be said".
But Health Secretary Sajid Javid attacked the Labour leader, saying his remarks were a "total denial of scientific fact".
Canterbury MP Ms Duffield has regularly used social media to outline her own position on transgender issues - especially around the debate on the Gender Recognition Act.
Some groups are calling for the medical diagnosis element of the process to change gender to be scrapped in England and Wales, allowing people to self-identify.
But Ms Duffield believes that biological females should have protected spaces where biological males are not allowed to go - such as domestic violence refuges and prisons - and she is against people being able to self-identify as trans to gain access to those spaces.
The Labour MP has said she is "completely supportive of trans rights".
But she has been condemned by some LGBT+ groups - who say trans men and women should be treated the same as biological men and women - and two of her staff members resigned from her office over her views.
In August, Ms Duffield liked a tweet by broadcaster Piers Morgan, who criticised a news story from CNN about cancer screening for "individuals with a cervix", responding: "Do you mean women?"
When the MP was called transphobic for appearing to endorse the tweet, she replied: "I'm a 'transphobe' for knowing that only women have a cervix… ?!".
She later acknowledged that some trans men have a cervix.
Appearing on the BBC's Andrew Marr show, Sir Keir Starmer was asked if it was transphobic to say only women have a cervix.
The Labour leader replied: "Well, it is something that shouldn't be said. It is not right."
Sir Keir added: "We need to have a mature, respectful debate about trans rights and we need to... bear in mind that the trans community are amongst the most marginalised and abused communities.
"Wherever we've got to on the law, we need to go further."
Ms Duffield is not attending this week's party conference in Brighton, having said there were concerns for her safety after threats from activists.
But Sir Keir said he had spoken to Ms Duffield and "she didn't want to come because it would cause a distraction from the ideas that we're putting forward".