Boris Johnson to consider calls to legalise magic mushroom drug psilocybin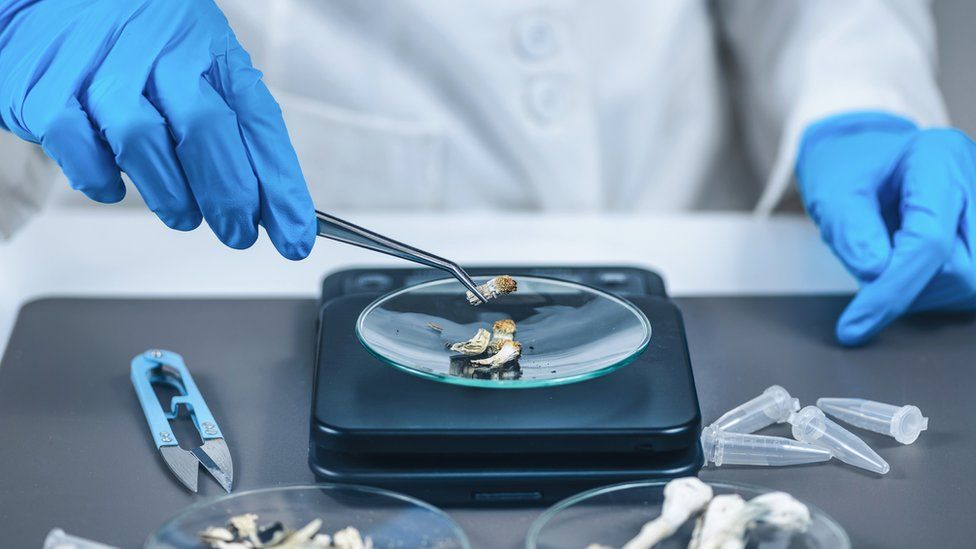 Boris Johnson has said he will examine the latest advice on the legalisation of psilocybin - a psychedelic drug found in magic mushrooms.
Tory MP Crispin Blunt urged the PM to review the law to allow more research into the drug's therapeutic qualities.
Mr Blunt said it had "exciting potential" for the treatment of mental health conditions such as depression, trauma and addiction.
Mr Johnson said he would get back to Mr Blunt "as soon as possible".
Psilocybin is currently included in Schedule 1 of the Misuse of Drugs Act, along with drugs like ecstasy and LSD. This means it cannot be lawfully possessed or prescribed and a Home Office licence is needed for use in research.
Campaigners, including Mr Blunt, want it to be moved to Schedule 2 with restrictions to prevent inappropriate prescribing to facilitate medical and scientific research.
It would then potentially be in the same category as medical cannabis, which was legalised in 2018.
Mr Blunt said this would allow more clinical trials and research into its potential benefits in the treatment of mental health conditions.
The MP told BBC News the prime minister had privately given him an assurance in May this year that he was committed to rescheduling psilocybin for clinical research.
At Prime Minister's Questions, Mr Blunt called on the PM to deliver on this, arguing that it would boost the UK's biosciences industry.
Mr Johnson told him: "I can say that we will consider the Advisory Council on the Misuse of Drugs recent advice on reducing barriers to research with controlled drugs such as the one he describes, and we will be getting back to him as soon as possible."
"There is no record anywhere that a substance that has come out of 'schedule two' and gone into the criminal supply chain," he told BBC News.
Initial clinical research shows that psilocybin, in conjunction with talking therapies, can help people with Post Traumatic Stress Disorder (PTSD).
'Psychedelics changed everything'
Military veteran Guy Murray says psychedelics helped him overcome PTSD.
In addition to talking therapies and education, Mr Murray says psilocybin "changed everything" and he is now the happiest he has ever been.
Mr Murray joined the army in 2008 and later served for just over six months in the Sangin Valley, Afghanistan with the 4th Battalion Rifles.
He watched as his close friend Martin was shot and killed.
"I was actually looking at him through some binoculars at the time and I saw him fall.
"I was watching the battle unfold and I wasn't a part of it, and that is really what trauma is when you can't do anything about being in a situation you can't fight, you can't help, you just watch something, you're completely helpless.
"I couldn't be back for his repatriation. There was no grieving, no mourning, it never happened to me.
"My dad went to the funeral for me on my behalf as I was still in Afghanistan."
Mr Murray suffered with flashbacks, depression, and a had number of suicide attempts.
He left the military in 2014 and was diagnosed with PTSD in 2017.
He later spent some time researching psychology, depression, and the use of psychedelics in different European countries.
Policing minister Kit Malthouse told MPs on Monday that although he welcomed anything that helped tackle mental illness the scheduling of psilocybin was a matter for the drug regulation agency.
"There are ongoing trials and research into psilocybin taking place in the UK and while the medicine has yet to be licenced by the medicines and healthcare products regulatory agency, if and when it is, we will consider rescheduling it," he said.
David Badcock, Chief Executive of the charity Drug Science, said current research on psilocybin was promising but more was required.
"We know there is huge therapeutic potential in psilocybin, but the trouble is, there is evidence, but we need more research.
"We need to do more research to fully understand the full potential."