PM Boris Johnson took part in No 10 Christmas quiz last year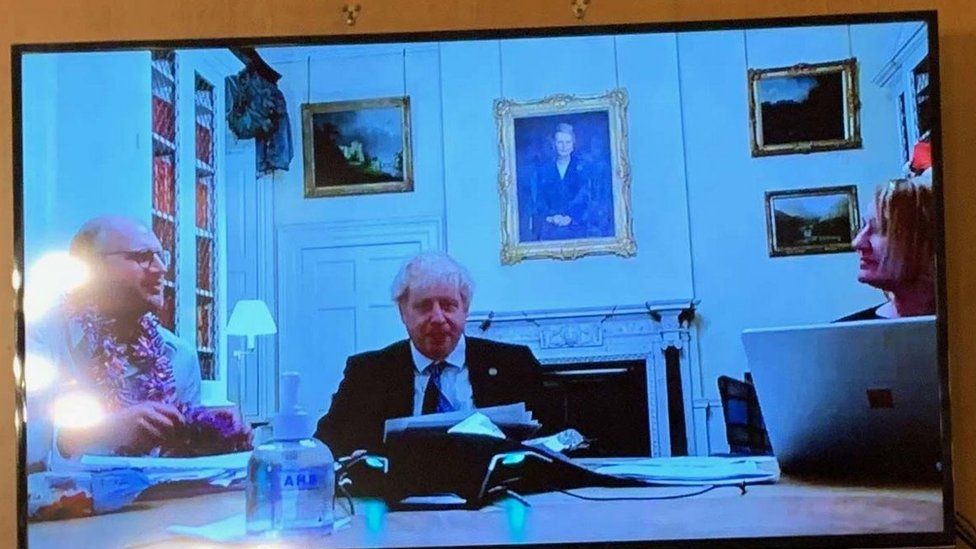 Boris Johnson took part in a Christmas quiz sitting between two colleagues in No 10 last year - while indoor household mixing was banned in London.
The Sunday Mirror has published a picture of Mr Johnson at the event, which it said was on 15 December.
Downing Street said the PM "briefly took part virtually" to thank staff for their work during the pandemic.
Labour leader Sir Keir Starmer said it appeared Mr Johnson had breached Covid laws in place at the time.
He told the BBC's Andrew Marr Show the event had created "fury" and that trust in the prime minister was at an "all-time low".
It comes after the government launched an investigation into three allegations of gatherings last Christmas - including two in Downing Street - despite Covid rules banning them.
In the photo, Mr Johnson is sitting in the No 10 library between a colleague wearing a tinsel scarf and another apparently in a Santa hat.
A source told the Sunday Mirror many staff were huddled by computers conferring on questions, drinking alcohol and in one office there were four teams of six people.
Multiple sources told the BBC this week there was a Christmas quiz for No 10 staff, with invites sent out in advance via email.
A Downing Street source told the BBC the two people in the picture with Mr Johnson were members of his closer staff who had come in to help him with the technology.
While Downing Street described the quiz as a "virtual gathering", sources said some joined virtually but there were groups in the room sat in teams.
London was under Tier Two restrictions at the time, which banned mixing of households indoors - apart from support bubbles - and allowed a maximum of six people to meet outside.
Official guidance said: "Although there are exemptions for work purposes, you must not have a work Christmas lunch or party, where that is a primarily social activity and is not otherwise permitted by the rules in your tier."
Asked whether he thought the PM was in breach of the Covid legal restrictions, Sir Keir told Andrew Marr: "It looks as though he was.
"We'll have to look into it, but it's very hard to see how that's compliant with the rules," he said.
"He must have known that other groups were in other rooms in his own building," he said, describing the quiz as a "social event".
"He has damaged his authority, he is now so weak, his party is so divided - he can't deliver the leadership this country needs," he said.
"He is the worst possible leader at the worst possible time".
Appearing on the same programme, Education Secretary Nadhim Zahawi said there had been "hype" about press stories on parties, and "people can make their own mind up" about the photo of the Christmas quiz.
Speaking to Sky News earlier, he said Mr Johnson had been on "a virtual call respecting the lockdown rules," adding: "Many people would have had similar Zoom quiz nights around the country."
Responding to the picture of the quiz, Conservative MP Steve Baker said he wanted Mr Johnson to "rescue his position," adding that the government could not go on being "constantly mired in headlines of this kind".
Scottish Conservative leader Douglas Ross said the picture of the quiz raised "serious questions" that needed answering.
Speaking to BBC Scotland, he warned that the prime minister's 80-seat majority in Parliament "does not allow you to do whatever you want with your officials in No 10."
Meanwhile, the Department for Work and Pensions has confirmed a "core team" of staff drank alcohol and ate takeaways "on a number of occasions" whilst working late in the office while Covid restrictions were in place.
On Friday, 10 Downing Street cancelled its 2021 Christmas party amid growing anger over a different gathering on 18 December last year, after London had been put under Tier 3 restrictions banning gatherings of two or more people indoors unless it was "reasonably necessary" for work.
After criticism from opposition parties, the media and his own MPs, the prime minister asked Cabinet Secretary Simon Case to carry out an investigation into the 18 December party earlier this week.
The inquiry will also include finding out what happened at another Downing Street gathering on 27 November last year, and another at the Department for Education on 10 December.
Allegra Stratton quit her post as a government spokesperson on Wednesday after a backlash over a video she appeared in from last December, in which she joked about a Christmas party.
The row over Christmas parties continued to escalate as the government announced new rules in England to tackle the spread of Omicron.
Mr Johnson faces a rebellion from about 60 Conservative MPs when the measures, including Covid passes for large venues, are put to a vote in the Commons next week.
Sir Keir said that he was not "not comfortable" with the plan for Covid passes, but he was "persuaded it is necessary".
He confirmed Labour would vote with the government next week - meaning the measures are expected to become law.