Covid: PM faces big rebellion as MPs vote on new restrictions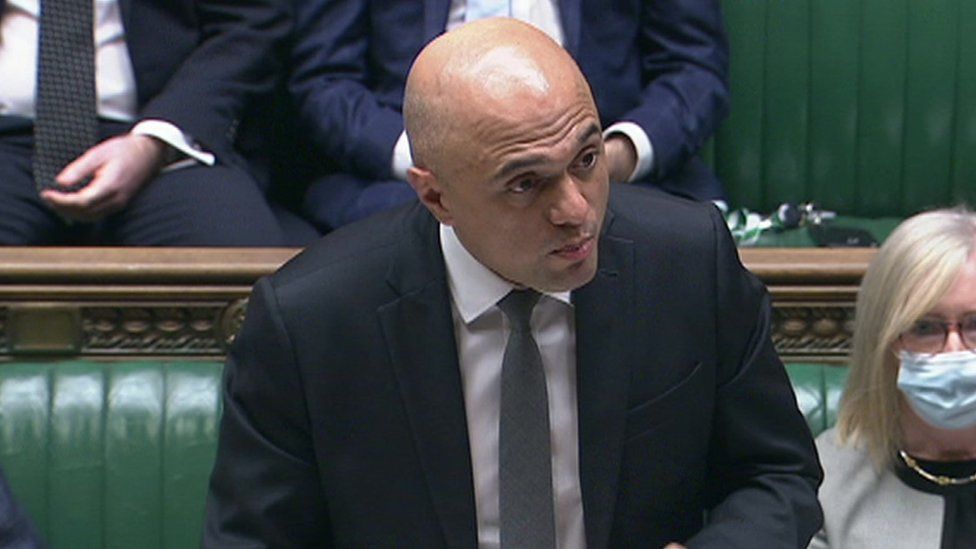 Boris Johnson is facing his biggest backbench rebellion since he became prime minister when MPs vote on new Covid rules for England later.
Around 70 Conservatives are expected to oppose the introduction of mandatory Covid passes to enter large venues like nightclubs.
Ministers are concerned about rising cases of the Omicron variant.
Sajid Javid told MPs that Omicron was a "grave threat", as the Commons debate on the new measures began.
The health secretary said the government had acted early, but data over recent days has shown the variant was a growing concern.
He said that although there was not a complete picture of the severity of Omicron, its transmissibility meant it still had the potential to overwhelm the NHS.
"There really is no time to lose," he added.
The Covid pass scheme, which would come into force on Wednesday, is still likely to become law despite the Tory rebellion, as Labour plans to support it.
MPs are also due to vote on:
A new regulation making it compulsory to wear a face covering in most indoor settings, except for pubs and restaurants
Changing the rules so that vaccinated people who come into contact with suspected Omicron cases will no longer have to self-isolate. Anyone coming into contact with Covid cases of any kind will be "strongly advised" to take lateral flow tests for seven days
Making it compulsory for frontline NHS and social care staff to be fully vaccinated from April 2022
Deputy Prime Minister Dominic Raab said the measures, as well as increasing rates of vaccination, would mean "people can feel reassured they can enjoy their Christmas with loved ones".
He added that the new Covid passes were not "an unreasonable thing" to ask of people to enter large venues, adding: "I would do it voluntarily."
'Balanced and proportionate'
Under the proposals, over-18s will have to prove they are fully vaccinated or have a recent negative lateral flow test to enter a number of large venues.
Mr Javid told MPs that under government plans, full vaccination will eventually mean showing evidence of a booster jab - after people have had a "reasonable chance" to receive one.
It will apply to nightclubs, indoor unseated venues with more than 500 people, unseated outdoor venues with more than 4,000 people, or any venue with more than 10,000 people.
Venues will be able to apply to their local council to only carry out spot-checks on a percentage of attendees, if checking everyone before entry would cause unsafe crowds to gather outside.
The prime minister's spokesman said people would have an extra incentive to get jabbed if it meant receiving a "permanent pass rather than regularly [having to] take a test."
Passes have proved controversial on the government's own benches, with one Conservative MP, Marcus Fysh, telling the BBC it was "the thin end of an authoritarian wedge".
But his colleague Danny Kruger said he would support the move "despite some big misgivings" after the prime minister spoke to him on Tuesday morning.
In a statement, the MP said he had been reassured compulsory vaccination would never be extended beyond health and care workers, and unvaccinated people would always be able to gain entry to venues by showing a negative test result.
The BBC estimates around 70 Conservative MPs are expected to vote against the introduction of Covid passes, while rebellions on the other measures are likely to be smaller.
Spoiler alert: the government will win all the crucial Covid votes.
But it looks like it will have to rely on Labour votes for victory.
Ministers can point to opinion polls suggesting public support for restrictions as Omicron takes hold.
But that won't convince a significant number of Conservative MPs to offer their backing.
Lifting automatic self-isolation requirements in England for close contacts of Omicron cases, and ensuring Covid passes take account of negative tests not just vaccine status, has not bought off many rebels.
So Sajid Javid has to convince the toughest audience - those sitting behind him - that his measures are proportionate and are not the thin end of a restrictive wedge.
Ahead of the vote, the cabinet was told there were now almost 4,500 Omicron cases confirmed across the UK, with 10 people currently in hospital with the variant.
Chief Medical Officer Chris Whitty said that while it was too early to say how severe the Omicron was, a significant increase in hospitalisations as cases increased was expected.
On Monday, Mr Javid told MPs the Omicron variant now represented 20% of cases in England - and was expected to become the dominant variant in London within 48 hours.
He said the UK Health Security Agency had estimated the current number of daily infections - as opposed to cases confirmed after a test - was around 200,000.
The UK reported 54,661 confirmed cases of all Covid variants on Monday, with 38 deaths. The most recent figures show 7,373 people in hospital with Covid across the country.
Shadow health secretary Wes Streeting said Labour would back the government's new measures "in the national interest".
He said the new rules were "necessary to protect our NHS" from the Omicron variant, whilst "trying to protect Christmas" for families.
But Mr Johnson's former head of legislative affairs, Nikki da Costa, told BBC Radio 4's World at One it was not advisable for the prime minister to try to "govern on the back of Labour, as this would allow it to look like a government-in-waiting".
It would "drive a wedge between the prime minister and his MPs who are rebelling and it's not a sustainable strategy", she added.
Meanwhile, Liberal Democrat MP Daisy Cooper told the BBC her party would vote for the new rules on masks, but against the introduction of coronavirus passes.
Passes are already used in Scotland, Wales, and Northern Ireland for nightclubs and large events.