Partygate: What's in the Sue Gray report?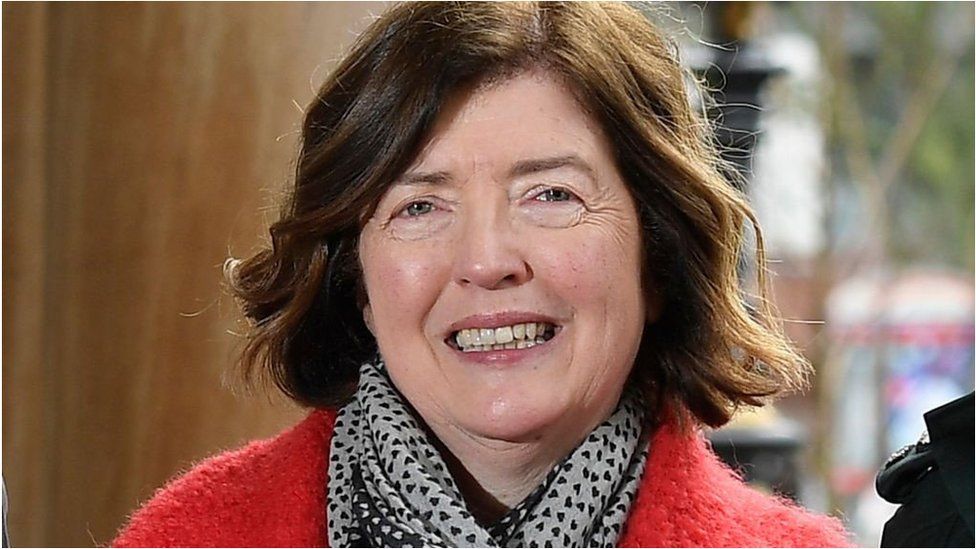 Sue Gray's long-awaited report has been published into parties held in Downing Street during the pandemic.
She says there were "failures of leadership and judgment in No 10 and the Cabinet Office" for which "the senior leadership at the centre, both political and official, must bear responsibility".
An internal investigation was launched following media reports of multiple gatherings in or near Downing Street - where the prime minister lives and works - throughout the pandemic.
Senior civil servant Sue Gray was asked to look at the nature and purpose of the gatherings, including who went to them, and whether they broke Covid rules.
Ms Gray delivered an initial report at the end of January, but delayed publication of the full report until the Met Police concluded its investigation into some of the events in question.
What does today's final report say?
She says that "what took place at many of these gatherings and the way in which they developed was not in line with Covid guidance at the time".
Eighty three people who attended these events received fines as a result of the police investigation, including the prime minister and the chancellor of the exchequer.
Ms Gray says that "the public have a right to expect the very highest standards of behaviour in such places, and clearly what happened fell well short of this".
The report adds that junior civil servants were led to believe that their involvement in these events was acceptable, given the involvement of senior civil servants and political advisors.
Some staff had "witnessed or been subjected to behaviours at work which they had felt concerned about but at times felt unable to raise properly", and there were multiple examples of an "unacceptable" lack of respect and poor treatment of security and cleaning staff.
The report also included several photographs of the prime minister, taken at some of the events within the report's scope.
What other details have emerged?
The report includes WhatsApp messages between officials at Downing Street, which reveal that some of the events were pre-planned, despite doubts being raised about whether they were allowed, or how they might be perceived.
On 20 May 2020, senior civil servant Martin Reynolds invited staff to a "socially distanced garden party". Lee Cain, who was No 10's director of communications at the time, replied that "a 200-odd person invitation for drinks in the garden of no 10 is somewhat of a comms risk in the current environment."
Mr Reynolds also referred to the events in a separate message at a later date, commenting that "we seem to have got away with" the event.
The report also reveals that a leaving do at No 10 on 17 June that year included "pizza and prosecco" and a karaoke machine. During this event - which went on until 03:00 - one person was sick and there was a "minor altercation" between two others.
Ms Gray also says that she had only limited information about an event in the No 10 flat on 13 November 2020, because her inquiries had stopped after the police announced they were investigating it.
She also complains in the report that "some events only became known to me and my team through reporting in the media" which she describes as "disappointing".
What reaction has there been so far?
Speaking in the House of Commons after the publication of the report, the prime minister denied he had ever knowingly misled MPs about parties in Downing Street.
He said he did not seek to absolve himself of responsibility, but insisted that progress had been made since the publication of Sue Gray's initial report earlier this year - including easier ways for staff to complain about behaviour.
However, the leader of the opposition, Sir Keir Starmer, called the report "a monument to the hubris and arrogance of a government that believed there was one rule for them and another rule for everyone else".
He said it "lays bare the rot" of the government and how people in No 10 "treated the sacrifice of the British people with utter contempt".
In the final report, Sue Gray reiterates that it was not for her "to make a judgment on whether the criminal law had been broken: that is properly a matter for law enforcement bodies."
However, according to the inquiry's terms of reference: "If required, the investigations will establish whether individual disciplinary action is warranted".
On this point, Ms Gray adds that "it is important to acknowledge that those in the most junior positions attended gatherings at which their seniors were present, or indeed organised".