Boris Johnson visits Ukraine for talks as Russian invasion fears rise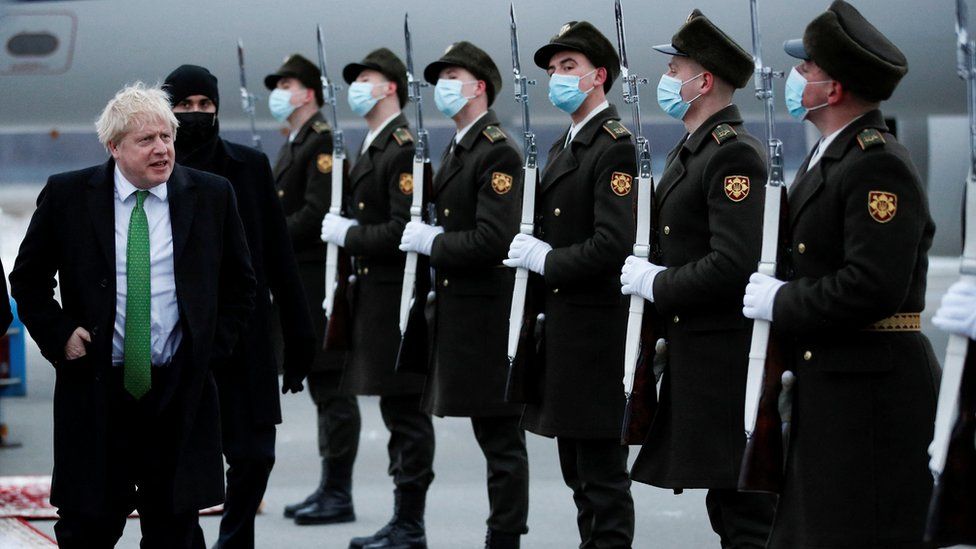 Boris Johnson has arrived in Ukraine for talks with the country's president amid rising concerns over a possible Russian invasion.
The UK prime minister promised to work with Volodymyr Zelensky to find a diplomatic solution to arguments with Moscow and "avoid further bloodshed".
Russia has massed an estimated 100,000 troops, tanks, artillery and missiles near its borders with Ukraine.
But President Vladimir Putin denies he is planning an attack.
However, his government has warned Ukraine not to make any further moves towards joining Nato, arguing that this threatens Russia's own security.
The US has rejected this demand and Western countries are threatening to expand sanctions against Moscow if there is an invasion.
UK Foreign Secretary Liz Truss has said legislation was being prepared to target a wider range of individuals and businesses associated with Mr Putin, while a US official said Washington's sanctions meant people close to the Kremlin would be cut off from the international financial system.
Ahead of Mr Johnson's visit to Ukraine's capital, Kyiv, the UK government announced it was giving £88m to promote stable governance and energy independence from Russia.
Mr Johnson said: "It is the right of every Ukrainian to determine how they are governed. As a friend and a democratic partner, the UK will continue to uphold Ukraine's sovereignty in the face of those who seek to destroy it.
"We urge Russia to step back and engage in dialogue to find a diplomatic resolution and avoid further bloodshed."
Foreign Secretary Liz Truss had been due to accompany the PM to Ukraine, but she announced on Monday that she had been diagnosed with Covid and was self-isolating.
US President Joe Biden has warned there is a "distinct possibility" of Russia invading Ukraine within the next month.
Ukrainian President Volodymyr Zelensky has praised Western backing in the face of Russia's military build-up and announced an expansion of the army.
As British, Polish and Dutch leaders visited the country, top US and Russian officials are due to hold fresh talks on the crisis.
US Ambassador Linda Thomas-Greenfield said the mobilisation was the biggest Europe had seen in decades.
She said the US continued to believe there was a diplomatic solution, but warned the US would act decisively in the event of an invasion - the consequences of which would be "horrific".
However, her Russian counterpart Vasily Nebenzya accused the US of fomenting hysteria and "unacceptable interference" in Russia's affairs.
He said there was no proof that Russia was planning military action against Ukraine, adding that Russia often deployed troops on its own territory and this was none of Washington's business.
Russia wants the West to promise Ukraine will never join Nato - a military alliance where members promise to come to another's aid in the event of an armed attack.
Moscow sees Nato troops in eastern Europe as a direct threat to its security, but the US has already rejected this demand.
President Putin has long argued the US broke a 1990 guarantee, amid the collapse of the Soviet Union, that Nato would not expand further east - though interpretations differ over exactly what was promised.
Nato's 30 members include the US and UK, as well as Lithuania, Latvia and Estonia - former Soviet republics which border Russia.
Moscow's forces annexed Ukraine's southern Crimea peninsula in 2014 and it is backing rebels who seized large swathes of the eastern Donbas region soon afterwards.
Some 14,000 people have died in fighting there.