Partygate fines: Are Boris Johnson and Rishi Sunak finished?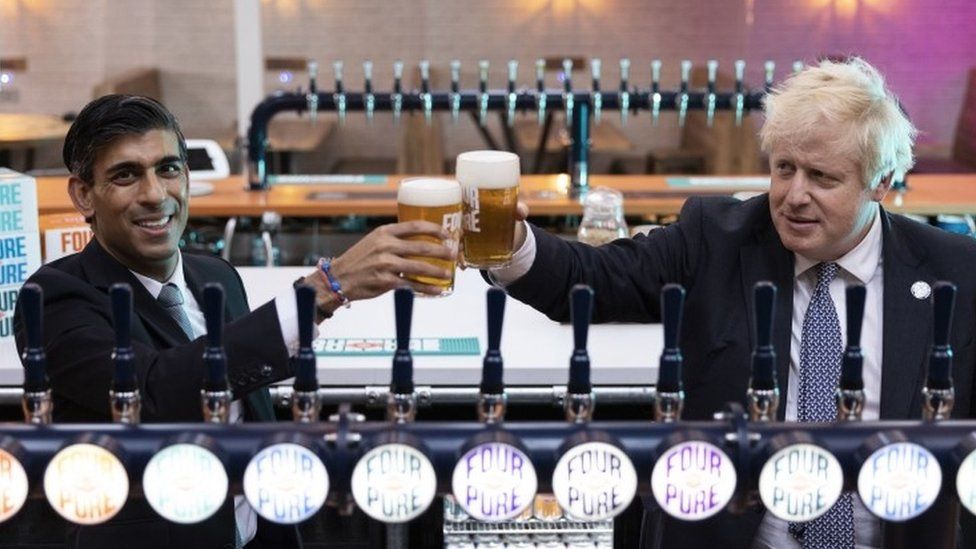 Boris Johnson and Rishi Sunak have been fined by the Metropolitan Police over lockdown parties in Downing Street. Can lawmakers get away with being lawbreakers?
Not just any law maker, but the prime minister and the chancellor.
And not just any law, but the one that confined millions of us to our homes, closed schools, crippled businesses and were designed to prevent hundreds of thousands of deaths.
The law which the prime minister himself said, while looking solemnly at us down a camera, was essential to our safety and which we must all obey.
The PM faced the cameras again on Tuesday to apologise for breaking those laws, while insisting it did not occur to him at the time that he was doing anything wrong.
"But, of course," he added, "the police have found otherwise and I fully respect the outcome of their investigation."
He tried to sound contrite, saying people had a right to expect better from their prime minister.
But he made it clear he will not be resigning, telling reporters he intended to "get on with the job".
Will this be enough to save his skin?
When Partygate dominated the headlines, many observers believed it was only a matter of time before Tory MPs triggered a no confidence vote in him.
But that sense of momentum has evaporated to some extent.
Firstly, and potentially importantly, there aren't many MPs around. It is the Easter break. The chance to plot, to gossip, to fume, to agitate isn't there.
Sure there are WhatsApp groups, but they are not quite the same.
But secondly, and more importantly, the context has changed.
War has broken out in Europe; our television screens are dominated by the horrific images we see every day from Ukraine.
Who did or didn't drink a glass of wine, where and with whom months and months ago in lockdowns so many of us are desperate to put behind us can, to some, seem trivial, parochial in that context.
In recent weeks, some Conservative MPs have made it known they had withdrawn their letters saying they had no faith in Boris Johnson's leadership.
That momentum I was talking about felt like it was draining out of the issue.
The big question, then - is what happens now?
Could Conservative MPs, talking to voters ahead of next month's local elections, encounter a tidal wave of anger from constituents that makes them think again about the prime minister's future?
Or have a crucial chunk of voters moved on too?
What will be the verdict of voters next month, and to what extent would that be able to be pinned on Partygate anyway?
Politics is at its keenest and its most compelling when the biggest questions are uncertain; where, whatever the speculation - and there'll be plenty - the next public actions and decisions of Westminster's biggest players aren't obvious.
Make no mistake: this is uncharted territory. For the very first time, it is publicly known that the prime minister and the chancellor broke the very laws they put in place, in the very place where they were devised.
Even if Conservative MPs don't have the appetite to remove Boris Johnson now, even if the electorate's verdict next month isn't clear, this is a line from the prime ministerial CV he will never shift.
A prime minister who's built a career on being unorthodox and has survived the apparently politically unsurvivable before, finds the dice rolling again.
As a pollster put it to me the other day, political events can be classified as turning points or talking points.
The vast majority are the latter, noisy, but of little long-term consequence.
This could still have the potential to be the former, even if nothing changes immediately.