Refugees Minister Lord Harrington declines to comment on Rwanda plan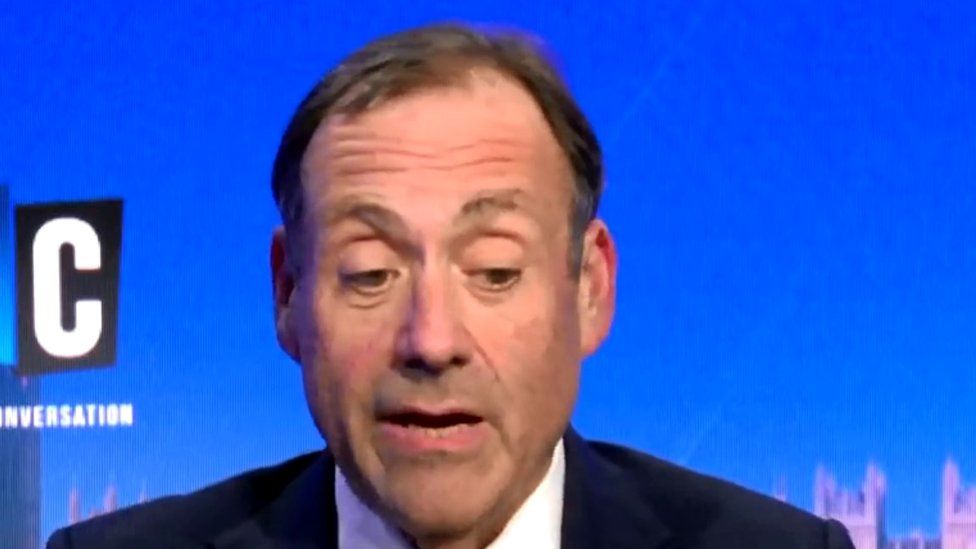 Refugees Minister Lord Harrington has declined to comment on government plans to send some asylum seekers to Rwanda.
Asked by the BBC if he thought the scheme was a good idea, he said it was not his responsibility.
The minister - who was appointed to lead efforts to help Ukrainian refugees - said last week there was "no possibility" of sending them to Africa.
Under the scheme, single men who arrive in the UK and claim asylum will be relocated to Rwanda.
In an interview with LBC last week, Lord Harrington said no refugees had been sent to Rwanda and added: "If it's happening in the Home Office on the same corridor that I'm in they haven't told me about it."
On Thursday, he told the BBC that "hundreds of thousands" of people were fleeing Ukraine and none of them would be going to Rwanda.
The agreement with Rwanda was announced earlier by Prime Minister Boris Johnson and Home Secretary Priti Patel.
Precise details of how it will work are yet to be confirmed, but the BBC understands the trial will be restricted to mostly single people the British authorities believe are inadmissible.
Rwanda will take responsibility for processing the asylum seekers. If they are successful they will be offered long-term accommodation in Rwanda.
The UK Home Office believes existing asylum law will be enough to implement the plan, but questions remain about the legality of the scheme.
Prime Minister Boris Johnson said the scheme was needed to "save countless lives" from human trafficking.
He said action was needed to stop "vile people smugglers", adding the "humane and compassionate" plan was designed to break their business model.
But campaigners for refugees and opposition parties have been highly critical of the plans, pointing to Rwanda's poor record on human rights.
At the United Nations last year, the UK demanded investigations into allegations of killings, disappearances and torture.
Amnesty International UK's Refugee and Migrant Rights Director Steve Valdez-Symonds described the initiative as "the very height of irresponsibility" and "shockingly ill-conceived".
He said it would go "far further in inflicting suffering while wasting huge amounts of public money".
For Labour, shadow cabinet minister Lucy Powell said the scheme was "less about dealing with small boats and more about dealing with the prime minister's own sinking boat".
She called it a "pretty desperate" distraction from the partygate scandal.
Ms Powell added that Labour would tackle illegal and dangerous routes of immigration through measures such as making it more difficult for smugglers to advertise online.
Liberal Democrat leader Sir Ed Davey described the plans as a "cynical distraction".
He said they would not stop people crossing the English Channel in small boats and called for more action against people smugglers.
Scotland's First Minister and SNP leader Nicola Sturgeon condemned the Rwanda scheme as "despicable". She also claimed it was an attempt to distract people from partygate that laid bare the Government's "moral bankruptcy".