Shop owners to be forced to rent out empty premises, government says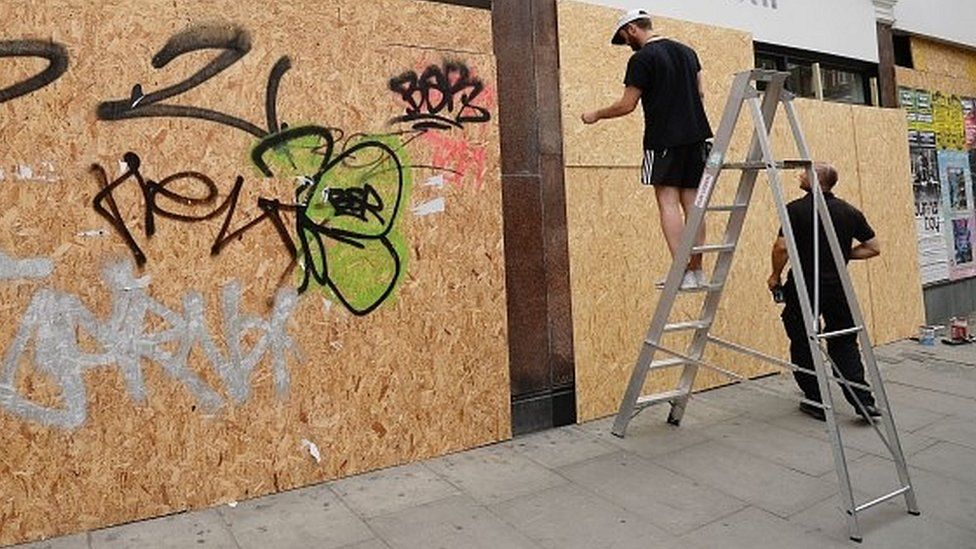 Landlords in England could be forced to let empty shops in a bid to rejuvenate high streets, under government plans.
Under the move, set to be unveiled in Tuesday's Queen's Speech, buildings left vacant for a year would have to be entered into a "rental auction".
Boris Johnson said boarded-up premises were a "blight" on towns and cities and damaged local economies.
But the British Property Federation (BPF), which represents the real estate industry, dismissed compulsory auctions as a "political gimmick".
A parliamentary bill allowing councils to force owners to rent out shops is part of the government's levelling-up agenda - a 2019 general election promise that left-behind communities will get a chance to catch up with the rest of the country.
It is envisaged that the successful bidder, whether a business or a community group, will take over the premises.
"High streets up and down the country have long been blighted by derelict shopfronts, because they've been neglected, stripping opportunity from local areas," the prime minister said.
"We are putting that right by placing power back in the hands of local leaders and the community so our towns can be rejuvenated, levelling up opportunity and restoring neighbourhood pride."
According to the BRC's 2021 survey, north-eastern England had the highest rate of empty shops in Britain - around one in five - while London had the lowest rate, of around one in 11.
BPF chief executive Melanie Leech said: "We fully support government's ambitions to revitalise town centres but political gimmicks such as compulsory rent auctions are not the solution.
"No property owner wants their premises to be empty. In our experience, property owners are willing to do zero-rent deals to avoid boarded-up shopfronts.
"But the burden of business rates and other occupational costs mean it is still unviable for many small and independent businesses to trade from town-centre premises."
In February, the government unveiled its blueprint for levelling up, including reducing crime, improving wellbeing and spending more on skills training.
Labour accused ministers of creating "slogans and strategies, with few ideas" for effecting change across the UK.
And a report by the National Audit Office, which scrutinises public spending, has criticised the government for having a "limited" understanding of what has worked well when setting up its programme for regional economic growth.
The party lost almost 500 council seats around Britain in Thursday's poll, amid concern that voter worries about the cost of living and Downing Street parties during lockdown had harmed Tory support.