Chris Pincher: Tory whip resigns saying he 'embarrassed himself'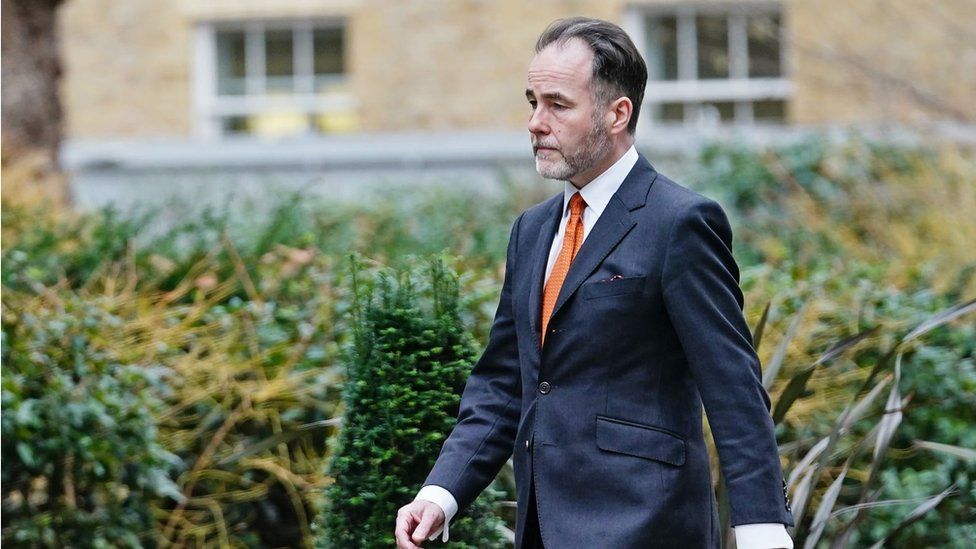 Tory deputy chief whip Chris Pincher has resigned from the government, after allegations that he groped two men at a private members' club.
In his resignation letter, he told the PM he "drank far too much" and "embarrassed myself and other people".
Witnesses told the BBC he was seen "extremely drunk" at the Carlton Club, the Conservative Party members' club in London on Wednesday night.
The BBC has approached Mr Pincher for comment.
A Downing Street source said as things stood he would face no further action from the party and would keep the whip - meaning he would remain a Conservative MP.
Welsh Secretary Simon Hart said he was unable to confirm a formal investigation had been launched, warning it could be "counter-productive" to rush any probe.
He added that the Tory chief whip would treat the matter with "the utmost seriousness," and would be holding discussions today to "decide properly what should happen".
"It is absolutely proper that they spend today going through this with a fine tooth comb," he told BBC Radio 4's Today programme.
Several concerned Tory MPs contacted the Conservative whips' office to complain about Mr Pincher's behaviour, the paper said.
Dozens of people were present in a small room with a bar at the private members' club including other MPs, ministers, club officials and people working in public relations, the BBC understands.
The Conservative Party and the Tory whips' office have been approached for comment.
Mr Pincher began his letter to the prime minister with: "Last night I drank far too much."
He added: "I think the right thing to do in the circumstances is for me to resign as deputy chief whip. I owe it to you and the people I've caused upset to, to do this."
He said that Boris Johnson would continue to have his "full support from the back benches", adding: "It has been the honour of my life to have served in Her Majesty's Government."
A senior Downing Street source described Mr Pincher as a loyal Conservative who recognised that he had behaved badly.
Labour's deputy leader Angela Rayner said Boris Johnson has "serious questions to answer" about why Mr Pincher was given the role of party whip and how he can remain a Conservative MP.
"There cannot be any question of the Conservatives sweeping a potential sexual assault under the carpet," she said.
"The Conservative party is so mired in sleaze and scandal that it is totally unable to tackle the challenges facing the British people."
Shadow home secretary Yvette Cooper told the BBC's Radio 4 Today programme she believes Mr Pincher should have the whip suspended and called the prime minister's response to the allegations a "total disgrace".
She said: "Of course, there has to be a full investigation now and, of course, he should have the whip suspended while that investigation takes place."
Mr Pincher previously stood down from the whips' office in 2017, when he was accused of making an unwanted pass at former Olympic rower and Conservative activist Alex Story.
But after an investigation by the party, he was cleared of any breach of its code of conduct.
Several Conservative MPs have stood down from their seats in recent months after complaints about their conduct.
In April, Neil Parish stood down after admitting he watch pornography in Parliament, describing it as a "moment of madness".
The Conservatives lost two by-elections last week, one in Mr Parish's constituency of Tiverton and Honiton, and the other in Wakefield, where former Tory MP Imran Ahmad Khan resigned following a conviction for sexually assaulting a 15-year-old boy.
And in November last year, Owen Paterson quit as an MP after an inquiry found he had broken lobbying rules - which he denied.
Mr Pincher was first elected as MP for Tamworth in 2010 and served as a minister under former Prime Minister Theresa May.
He has served in the whips' office in Mr Johnson's government since February 2022, and was previously a minister in the Foreign Office and the Levelling Up Department.
Whips are MPs who are in charge of party discipline, and who have the job of trying to ensure that all MPs on their side vote with the party line in Parliament.