Chris Pincher suspended as Tory MP after groping allegation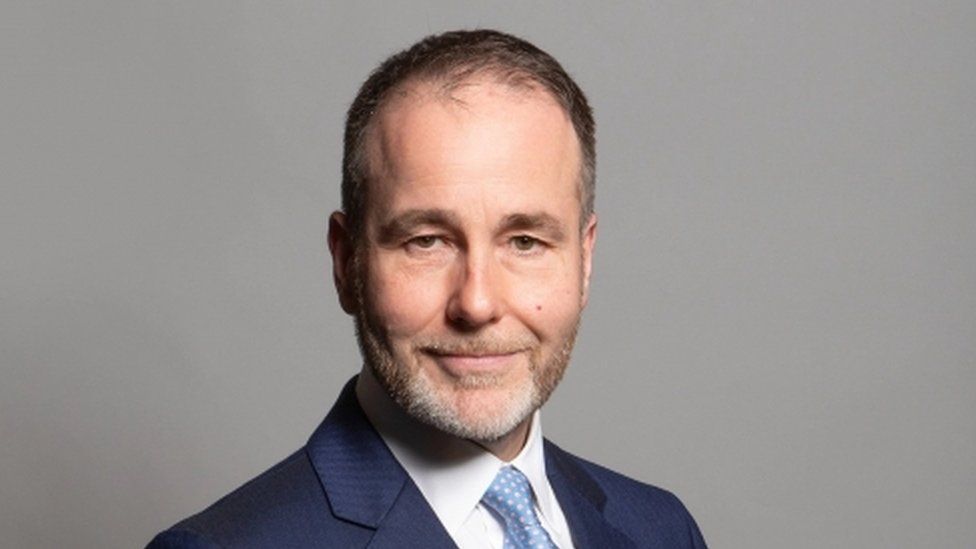 A former deputy chief whip alleged to have groped two men in a private members' club has been suspended as a Conservative MP.
Chris Pincher will sit as an independent after he was reported to Parliament's behaviour watchdog.
He quit his government job in a letter on Thursday, saying he had "drunk far too much" and "embarrassed myself and other people".
Former housing minister Kelly Tolhurst has been appointed as his replacement.
Prime Minister Boris Johnson was under pressure to suspend him from the party after senior Tory MPs and opposition parties said his position was untenable.
Earlier Downing Street had suggested the prime minister considered the matter closed after Mr Pincher's resignation as deputy chief whip.
But on Friday afternoon, the action was taken after a formal complaint was lodged with the Independent Complaints and Grievance Scheme (ICGS).
A spokesperson for Chief Whip Chris Heaton-Harris said the prime minister agreed that Mr Pincher should be suspended once the complaint had been made.
A government source defended the delay in suspending Mr Pincher, saying No 10 had acted swiftly after the complaint.
Complaints against MPs are examined by independent investigators, who can make recommendations for further action. A spokesperson for the ICGS said it could not provide any information on any complaint for reasons of confidentiality.
Witnesses told the BBC that Mr Pincher was seen "extremely drunk" at the Carlton Club, the Conservative Party members' club in St James's, central London, on Wednesday night.
The BBC has been told that the Metropolitan Police has not received any report relating to an incident at the venue.
The Sun newspaper first reported the resignation, saying he was drinking at the club when he is alleged to have assaulted two other male guests.
Several concerned Tory MPs contacted the Conservative whips' office to complain about his behaviour, the paper said.
Dozens of people were present in a small room with a bar at the private members' club including other MPs, ministers, club officials and people working in public relations, the BBC has been told.
In his resignation letter, Mr Pincher wrote to the prime minister: "Last night I drank far too much."
He added: "I think the right thing to do in the circumstances is for me to resign as deputy chief whip. I owe it to you and the people I've caused upset to, to do this."
Labour's Deputy Leader Angela Rayner said the prime minister had been "dragged kicking and screaming into taking any action at all" against Mr Pincher.
"He just can't be trusted to do the right thing. This whole scandal is yet more evidence of his appalling judgement," she said.
"It's time for Conservative MPs to show this chaotic prime minister the door before he can do any more damage."
Liberal Democrat's chief whip Wendy Chamberlain said "once again" the prime minister "had to be forced into doing the right thing".
"It should never have taken Boris Johnson this long to act and withdraw the whip," she said.
"There can be no more cover-ups or excuses. If this investigation confirms these serious allegations, Chris Pincher will surely have to resign."
As pressure on the prime minister to act mounted earlier, two senior female Tory MPs said the party's recent approach to allegations of sexual misconduct posed a risk of "serious reputational damage".
Caroline Nokes and Karen Bradley, who both chair select committees, said anyone under investigation for such allegations should not be allowed to represent the party and called for a new code of conduct for Tory MPs.
A Tory MP told the BBC they had previously raised concerns about Mr Pincher's behaviour with senior figures in No 10 and the Conservative Party.
The MP said: "Loads [of us] did when he was in the frame for chief whip and he never got it. There were concerns, none of us had proof we could use. He should have the whip suspended and a by-election."
But a No 10 spokesperson said Mr Johnson was not aware of any specific allegations against Mr Pincher before he appointed him as deputy chief whip.
Mr Pincher was first elected as MP for Tamworth in 2010 and served as a minister under former Prime Minister Theresa May.
He had served in the whips' office in Mr Johnson's government since February 2022, and was previously a minister in the Foreign Office and the Levelling Up Department.
Whips are MPs who are in charge of party discipline. and are tasked with ensuring colleagues on their side vote with the party line in Parliament and providing pastoral support.
The parliamentary behaviour watchdog investigating the complaint against Mr Pincher was set up in 2018 following a series of sexual misconduct allegations.
It was designed to investigate complaints about inappropriate behaviour, such as bullying, harassment or sexual misconduct, and its inquiries can result in sanctions for MPs.
How the process for complaints against an MP works
An investigator carries out a full investigation and makes a recommendation on the verdict to Parliament's Standards Commissioner
The commissioner reviews the evidence and, if rules have been breached, they can demand an apology to the House of Commons or refer the case to a separate independent expert panel if more serious sanctions are needed
This panel, which does not include any MPs, decides on sanctions and hears appeals
If it decides to suspend or expel the MP, this would need to be voted on by MPs