Tory leadership: How accurate are Truss v Sunak polls?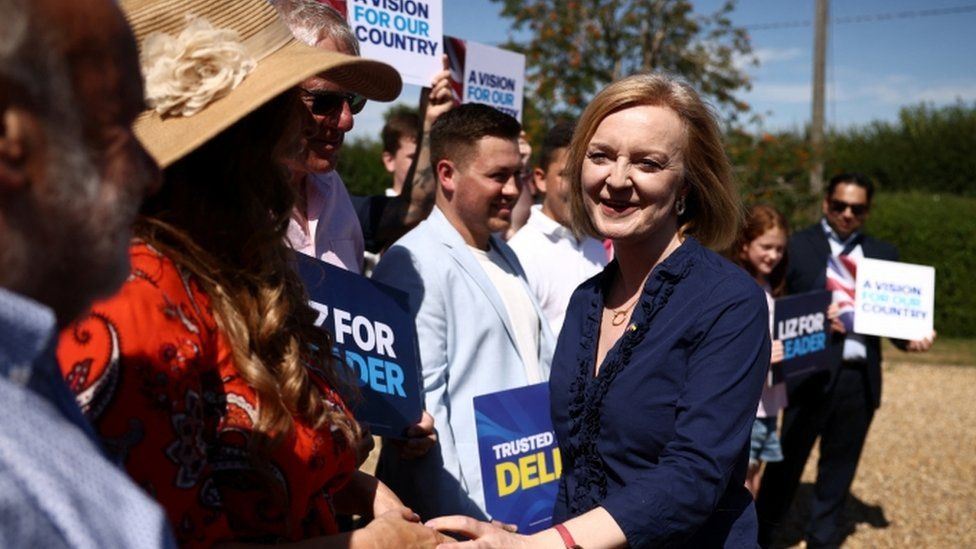 Liz Truss has a large lead over Rishi Sunak in the race to become next Conservative leader and prime minister, in polls of party members. But who carries out these polls, and are they likely to be accurate?
Although they are the only people who can vote in the contest, only three pollsters have been asking members what they think of the candidates.
They are YouGov, Opinium, and Techne UK - the British arm of Italian public affairs firm Techne.
ConservativeHome, a popular website among Tory activists, has also been conducting surveys about how members are likely to vote.
What do YouGov's polls say?
Of the three polling companies, YouGov has carried out the most research about how party members are likely to vote.
Its latest survey, published in early August, gave Ms Truss a 38-point lead over her rival, when those not intending to vote and "don't knows" are excluded.
An earlier poll, released the day after the run-off with Mr Sunak was confirmed, put Ms Truss's advantage at 24 points, suggesting the foreign secretary's lead has widened as the contest has gone on.
Earlier YouGov surveys of Tory members, conducted when more candidates were still in the race, also suggested she would win a run-off against Mr Sunak.
The company's polls break down support by age, gender, and support for Brexit at the referendum in 2016.
Notably, they have suggested Ms Truss's lead among Leave-voting Tory members is bigger - despite the fact that, unlike former chancellor Mr Sunak, she campaigned for Remain.
What about ConservativeHome?
The website's latest survey, published in mid-August, gives Ms Truss a 32-point lead once "don't knows" and those not intending to vote were divided evenly between the candidates.
This mirrored the results of another survey the site released in early August - the only other one it has done since the contest narrowed to two.
The website conducted several surveys earlier in the race, when more candidates made up the field, that also suggested Ms Truss would beat Mr Sunak in a straight head-to-head.
Unlike the polling companies, ConservativeHome does not publish a breakdown of support by age, gender or other factors.
What do Opinium and Techne UK say?
Opinium has released one poll of Tory members since the field narrowed to two. The results, published in mid-August, gave Ms Truss a 22-point lead.
It also suggested around a third of members voted in the first week of August, when voting got under way and the company did its interviews.
Techne UK caused a stir when some of its polling data, giving Ms Truss a more slender 5-point lead in the contest, appeared in the press in early August.
The data, which appeared in the press, had been gathered as part of a wider study into what members think of the candidates' policies.
The company is expected to publish fresh Tory member polling later in August.
YouGov conducts its Tory membership polling online, from those volunteers in its database who say they are Tory party members. It typically surveys 800-900 members for its polls, with over 1,000 respondents for the most recent.
A similar process is used by Opinium, which found 507 self-declared Tory members to interview from volunteers for online panels.
Techne UK used its own specially created sample of 807 Tory members that it identified from online and telephone interviews.
The polling companies adjust - or "weight" - the raw results in an attempt to ensure they reflect the characteristics of the party membership as a whole. Academic research has shown Conservative members tend to be older, whiter and more middle class than the rest of the population.
ConservativeHome also conducts its surveys online. It has a panel of more than 3,300 Tory members, which it has been using to run monthly surveys about what party activists are thinking for more than 15 years.
Its leadership surveys in the contest so far have also tended to have around 800-900 participants. Unlike the polling companies, however, it does not weight the results of its surveys.
Are the polls likely to be reliable?
Tracking the opinion of members of political parties is harder for pollsters than taking the temperature of the wider electorate.
There are believed to be around 160,000 Tory members, representing 0.3% of the total UK electorate, meaning they are harder to poll.
In addition, accurately weighting raw data is trickier because the party itself does not publish data on its membership.
To date, there have only been three Tory leadership elections where members have voted since the current system was introduced (they didn't get to vote in the 2016 contest because Andrea Leadsom withdrew beforehand).
This makes it hard to say whether member polling has been accurate historically, especially since polling was limited at first two such contests in 2001 and 2005.
Moreover, of the four organisations polling Tory members in this contest, only YouGov and ConservativeHome have done it for previous races.
At the last contest, in 2019, YouGov accurately predicted Boris Johnson's victory, albeit both the member polls it ran during the campaign gave him bigger leads than the 66.4% vote share he eventually received.
ConservativeHome also predicted Mr Johnson would win, across three surveys during his head-to-head contest with Jeremy Hunt.
As any pollster will tell you though, all polls are snapshots rather than predictions.
The only number that really matters is the final result, which will be announced on by the party on 5 September.