Tory leadership: Rishi Sunak vows more support for energy costs
By Joshua Nevett
BBC Politics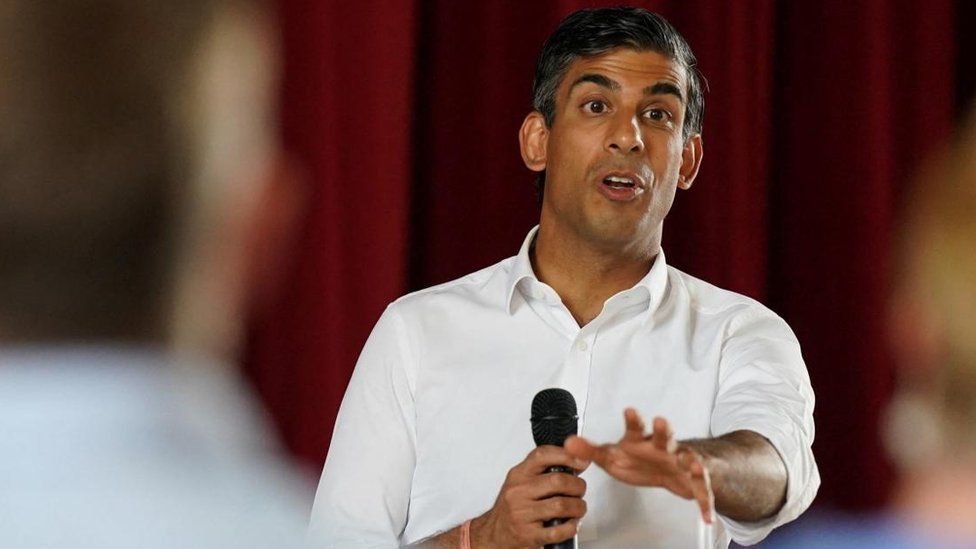 Tory leadership candidate Rishi Sunak has vowed to provide more money to help people with their energy bills, if he becomes prime minister.
The former chancellor said he would seek government "efficiency savings" to fund the support, to limit borrowing.
The amount of support is yet to be determined and would depend on the extent to which energy bills rise later this month.
Allies of his rival Liz Truss accused Mr Sunak of "another big U-turn".
"Three weeks ago he was saying more borrowing was irresponsible and inflationary - has he changed his mind? How can Rishi's borrowing not be inflationary, but Liz's tax cuts are? Intellectually it's as watertight as a sieve," a source in the Truss camp said.
In a statement, Mr Sunak said he wanted to keep "any one-off borrowing to an absolute minimum" and would "first seek efficiency savings across Whitehall to provide direct support for families to help with the unprecedented situation we face".
The energy regulator Ofgem is due to announce a rise to the cap - the maximum amount suppliers can charge customers per unit - on 26 August.
In a new forecast, industry analysts Cornwall Insight estimated the typical household annual energy bill will be £3,582 in October and £4,266 in January.
Mr Sunak said "there is no doubt in my mind that more support will be needed", adding "as soon as we know how much bills will go up by, I will act".
The former chancellor is competing with Ms Truss to be leader of the Conservative party and the next British prime minister.
Both Tory leadership candidates, as well as the outgoing prime minister, Boris Johnson, are facing questions about how they will tackle rising costs.
Downing Street has said Mr Johnson has no plans to introduce big tax and spending measures to ease the cost of living crisis before he leaves office in early September.
The Bank of England has predicted inflation - how fast prices are rising - will hit 13% and the UK will plunge into a recession later this year.
Business group leader Tony Danker has urged the prime minister and the Tory leadership candidates to "agree on the principles" of support for energy bills.
The director-general of the Confederation of British Industry (CBI) - which represents British businesses - said civil servants should be "working with the candidates now" to draw up options for helping vulnerable people as soon as one of them takes office.
"I just don't think it's responsible government for a prime minister, or future prime ministers, not to give the country reassurance," Mr Danker said.
In a campaign dominated by the worsening state of the UK economy, Ms Truss has focused on her pledge to lower taxes, which she argues will help households and boost growth.
But Mr Sunak has argued her tax cuts - worth an estimated £30bn - would stoke inflation and saddle the UK with debt.
Writing in support of Mr Sunak, Deputy Prime Minister Dominic Raab said Ms Truss's emergency tax-cutting budget risked becoming an "electoral suicide note" for the Conservatives.
Mr Raab said the foreign secretary's tax cuts would "do little for the most vulnerable" and did not represent "Conservative politics". "It's bad politics," Mr Raab wrote in the Times.
Former cabinet minister Sajid Javid told the i newspaper that Ms Truss - whom he backs for the leadership - had the best plan for boosting living standards.
But, he said, "more needs to be done" to support people on lower incomes, suggesting an uplift in benefits payments as one option.
Meanwhile, Scottish First Minister Nicola Sturgeon has written to Mr Johnson to request an emergency meeting, telling him only the UK government could access resources "on the scale required" to provide the required support.
Labour MP and shadow employment minister Alison McGovern said "every day counts" in working on emergency measures to deal with the cost of living crisis.
She said the party wanted VAT removed from fuel bills and suggested more targeted help could be introduced too.
Ms McGovern told the BBC: "We do have government ministers who could take responsibility for bringing forward some of these things and making it clear to everyone in the country that we are going to start taking action today. Not waiting."
The Liberal Democrats have called for the October energy price cap rise to be scrapped. The party argues that this could be paid for by expanding the windfall tax imposed on energy company profits.
Leader Sir Ed Davey said Mr Sunak's plans for more support were "too timid", and accused the Conservatives of living in a "parallel universe".
Support that has already been announced by the government includes a £650 payment for the eight million lowest-income households, an additional £300 for pensioner households, and £400 for all households.
With the current government ruling out emergency action until next week - there are growing calls for reassurance that ministers will act when the price cap goes up.
Rishi Sunak today sets out principles - but not figures.
He says he would use the same template as earlier this year, when the government pledged universal support for every household and extra for those on lower incomes.
Exactly how much Mr Sunak is promising won't be confirmed until later this month, when the new energy price cap is confirmed.
Liz Truss has not yet clarified what she meant when she said she wanted tax cuts, not handouts.
Her allies insist nothing has been ruled out.
But Dominic Raab - who is backing Mr Sunak - this morning warns Ms Truss that failing to live up to the challenge would be an "electoral suicide note" for the Conservatives.