EU referendum: Tusk says EU has 'no choice' over reforms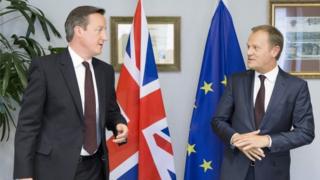 EU leaders have "no choice" but to do a deal on David Cameron's reforms, European Council President Donald Tusk has told BBC News.
Mr Tusk will chair a crucial summit meeting in Brussels on Thursday on the controversial proposals.
Poland and three other countries are reported to be still resisting welfare curbs while France is thought to be against financial regulation changes.
Number 10 said Mr Cameron and Mr Tusk agreed "good progress" had been made.
They felt the renegotiation draft texts presented a "good basis" for agreement at tomorrow's European Council, Downing Street said.
A new draft deal is due to be published ahead of the two-day summit starting on Thursday.
Earlier, when asked by the BBC's Ben Wright whether he would get a deal, Mr Tusk said: "I am sure that we have no choice."
'No guarantee'
In a letter to the leaders of the 28 member states, Mr Tusk said the summit "will be a crucial moment for the unity of our Union and for the future of the United Kingdom's relations within Europe".
"After my consultations in the last hours I have to state frankly: there is still no guarantee that we will reach an agreement.
"We differ on some political issues and I am fully aware that it will be difficult to overcome them. Therefore I urge you to remain constructive."
He said the negotiations were at a "very advanced" stage and failure now "would be a defeat both for the UK and the European Union, but a geopolitical victory for those who seek to divide us".
---
Analysis
By Laura Kuenssberg, BBC political editor
How on earth did the man who once accused the Conservatives of being out of touch for "banging on about Europe", get himself into a position where he has already been "banging on about Europe" for months and months, and will spend the next four months still doing precisely that?
Most simply, as the years have passed, his party has changed.
As the EU expanded, and generations of MPs came and went, a soft scepticism towards the European project, neither full-throated support, nor hardcore opposition, became more common, and sympathy for the idea of a referendum spread from the margins.
The eurozone financial crisis, and the EU's stumbling approach to sorting it out, gave a fresh energy to eurosceptic MPs who wanted to campaign to leave.
In part that apathy, if not downright dislike, towards the EU spread because of the enormous rise in the numbers of people from around the Union who came to live and work in the UK.
Numbers that took the political establishment completely by surprise began to arrive from the moment new countries like Poland joined the EU in 2004.
It was that steep rise in EU immigration that gave David Cameron his most pressing political reason for - in the end - promising a referendum.
EU summit: How did Cameron end up here?
---
Mr Cameron is working on a separate plan to boost UK sovereignty aimed at getting sceptical Tories, including Boris Johnson, to get behind his reform deal.
Mr Johnson - who is being touted as a possible leader of the out campaign - has met Mr Cameron at Downing Street.
"I'll be back," he told reporters as he left Number 10, adding: "No deal, as far as I know."
BBC assistant political editor Norman Smith said the London mayor, who is "pivotal" to Mr Cameron's plans, would keep the PM waiting until he had returned from the summit before announcing which camp he would support, although his "no deal" comment was not thought to be a reference to his own concerns about sovereignty.
'Finely balanced'
Sources close to Mr Johnson say his decision on whether to back remaining in or leaving the EU is "very finely balanced".
They say the decision by Mr Cameron to try to sell his proposed deal to Mr Johnson underlines how crucial he is likely to be if the prime minister is to win the referendum.
"They are pretty determined to get him on board," the source added.
They have strongly rejected suggestions that Mr Johnson's decision is tied to his ambitions to lead the Conservative Party when Mr Cameron steps down.
"His decision is in no way predicated on any leadership question. It's based on what he thinks will be in the best interests of the country," the source said.
Mr Cameron's sovereignty plan is expected to suggest extra powers for the UK Supreme Court to protect UK law from challenges from the European Court of Justice, to assert the primacy of UK law over Brussels.
---
What happens next?
Thursday:
15:00 GMT: EU leaders begin arriving for their regular summit at the European Council headquarters in Brussels
16:45: First working session on the UK proposed reforms
19:00: Working dinner on the migration crisis
Talks on the UK deal could resume after dinner and continue late into the night, if there is still no deal
Friday:
08:00: Discussions will continue over an "English Breakfast" if no agreement on the UK demands has been reached on Thursday
If David Cameron gets a deal, he will hold an emergency cabinet meeting on Friday evening to reach an agreed position on remaining in the EU, although ministers will be free to campaign against that in a personal capacity
Mr Cameron may then announce the date of the UK's referendum, although he does not have to do so
17 March:
The next scheduled EU summit - Mr Cameron has another chance to get a deal here. There has also been talk of a special summit at the end of February
Thursday 23 June:
Still seen as the most likely date of a UK referendum if Mr Cameron gets a deal in February or March, but he has until the end of 2017 to hold one
UK and the EU: Better off out or in?
---
European Commission President Jean-Claude Juncker said he expected proposed benefit changes to be at the heart of debate this week.
Czech Europe minister Tomas Prouza told the BBC he expected benefit curbs would apply only to new applicants, and not affect the existing 34,000 migrants in the UK who were recipients.
And Slovakia's Europe minister, Ivan Korcok, said "movement from the United Kingdom" would be needed for a deal to be agreed.
Mr Korcok said it would be "difficult to sell a deal" that would restrict benefits for migrants who are already in the UK.
Downing Street has so far refused to say whether the changes extend to existing claimants or not.
BBC Europe correspondent Chris Morris said France was one of several member states anxious to ensure nothing in the deal would allow financial institutions in the City of London to benefit from lighter regulation than their continental counterparts.
Mr Cameron is seeking key changes on European integration, business competiveness, benefits restrictions and the operation of the eurozone.
---
A guide to how the EU works
Read more: