Gorilla-suited pro-EU supporter 'assaulted' at Vote Leave rally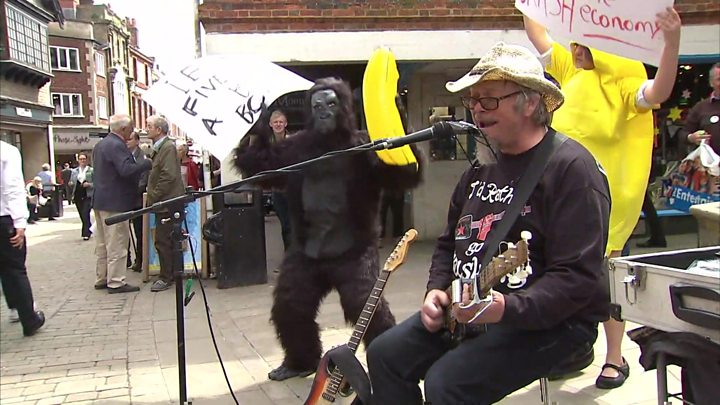 Police are investigating claims a man in a gorilla suit was punched at a Vote Leave rally attended by Boris Johnson.
The man, a Remain campaigner who had been heckling Mr Johnson, claims he was pushed down some steps at the event in Winchester.
Hampshire Police are also looking into a separate claim that another Remain campaigner was assaulted at the event.
A Vote Leave spokesman said "If it happened, it happened after Boris Johnson had left the area."
He added: "We do not condone any violence. These people turned up at the event intent on causing disruption.
"When our team left the area, the gorilla was still in good spirits and dancing around and didn't look like he had been punched."
The man in the gorilla suit claims he was elbowed in the ribs and punched in the face by a man who was screaming at him.
The other man, local Lib Dem candidate John Romero, described the attitude of Leave supporters as "an absolute disgrace, beyond belief".
He claims he was pushed two metres down steps of the historic Buttercross as he tried to heckle Mr Johnson's speech.
Police are appealing for witnesses and are examining photographic evidence of both assaults.