EU referendum: Prime Minister's renegotiation 'hopeless'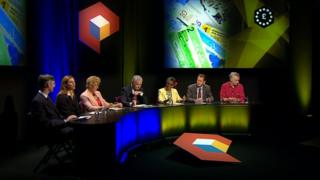 MP Jacob Rees-Mogg has described Prime Minister David Cameron's renegotiation of the EU deal as "hopeless".
He was speaking during a BBC debate about the forthcoming EU referendum filmed at Bristol Cathedral School.
Alongside Mr Rees-Mogg were Leave.EU chief executive Liz Bilney and TV personality Christine Hamilton.
The Remain camp were represented by singer Billy Bragg, former Lib Dem MEP Sir Graham Watson and former High Sheriff of Bristol, Peaches Golding.
The economy and immigration were some of the liveliest areas of the debate, which will air on Sunday.
Mr Rees-Mogg said if the prime minister believed that the EU referendum would lead to "financial Armageddon" as he has warned, he was "deeply irresponsible" to hold it.
The North East Somerset Conservative added a vote to leave is about "taking back control".
But Sir Graham said: "I don't want to see a situation in the South West where we are no longer participating in great European projects like Airbus, which is outselling Boeing on the world aircraft markets."
On immigration and its effect on the economy High Sheriff of Bristol, Peaches Golding, denied it pushed down wages.
And Mr Watson said he was "very worried" that if it was curbed "the economy would suffer seriously".
He described a slaughterhouse near his home in Langport, Somerset which employs mainly migrant workers.
"Local people don't want to do that kind of work for little over the minimum wage," he said.
Ms Bilney said Mr Watson's comments were "quite ridiculous" and Mrs Hamilton said it was "a myth" that there will be no immigration if the UK leaves the EU.
EU referendum issues guide: Explore the arguments
A referendum on 23 June will decide where Britain should leave or remain.