Brexit referendum: What to watch for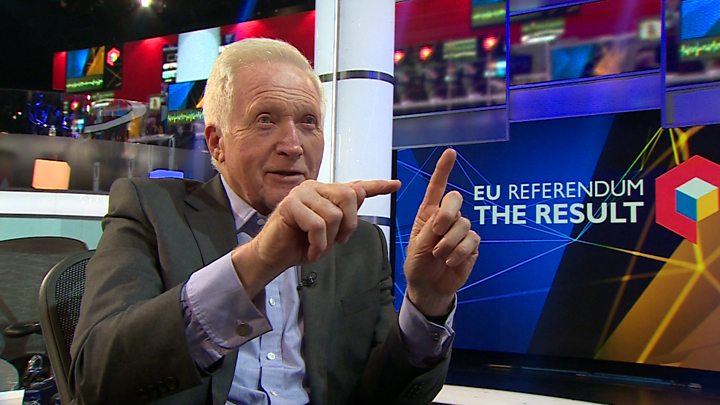 It's polling day in the UK's EU referendum. Here's what to watch out for as events unfold.
First things first: Voting
Polls open at 06:00 GMT and close at 21:00 GMT.
Any voter who arrives to vote at a polling station before 21:00 GMT will be able to vote. There is no need to take a polling card, but in Northern Ireland, a form of photo ID is required.
Postal votes need to be returned to a local electoral registration office by 21:00 GMT. In England Wales and Scotland - but not in Northern Ireland - they can be taken to a polling station on the day. In England, Scotland and Wales, if a voter is suddenly incapacitated or taken ill on polling day, they can apply for an emergency proxy up until 16:00 GMT.
Read more on how to cast your vote
What happens next?
After polls close at 21:00 GMT, sealed ballot boxes will be collected and transported to the count venue for each of the 382 local counting areas.
These represent all 380 local government area in England, Scotland and Wales, plus one each for Northern Ireland and Gibraltar.
Individual areas' results will then be declared throughout the night, along with regional results from 11 regional counts.
Although the results are declared by local authority area, a referendum is different to a general election in that every individual vote across the UK counts equally towards the final result.
According to the Electoral Commission's estimated timings, Sunderland and the London borough of Wandsworth are expected to be among the first counts to be completed, at about 23:30 GMT.
Local counting areas vary from Birmingham (nearly 700,000 eligible voters) to the Isles of Scilly (about 1,700) so the amount of time spent counting will vary widely.
Follow the action on the BBC
Here's a reminder of how the BBC reports EU referendum polling day.
There will be comprehensive coverage online with rolling text and video updates, results as they happen plus reaction and analysis from BBC editors and others.
From 22:00 GMT, viewers outside the UK can tune in via BBC World News and BBC World News America to a results show hosted by David Dimbleby alongside BBC experts and special guests.
Coverage continues throughout the night. Sophie Raworth, Andrew Neil and Victoria Derbyshire pick up the coverage on Friday morning.
Listeners outside the UK can tune into BBC World Service radio for regular updates.
When will we know the result?
It's hard to be certain how things will pan out, as this is only the third UK-wide referendum and there are notable differences with the previous two.
Depending on how close the poll is, the result may become clear before the final national result is officially declared by the Chief Counting Officer, who will be based at Manchester Town Hall.
The Electoral Commission estimates a final result "around breakfast time" (05:00-07:00 GMT) on Friday.
Once the final result has been declared, a breakdown of the results will be released on a local and regional level.