Leave campaign Tories urge Cameron to stay PM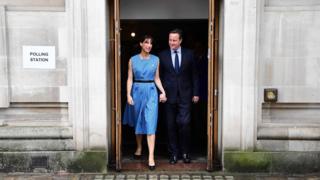 Eighty four Conservative MPs who campaigned for the UK to leave the EU have written to David Cameron urging him to remain PM, whatever the result.
Mr Cameron headed up the Remain campaign - but the BBC has forecast that the UK has voted to leave the EU.
UKIP leader Nigel Farage suggested Mr Cameron should quit "immediately" in the event of a Leave win.
But former defence secretary Liam Fox said the PM was "best placed" to provide political stability.
Dr Fox said: "What we now need to do is to provide some calmness and reassure people and that requires us to have political stability. As the prime minister who gave us the referendum, he is best placed to see us through."
Mr Cameron is expected to make a speech in the next few hours.
Conservative MP Robert Syms wrote on Twitter that two-thirds of those who backed the Leave campaign had signed his letter, organised before counting began.
'Mandate and duty'
While Mr Cameron headed up the Remain campaign, many of his MPs and some of his ministers backed the bid to Leave.
Mr Cameron, who has been prime minister since 2010 but has said he will not seek a third term, had vowed to stay on at Downing Street whatever the outcome.
But others, including former Conservative chancellor Ken Clarke, have suggested he will have to go if the Leave campaign win.
On Twitter, Mr Syms wrote: "This evening I delivered to Gavin Williamson MP, PPS to the prime minister a letter from Vote Leave supporters who are also Tory MPs.
"The letter thanked Prime Minister David Cameron for giving the British people a choice of their destiny today."
The letter says: "We believe whatever the British people decide you have both a mandate and a duty to continue leading the nation implementing our policies."
'Intensely personal'
Mr Syms says it was "not possible to approach all Vote Leave colleagues to ask them to sign but many have expressed support" for David Cameron.
Among signatories listed by Mr Syms are leading Conservatives in the Leave campaign Michael Gove and Boris Johnson, Zac Goldsmith, farming minister George Eustice and Andrea Leadsom, who represented the Leave side in some of the TV debates.
But Conservative former Welsh Secretary David Jones told the BBC it was an "intensely personal decision" for Mr Cameron who would have to "give consideration to whether he's the person who can provide the stability that the country needs".
"David Cameron has been an outstanding leader for the Conservative Party but the fact is, on this occasion, he called it wrong."
Conservative MP John Redwood told Sky News that Mr Cameron would have to "build a new government that binds together the party" in the wake of the referendum battle", adding: "There's a lot of talent on the Leave side and he needs to harness that to bring the country together."
Backbencher David Davis, a former Conservative leadership contender, said Mr Cameron could stay on for a "couple of years" but should put someone else in charge of negotiations on a new relationship with the EU.
But Labour's John Mann, a Leave campaigner, said: "Today is about Cameron resigning. Cameron has got to go today. He has no credibility left whatsoever. He is the most unpopular person out there. It's incredible how unpopular he is. He needs to carry the can - he called this referendum, he's lost this referendum."