Herefordshire & Worcestershire vote to leave EU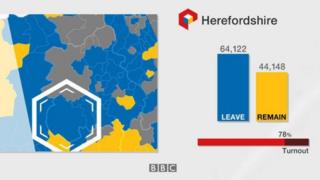 Herefordshire and Worcestershire have voted decisively to leave the EU in the referendum on the future of the UK in Europe.
In Herefordshire 59% of people voted to leave, while in Worcestershire 57% wanted to leave.
Britain's decision has resulted in David Cameron announcing he will step down as Prime Minister.
Mark Garnier, Tory MP for Wyre Forest, reacted "the last thing we need is the uncertainty of a leadership challenge".
Conservative MP for Redditch, Karen Lumley said she is "sad" to see David Cameron go, adding "he has done a good job" but "respects his decision".
More on this and other Herefordshire and Worcestershire
With a majority of 70,800 votes across the counties, 57.9% of those who went to the polls backed leaving.
The heaviest support for Brexit was in Wyre Forest and Redditch, with 63.1% and 62.3% respectively voting to leave.
Joy Squires, a Labour councillor for Worcester City Council, criticised the Remain campaign, which she said "wasn't as forceful as it could have been".
Reacting to the result, she said: "I think it's about kicking the establishment."
Gordon Bodelzi, writing on BBC Hereford and Worcester's Facebook page, celebrated the result.
He said: "The happiest day of my life knowing our children and grandchildren are free of the dictating German-run EU."
However, Wendy Newton, from Malvern, was more cautious.
"I just hope that people voted Leave for what they thought were the right reasons, and not just to try and evict David Cameron," she said.