Brexit: George Osborne says tax rises and spending cuts needed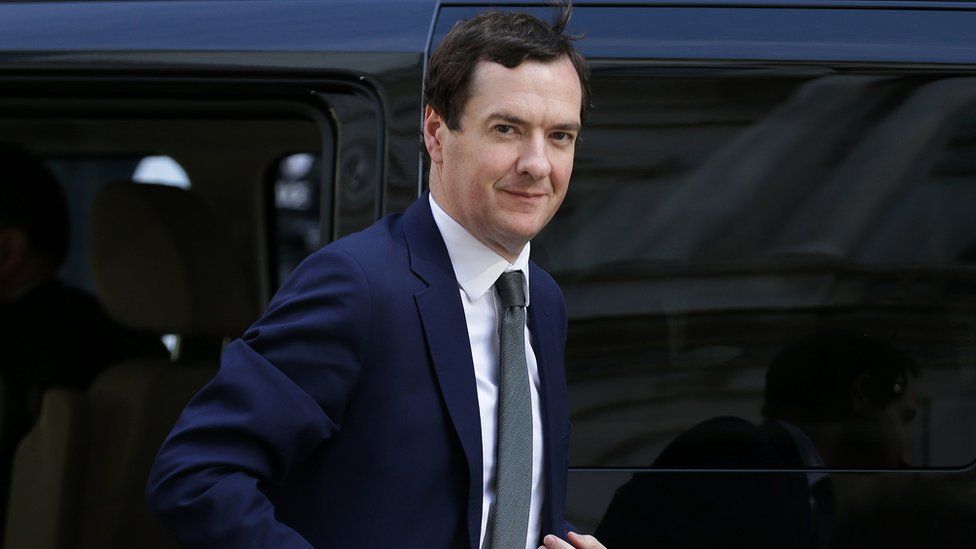 Tax rises and spending cuts will be needed to deal with the "shock" to the UK economy caused by leaving the EU, Chancellor George Osborne has said.
He said such decisions would be taken by the next prime minister, adding that his pre-referendum warnings "have started to be borne out by events".
Meanwhile at an urgent EU Parliament meeting, UKIP's Nigel Farage told MEPs: "You're not laughing now".
David Cameron is in Brussels to discuss the vote with European Union leaders.
Speaking on BBC Radio 4's Today programme, Mr Osborne said he stood by his campaign warnings about the economic impact of a vote to leave the EU, saying life would not be "as economically rosy" outside.
"It's very clear that the country is going to be poorer as a result of what's happening to the economy," he said.
"We are absolutely going to have to provide fiscal security to people, in other words we are going to have to show the country and the world that the country can live within its means."
Asked if that meant tax rises and spending cuts, he said: "Yes, absolutely. But that decision will come under a new prime minister - it's obviously not possible while the Conservative Party is having a leadership contest."
He said the UK economy was well prepared for dealing with the "economic shock" but said it was the responsibility of those that campaigned to leave the EU to set out the plan to follow.
Mr Osborne, once touted as a likely leadership contender, said he stood by the Conservative manifesto pledge to offer a referendum on the UK's EU membership.
He said there had been a "big and lively debate" within the party but that he supported the decision "we collectively took", refusing to say whether he had said it was not a good idea.
Mr Cameron will attend a working dinner of EU leaders after meetings with European Council President Donald Tusk and European Commission President Jean-Claude Juncker later.
He will not attend talks between the leaders of the other 27 EU member states at breakfast on Wednesday.
Mr Farage greeted Mr Juncker before the emergency European Parliament session, but when it got under way the EU chief later asked him "why are you here?".
The UKIP leader was jeered as he took to his feet, saying: "Isn't it funny. When I came here 17 years ago and said I wanted to lead a campaign to get Britain to leave the Europeans Union, you all laughed at me.
"Well you're not laughing now."
MEPs will vote on a non-binding motion urging the "immediate activation" of Article 50 of the Lisbon Treaty.
Meanwhile, Health Secretary Jeremy Hunt has suggested a second referendum - or a general election - be held to approve any agreement on the terms of the UK's departure from the EU.
Mr Hunt said the withdrawal process should be delayed until shortly before the next election, scheduled for 2020 - meaning a delay in leaving the EU until 2022.
He is the first cabinet minister to go public with the idea of a second referendum.
Mr Hunt, who is considering standing in the contest to succeed Mr Cameron as Conservative leader and prime minister, said the UK must remain within the EU's single market.
He floated the idea of a "Norway plus" arrangement outside the EU, where the UK would enjoy the current trade benefits of being a full EU member while negotiating revised immigration rules.
The British public's concerns about immigration needed to be addressed, he said, and said that was also in the EU's interest as it "faced collapse" unless the current right of all citizens to live and work in other member states was reconsidered.
Under EU rules, once Article 50 of the Lisbon Treaty is triggered, the UK would have two years to negotiate the terms of its divorce from the EU - unless the remaining 27 members unanimously agree to extend the process. It must also negotiate its future trading relationship with the EU.
German Chancellor Angela Merkel has said a new UK government must be given time to prepare itself, but she also said the process cannot be delayed indefinitely amid fears of "contagion" for an organisation facing multiple economic and political challenges.
French President Francois Hollande and Prime Minister Matteo Renzi of Italy have agreed with her stance.
Brexit discussions at the EU
Tuesday: Extraordinary European Parliament session in Brussels on Brexit vote 10:00-12:00 (08:00-10:00 GMT), including speeches by Mr Tusk, European Commission President Jean-Claude Juncker and party leaders, probably including UKIP's Nigel Farage. There is also an EU summit (European Council) in Brussels, at which David Cameron will brief the other EU leaders over dinner, from 19:45 (17:45 GMT), explaining the political fallout in the UK
Wednesday: Second day of EU summit will feature breakfast talks between 27 leaders - Mr Cameron not attending. Talks focus on UK's "divorce process" as stipulated by Article 50, and Mr Tusk will "launch a wider reflection on the future of the EU"; press conferences in afternoon.