Nigel Farage tells MEPs: You're not laughing now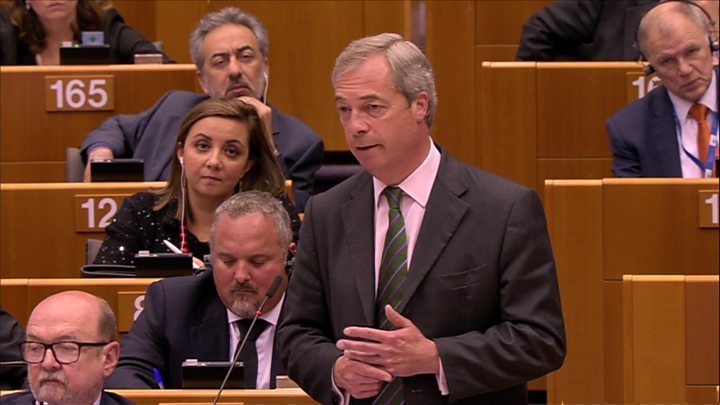 UK Independence Party leader Nigel Farage has told the European Parliament: "You're not laughing now."
He was jeered as he addressed the parliament during an emergency debate on the UK's vote to leave the EU.
Mr Farage, who was jeered by some MEPs, said EU politicians were "in denial" about the eurozone and migration.
EC president Jean-Claude Juncker asked Mr Farage: "You were fighting for the exit, the British people voted in favour of the exit. Why are you here?"
Mr Juncker said the will of the British people must be respected, but said the Leave campaign had "fabricated reality" with some of its claims.
"Isn't it funny," Mr Farage said.
"When I came here 17 years ago and said I wanted to lead a campaign to get Britain to leave the Europeans Union, you all laughed at me.
"Well you're not laughing now."
He called for a "grown up and sensible attitude to how we negotiate a different relationship", and declared: "Most of you have never done a proper job in your lives."
He was told the comment was not acceptable by Parliament president Martin Schulz, who lambasted the heckling MEPs for "acting like UKIP".
The UK's EU commissioner Lord Hill, who announced his resignation in the wake of the Brexit vote, was given an ovation by MEPs.