EU referendum: No action after councillor restrained at count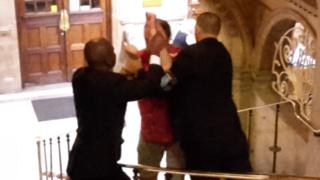 A Labour councillor who clashed with security at Oxford Town Hall during the EU referendum count will not face disciplinary action from his party.
City council cabinet member for housing Mike Rowley was ejected by police at about 00:30 BST after being restrained when he tried to enter the venue.
Mr Rowley grappled with door staff for several minutes and shouted: "I am an elected member of this chamber."
He has now said he felt "very apologetic" about the incident.
'Reminded of his responsibilities'
Mr Rowley described the incident as an "misunderstanding" because door staff thought he was trying to enter the area where the count was taking place.
A crowd of about 15 people watched his altercation with security staff. The situation was brought to end with the the involvement of Oxford East Labour MP Andrew Smith and MEP for South East England Anneliese Dodds.
A Labour spokesman said the party had investigated and would not be taking disciplinary action over the incident.
He added: "Councillor Rowley has been reminded of his responsibilities as an elected representative."
The incident did not cause a delay to the count on the night.